Editor's note: This article and headline were updated at 10:09 a.m. July 23, 2020, with more information.
BEAUFORT — After a 5.5-hour meeting Wednesday, the Carteret County Board of Education approved opening schools with students attending two days a week, with three days of remote learning.
However, after insistence from school board member Travis Day, who pushed to have students back in schools five days a week, school administration will re-measure classrooms to see if more students can fit in buildings and meet 6-foot socially distancing requirements.
The board will revisit the hybrid plan, which was recommended by new Superintendent Dr. Rob Jackson, two weeks after schools open to see if there is a way to get schools open five days a week.
"I keep hearing from parents who say they want their children in school five days a week," Mr. Day said. "I think we owe it to them to make sure we have all of the data."
Board member Clark Jenkins made the motion to approve Dr. Jackson's recommendation for two days in school and three days remote, with the stipulation the plan be revisited in two weeks. Member Kathryn Chadwick made the second. The motion passed 4-2, with Brittany Wheatly absent from the meeting.
Mr. Day voted against the motion, with Jake Godwin abstaining. After the meeting, Mr. Godwin said he wanted to wait longer than two weeks before revisiting the plan.
Under the plan, recommended by 76 school personnel who served on seven committees, students alternate in-person days within each week of school. All students, prekindergarten through grade 12, will be assigned a cohort, A or B. The two groups will alternate days, with cohort A attending onsite Monday and Tuesday with cohort B at home with remote learning. Wednesday will be a remote learning day for all students and a teacher planning and conference day. Thursday and Friday, cohort B will attend onsite, with cohort A students doing remote learning from home.
Parents can alternatively choose to opt into remote learning only.
Dr. Jackson said based on parent surveys, about 70% of parents want their children back in school.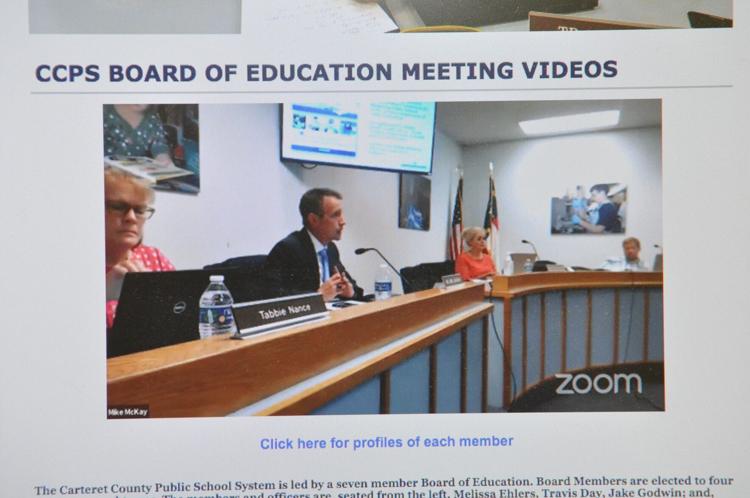 The chairperson of each of the seven committees presented their recommendations prior to Dr. Jackson making his recommendation. This was followed by heated discussion by board members, with some, like Melissa Ehlers, saying the board should support the recommendation of Dr. Jackson and committees.
"We owe it to these professionals who worked so hard," she said.
She further pointed out that based on staff surveys, 16% of personnel indicated they aren't comfortable returning to classrooms because they are high-risk or have family members who are high-risk if they are exposed to the coronavirus. She questioned how schools could safely fit more students in the buildings five days a week and have adequate staffing, not only in classrooms, but to handle transportation.
Board Chairperson John McLean said all board members, as well as teachers and staff, want all students back in classrooms five days a week, but he didn't feel that was safely possible at the beginning of school.
"Everyone agrees that the ultimate goal is to get students back in classrooms five days a week, but we can't realistically do that right now," he said.
Mr. McLean agreed it would be worth allowing the administration to re-measure buildings to see if more students could safely fit, but the board owed it to parents and staff to vote on a plan. He offered up the compromise option of revisiting the plan in a few weeks after schools opened.
Dr. Jackson said the ultimate goal for him was "the safety and well-being of students and staff."
That sentiment was echoed by Morehead City Primary School Principal Jeanne Smith, who chaired the student/staff health and well-being committee.
"I've never felt the pressure I feel right now. My fear is if we do this in haste and someone gets the virus … two days a week is all we can promise to do safely," Ms. Smith said.
Her committee had a long list of safety recommendations, including temperature checks when students get on buses. Thermal imaging units will be used to check the temperatures of those entering schools. Visitors will not be allowed in buildings. There will be constant cleaning and sanitation of classrooms, and she recommended student traffic in hallways go the same direction.
All students will be required to wear face coverings, with the exception of special needs students who have sensory issues that may not allow it.
Ms. Ehlers asked if teachers felt they could be ready by Monday. Aug. 17. Ms. Smith said she would prefer having more preparation time. Teachers report back to class Tuesday, Aug. 11.
"I wish my staff had another month, but we'll do whatever you tell us to do," she said. "It's never going to be right because what is happening right now just isn't right. Our concern above all else is the safety of our children."
Under instructional delivery and curriculum, Newport Elementary School Principal Jody McClenny said this option offered tremendous challenges for teachers.
"Do we have enough time? Probably not. But I need my kids desperately to be back in classrooms. They need face-to-face time with their teachers," she said.
Under athletics and extracurricular activities, County Athletic Director Al Roberson said the district was following the guidelines outlined by the N.C. Athletic Association. He said currently some athletes are meeting for workouts outdoors with social distancing and masks.
He did recommend that once schools open, locker rooms not be used.
"We don't want students gathering and socializing in locker rooms. They can take showers at home," he said.
Temperature checks will be required in order to practice or participate in sports. As for band, he said they are looking into possibly purchasing tents so students in band and chorus could practice outdoors facing away from each other as research indicates singing and blowing into instruments can spread the virus.
He further recommended other clubs and extracurricular activities meet virtually. However, Dr. Jackson said they could revisit that depending on the club.
Beaufort Elementary School Principal Karen Wood spoke for the transportation committee. She said currently the figures show 18 students could fit on a 54-seat bus, 22 students could fit on a 66-seat bus and 24 students could fit on a 72-seat bus.
She said some buses may need to make double runs. Foggers would be used to sanitize buses after the morning and afternoon runs. All students will have a temperature check prior to entering the bus, and parents or adults must accompany elementary-age children at bus stops in case a child is sick and must be sent home.
Exceptional children's buses will transport those with special needs. Also, exceptional children will be able to attend school five days a week depending on their needs.
Broad Creek Middle School Principal Sarah Weinhold and Atlantic Elementary School Principal Greg Guthrie reported on the facilities maintenance committee. They focused on measuring spaces and removing furniture from classrooms to maintain adequate social distancing. They also emphasized the need for sanitation.
Smyrna Elementary Principal Rolanda Golden addressed school breakfasts and lunches. She said the first two weeks of school, meals will remain the same as the summer meal program and the child nutrition department is seeking a grant to allow high school students, as well as elementary and middle school students, to receive free meals.
She said each school can decide how meals will be served. They could choose kids eating in the cafeteria at 50% capacity. Students could pick up meals from the cafeteria and eat in classrooms, as well. Meals could be delivered to hallways with students picking up food one class at a time or meals could be delivered to individual classrooms.
Once schools are back in session, buses will be unable to deliver lunches to those not on campuses. However, families could still pick up meals at schools if they are remote learning.
As for the communications committee, Dr. Jackson reported the committee was focused on keeping constant information on the school system's website, social media and other platforms. He plans to do weekly videos to update parents, and other videos will be posted to assist with various issues.
Contact Cheryl Burke at 252-726-7081, ext. 255; email Cheryl@thenewstimes.com; or follow on Twitter @cherylccnt.