MOREHEAD CITY — It's been a little more than two years since Hurricane Florence devastated Carteret County with severe flooding and wind damage, but the scars still remain for more than 400 homeowners awaiting repairs.
"We have 412 homes still needing repairs," the Rev. Robbie C. Phillips, disaster recovery director with Carteret Long Term Recovery Alliance, said Wednesday.
While the nonprofit disaster recovery group, along with others, continues to go down the list of homeowners needing work, the coronavirus pandemic has slowed progress because of a shortage of volunteers.
The organization has been getting much needed help the last few weeks from a group of AmeriCorps volunteers, and Rev. Phillips said she's grateful because four volunteer teams have canceled this year due to the pandemic.
"Volunteers enable us to save our quickly depleting financial resources," she said. "Without volunteers we have to use contract labor to keep projects moving forward. This costs us triple and even four times the amount. Simply put, volunteers allow us to get more families in safe, sanitary and secure living conditions."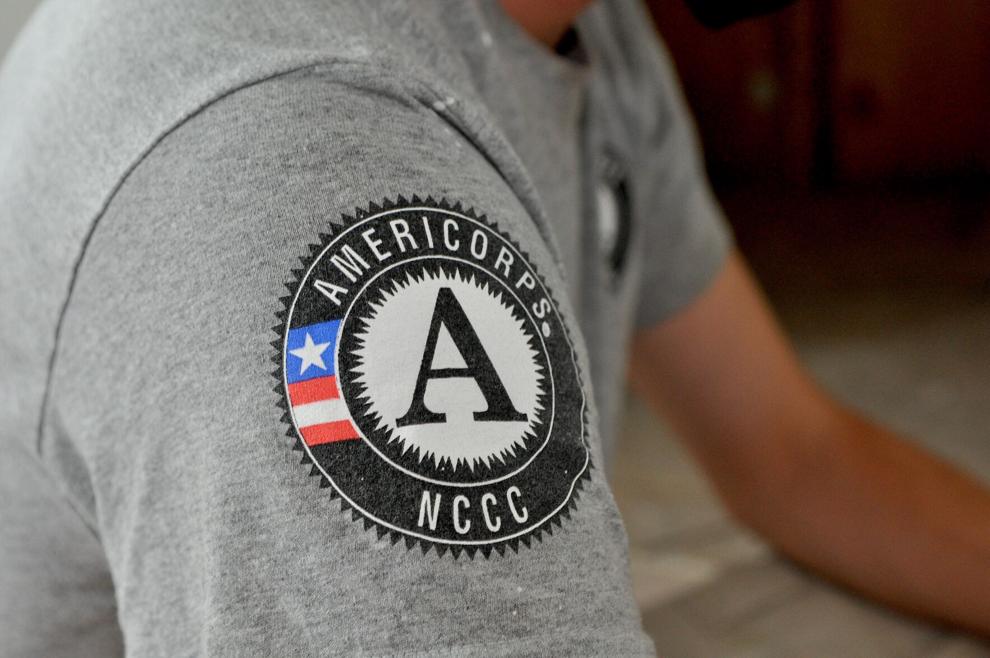 Despite the challenges, Rev. Phillips said CLTRA has gotten some families back in their homes.
"We have leaned hard into the difficulties Covid has caused. Despite all the complications, we have still been able to move 24 families home since February 2020 with the help of our partners SBP (disaster recovery group), Samaritan's Purse, AmeriCorps and Carteret Warriors for Recovery."
AmeriCorps volunteer Emma McSalis said Friday she and her team members are glad to help. They arrived in the county Sept. 15 and will work on homes until Monday, Oct. 12, then move to their next assignment. They're staying at Grace Presbyterian Church in Beaufort.
Team members come from across the United States, including Vermont, California, Michigan and New York.
The 10 volunteers doing drywall work on a home Friday said they joined AmeriCorps to help people. The group is made up of young adults, including recent high school graduates and college graduates.
Ms. McSalis, 19, of St. George, Vt., said she joined AmeriCorps as a "gap year" between high school and starting college.
"You can spend 10 months traveling across the United States helping people. What can be better than that?" she said.
Ian Greenwood, 19, of Baltimore, said this was his second year with AmeriCorps.
"After a year with AmeriCorps, and seeing what college would be during Covid, I thought this was a great way to help my country even more," Mr. Greenwood said. "I just had such a great experience with AmeriCorps last year."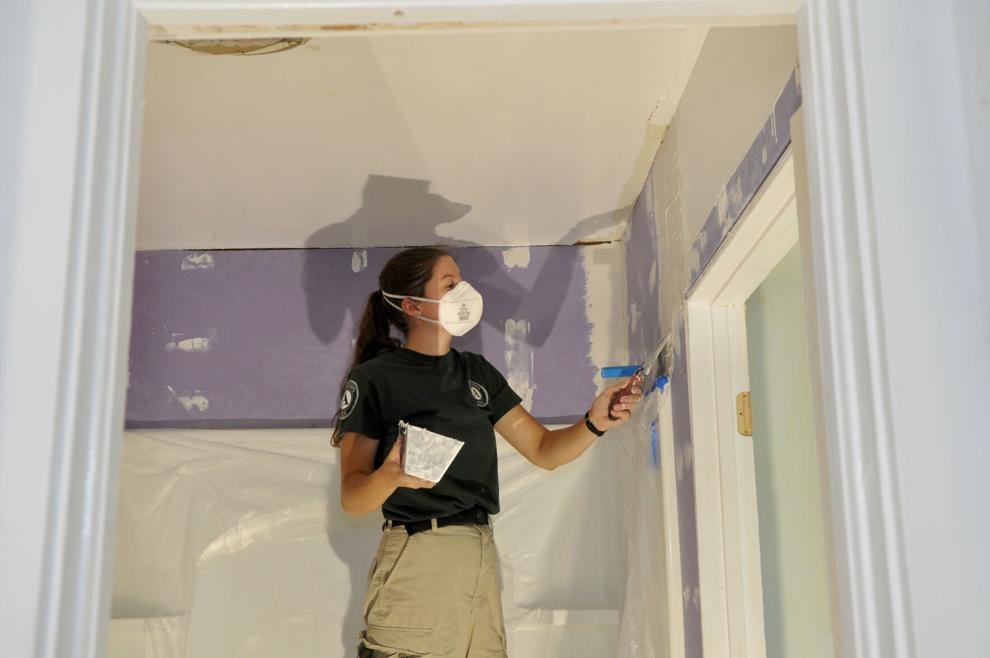 Rev. Phillips said CLTRA needs more volunteers and donations to get people back in their homes.
She added there are safety precautions in place for those who volunteer.
"We require daily temp and wellness checks," she said.  "Everyone has to wear PPE: volunteers and survivors. We have masks and hand sanitizer available on the job sites.
"We require people to stay 6 feet apart as much as possible," she added. "We work with the housing facility (where volunteers stay) to meet their requirements of cleaning, and the volunteers sleep off the floor and 6 feet apart."
Those interested in helping Florence survivors get back in safe homes can volunteer by going to the CLTRA website, carteretltra.org and clicking on "I want to help." They can also contact the group by emailing volunteer.cltra@gmail.com.
Those who want to donate can do so by clicking on the donate button on the website. They can also mail checks to CLTRA, P.O. Box 543, Morehead City, N.C. 28557.
Contact Cheryl Burke at 252-726-7081, ext. 255; email Cheryl@thenewstimes.com; or follow on Twitter @cherylccnt.