Editor's note: This article was updated at 10:54 a.m. Thursday, May 21, 2020, to update the photo cutlines.
MOREHEAD CITY —As operators of public pools waited this week to hear if they could open in time for Memorial Day weekend, county health inspectors were hard at work making sure pools were ready.
"We encourage any pool operators that have their pools ready to contact our office to schedule their permitting inspection," County Environmental Health Director Jesse Dail said Tuesday. "Having their inspection completed and permit issued will allow them to open when the Governor's Orders allow."
Mr. Dail said as of Tuesday, he was not aware of additional inspection requirements related to the novel coronavirus pandemic.
Gov. Roy Cooper recently announced a three-phase plan to reopen businesses and public places across the state after issuing a stay-at-home order due to the coronavirus pandemic. It took effect March 30.
The first phase of the order has been in effect since May 8. It allowed many retailers to reopen with limits on capacity and social distancing requirements. 
Gov. Cooper, in a press conference Wednesday, announced a phase two reopening plan that allows public swimming pools to open at 50% capacity. However, gyms and indoor fitness facilities must remain closed.
The second phase takes effect at 5 p.m. Friday.
Personal care business, including barber shops, hair and nail salons, tattoo parlors, tanning salons and other personal care businesses can open at 50% capacity. Childcare centers will be able to accept all children, versus just those of essential care workers.
In addition, overnight camps and day camps will be allowed to open.
Amy Smith, new manager of Coral Bay East, a condominium complex in Atlantic Beach, said she's looking forward to getting the pool back open once restrictions are lifted.
"The owners are waiting patiently to hear what they can and can't do," she said. "There are a lot of things out of our control."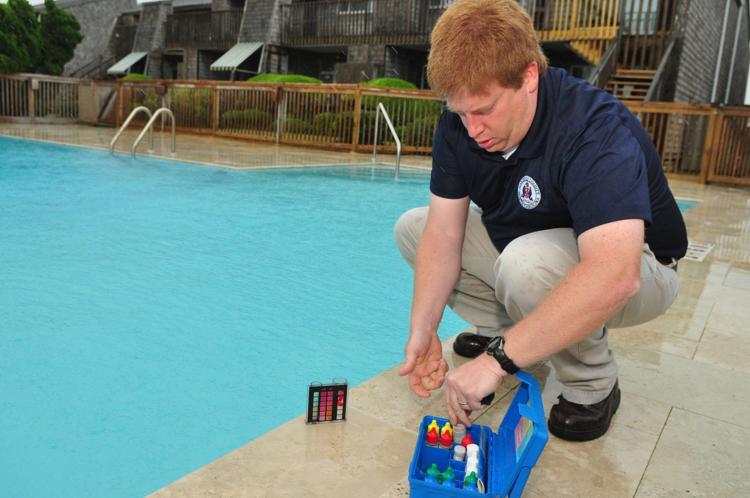 Ms. Smith said Coral Bay East has canceled a Memorial Day party that is traditionally held for condominium owners.
"A lot of people are waiting to come down," she said. "As soon as they give the order, we'll reopen (the pool)."
Ms. Smith added there will be extra sanitation measures in place.
"There will definitely be precautions in place," she confirmed.
Sports Center Manager Paul Gillikin has also been preparing the center's three pools in the event they can open this weekend. He said Wednesday the center's outdoor, indoor and spa pools have passed inspection and are ready. He further said they have been taking health and safety measures while waiting for further guidance from the state.
"We have been looking at safety measures and monitoring what other states have been doing regarding aquatic facilities," he said. "Unfortunately there has not been a lot of guidance produced yet by our state so we are not 100% sure what our outdoor aquatic season will look like."
Mr. Gillikin said some things Sports Center staff members have done for safety precautions include not taking group reservations (this includes birthday party, camp groups and childcare organizations), meeting with swim teams to have contingency plans on practices and any possible swim meets, following USA Swimming guidelines, placing sanitation stations at the entrance to the outdoor pool and on the indoor pool deck and closely monitoring the guidelines on people showering before entering pools.
"Once we have guidance from the state on the number of patrons allowed, we will put that into place," Mr. Gillikin said.
Regardless of when pools open, they cannot do so without a permit. So health inspectors have been busy checking the more than 260 public swimming pools in the county to ensure they're safe for the summer season.
The N.C. Department of Health and Human Services requires all public pools pass a checklist of requirements, including proper chlorine and chemical levels, adequate drain covers, safe gates, proper signs and more, before they can open each season.
For more information about public pool inspections, go to carteretcountync.gov/139/Environmental-Health.
Contact Cheryl Burke at 252-726-7081, ext. 255; email Cheryl@thenewstimes.com; or follow on Twitter @cherylccnt.