CEDAR POINT — Cedar Point commissioners agreed by consensus Tuesday to ask the town attorney to initiate legal action against a man they claim has allegedly repeatedly refused to clean up and remove "eyesores"from two adjoining properties he owns along Highway 24.
The decision came during the board's monthly meeting in town hall off Sherwood Avenue, and town manager David Rief is to turn the case over to town attorney Neil Whitford.
It involves Drew Lutheran, who is president of Swannsborough Yacht Club Enterprises Inc., which Carteret County lists as the owner of the old Cedar Point Tavern building and property at 1121 Highway 24. Mr. Lutheran personally is recorded as the owner of the adjoining property to the east, 1127 Highway 24. The N.C. Secretary of State's office lists Mr. Lutheran's Emerald Isle-based attorney, Mike Lincoln, as the registered agent for Swannsborough Yacht Club Enterprises Inc. The state lists the corporation as "Admin Dissolved."
Thursday, Mr. Lincoln said Mr. Lutheran has been sick for a couple of months and is in the intensive care unit in Onslow Memorial Hospital in Jacksonville.
"He is not in any condition to make any decisions," the attorney said. "The town commissioners don't have any sympathy. Drew is concerned, but he's so sick he can't do anything. They waited until he was sick to do this."
Mr. Whitford, asked Wednesday how he would proceed with the litigation, said he could not comment until he has consulted Mr. Rief, who raised the issue during his manager's comments at the end of the commissioners' meeting Tuesday night.
Mr. Rief said the town has been fining Mr. Lutheran daily for nuisance ordinance violations on both properties. As of Tuesday, he said, the fines totaled $8,400. The fine is $100 per violation on the first day, then $50 per violation on subsequent days.
"If the fines are not going to work, the town might want to pursue legal action" to either force cleanup by the owner or to allow the town to clean up the properties and bill the owner, Mr. Rief said.
Mayor Scott Hatsell agreed.
"It's time to … turn it over to our attorney," he said.
Mr. Lutheran has also run into trouble in Swansboro, where his efforts to rebuild the Swannsborough Yacht Club, severely damaged by Hurricane Florence in September 2018, have long been stalled.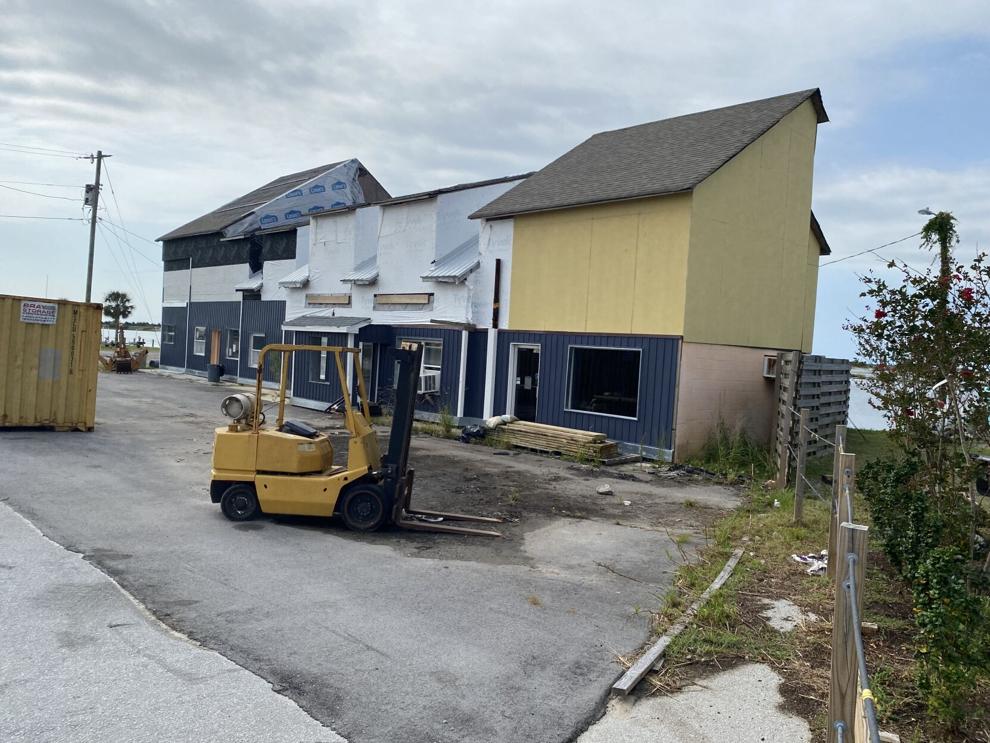 Swannsborough Yacht Club Inc. – separate from Swannsborough Yacht Club Enterprises Inc. – is listed by the secretary of state's office as "Suspended."
Mr. Lincoln said he and Russ Davis, a contractor, have been working to get the yacht club rebuilt and reopened, but have been stymied by Swansboro officials.
"The town of Cedar Point and the town of Swansboro … are going to be fought on this," he said.
Mr. Rief alleges Mr. Lutheran moved debris from the Yacht Club to the property at 1127 Highway 24.
During the board's August meeting, he said, "There is construction material and debris from the Swannsborough Yacht Club" on the Cedar Point Tavern property, and "the adjacent property is even worse."
He alleged the second property had numerous abandoned vehicles and debris.
The News-Times visited both sites Thursday, but from public property, the sidewalk along the north side of Highway 24, a reporter could not see or photograph the debris or abandoned vehicles Mr. Rief cited.
Cedar Point commissioners voted 4-0 in December 2020 to approve a special-use permit for Mr. Lutheran to operate a private bar in the Cedar Point Tavern building. The permit is good for one year. During that meeting, Mr. Lutheran said he and his wife have had extreme financial problems.
At Tuesday's meeting, Commissioner John Nash said he wants the town to do more to shield commercial operations from public view in order to avoid "public eyesores." He said in a recent discussion with Mr. Rief, he was reminded only commercial developments that construct a new building or enlarge an existing building are required to bring their properties up to certain town standards, including road frontage and parking lot landscaping, as well as certain fencing or buffering requirements.
"While this addresses many of the commercial changes taking place in town, it fails to address those situations where a change of use occurs without any type of construction, or the result of bringing new uses to older structures that continue to lack landscaping or other visual improvements," Mr. Nash said.
He asked the board and staff to direct the town planning board to consider amendments to the unified development ordinance to trigger those standards whenever a change of use occurs and also to review the standards to make sure they promote the commission's vision of Cedar Point. Mr. Rief agreed to put that on the next planning board agenda.
Commissioners also agreed Tuesday there are other nuisance properties in town where legal action could be pursued soon to effect cleanups.
Contact Brad Rich at 252-864-1532; email brad@thenewstimes.com; or follow on Twitter @brichccnt.