ATLANTIC BEACH — A home in Atlantic Beach became the nation's 30,000th to receive designation as a FORTIFIED Home for its participation in a grant program that helps homeowners pay for the installation of hurricane-resilient roofs. 
Officials from multiple organizations, including the Insurance Institute for Business & Home Safety (IBHS), which confers the FORTIFIED designation, as well as the N.C. Department of Insurance and the N.C. Insurance Underwriting Association (NCIUA), gathered Wednesday morning for a ceremony marking the milestone at the home, 1717 E. Fort Macon Road. A luncheon followed the event at the Dunes Club in Atlantic Beach.
The homeowners, James and Trish Moss, were not present for Wednesday's event. A representative accepted the plaque certifying the home is up to FORTIFIED standards on behalf of the couple.
Based on research by IBHS, the FORTIFIED Home program is a voluntary set of above-code design, building and retrofitting steps that strengthen homes against severe weather. According to the organization, it has shown in lab research and during real-world events to reduce wind damage and prevent water intrusion during a storm.
"When it comes to construction, everything starts with the North Carolina building code, so that's the foundation," Roy Wright, president and CEO of IBHS, told the News-Times. "But what we've learned as we deal with roofs particularly, there's a set of actions that, when you take them, allow you to be able to withstand up to 135 mph winds.
"When roofs stay intact, it allows you to move back into your house. Even if you lose some shingles in the process, if you have that sealed roof deck, you don't get water intrusion," he continued. "The biggest driver of cost and delays in moving back into a home after a storm is water coming through the roof because at that point, in a humid season, you're dealing with mold and all kinds of other damage."
Atlantic Beach Mayor Trace Cooper kicked off the ceremonies Wednesday by acknowledging recent severe weather in other parts of the country from Hurricane Ida. He said the recent events underscore the importance of programs like FORTIFIED Home.
"It's not a matter of if the next storm hits, it's a question of when," he said. "But there is some good news coming out of the Gulf Coast, and that good news is that the resiliency efforts that have been made down there are working."
Other speakers Wednesday included Mr. Wright, N.C. Insurance Commissioner Mike Causey and NCIUA CEO Gina Hardy.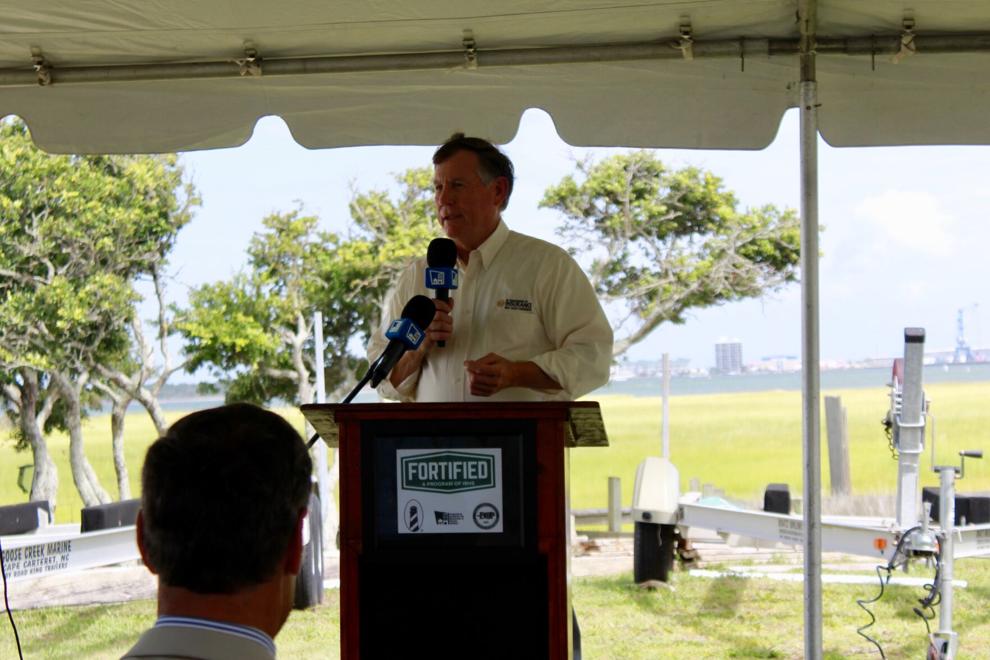 Mr. Causey highlighted a pilot program operated by NCIUA and endorsed by his office known as Strengthen Your Roof that offers grants to help homeowners pay the cost of installing or retrofitting a roof to meet FORTIFIED standards. Eligible policyholders can receive up to $6,000 through the grant program to help offset costs of installing a new roof.
"We're trying to reach out to the public and make people aware of this grant program because the more people that know about this, the more people that take advantage and strengthen their roofs, the better we are," Mr. Causey told the News-Times following Wednesday's ceremony. "It's just such a tragic thing after a hurricane or tornado to see a total loss in a house when it could have been prevented by a few extra nails and clips on the roof."
In North Carolina, the Strengthen Your Roof program is only offered to homeowners on the Outer Banks or other barrier islands, including Bogue Banks. However, Mr. Causey said the program is looking to possibly expand to cover other areas in the future, and he encourages even those who aren't eligible for the grant to consider a FORTIFIED roof or other resiliency measures that make their home better able to withstand severe wind and rain. 
"My key word is 'quality.' It may cost a little bit more to buy the best quality materials, but it pays big dividends when there's a storm," he said.
Based on figures provided by the NCIUA, the average cost to install a roof built to FORTIFIED standards under the grant program is about $11,200. Since it was introduced in 2019, 162 homes in Carteret County have received some amount of grant funding through Strengthen Your Roof. The program is available on a first-come, first-served basis and is currently accepting applicants for this year's pilot program through Dec. 31, or until all available funds have been awarded.
Currently, homeowners receiving the grants must pay federal taxes on the award, but Senate Bill 2432, introduced by North Carolina Sens. Thom Tillis and Richard Burr, proposes eliminating the federal taxation requirement for the grant.
"This bipartisan legislation ensures that state-based disaster mitigation grants, including those from insurers like NCIUA, receive the same federal tax exemptions as federal mitigation grants and help provide greater incentives for homeowners to take action to protect their homes from natural disasters," Mr. Causey said in a news release issued at the event. 
For more information or to see if your home may be eligible for the Strengthen Your Roof program, visit strengthenyourroof.com.
Contact Elise Clouser at elise@thenewstimes.com; by phone at 252-726-7081 ext. 229; or follow on Twitter @eliseccnt.