EMERALD ISLE — The $31.6 million Emerald Isle beach nourishment project continued over the long Easter weekend, and officials are urging beachgoers to stay away from equipment and off the new dunes.
There are two dredges working on the project, the large hopper dredge Ellis Island and the smaller hopper Liberty Island, both owned and operated by contractor Great Lakes Dredge and Dock Co. of Illinois.
In an email Thursday, Carteret County Shore Protection Office manager Greg Rudolph said Friday was a "big day," as crews dissembled the pipe carrying sand along the strand under the Bogue Inlet Pier, freeing up walking areas without hazard for beachgoers. However, he said, individuals should still be cognizant "of all the heavy equipment that will be going back and forth" in the area.
The Ellis Island is pumping through a pipeline that emerges at Rhett Street, and nourishment work will progress west from there.
The Liberty Island is pumping through another pipe that emerges at Scotch Bonnet Drive, and nourishment work will continue east of that pipe landing. However, the Liberty was in port refueling Saturday.
Mr. Rudolph stressed the need for people to stay off the new dunes, as well.
"Please help us help the survivability and integrity of the dunes by keeping away from the new (and even older) plants that we will begin installing later this month," he said. "Wanton, unabated type of foot traffic can be a big issue."
The vegetation to be planted after the nourishment is complete comes from cuttings and seedlings of native vegetation harvested from Emerald Isle in October. More than 500,000 plants – mostly sea oats, but also bitter panicum and seashore elder – will go on the dunes to help stabilize them.
Meanwhile, Mr. Rudolph said the project has encountered a few issues with sea turtles, as well as another threatened marine species, Atlantic sturgeon.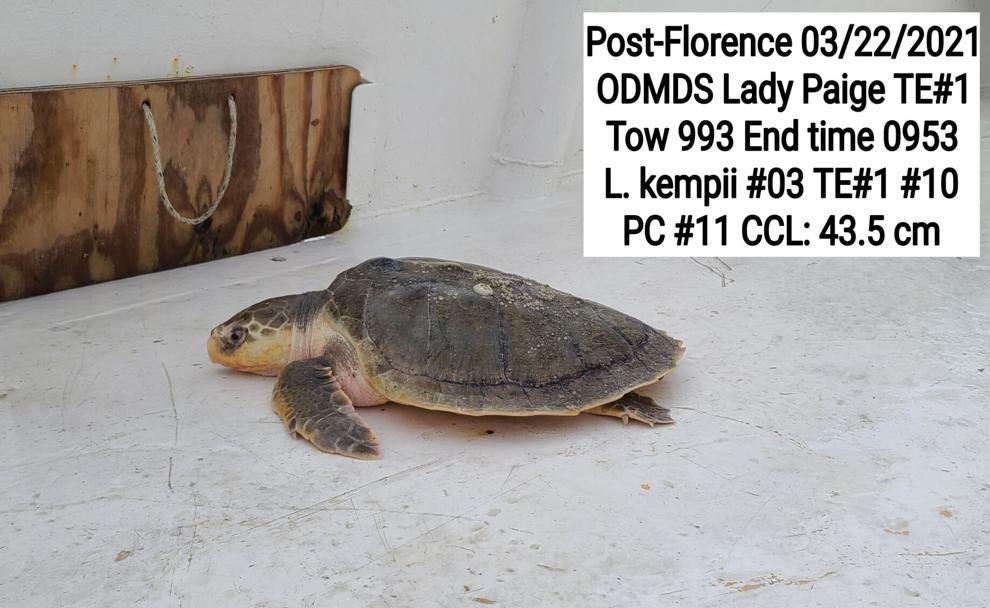 One Kemp's ridley turtle was sucked up by Liberty Island in March, but unlike many who are victims of the dredge, it emerged alive. Dr. Craig Harms, a sea turtle expert with the N.C. State University Center for Marine Science and Technology and the N.C. State College of Veterinary Medicine, said the turtle has survived, as of Friday.
"After initially losing a lot of blood both externally and internally, it has stabilized with fluid therapy, antibiotics and eye medications, and has been eating," he said this week. "…It's prognosis is still guarded, and it will be a long recovery, but it's odds are looking better every day."
The turtle is at the Karen Beasley Sea Turtle Rescue and Rehabilitation Center in Surf City and was named "Shamrock" because it presented to for treatment on St. Patrick's Day, Dr. Harms said.
Another Kemp's ridley was killed by the dredge Thursday, Dr. Harms said Friday.
He called it "the hidden price we pay for maintaining shipping channels and beaches."
Mr. Rudolph said the trawlers that move in front of the dredges as a safety precaution have picked up and safely relocated four other Kemp's ridley turtles, five loggerhead turtles and eight sturgeon.
"We photo, tag when applicable and inventory every endangered or threatened species we relocate," he said.
Coastwise Consulting is the trawling subcontractor for Great Lakes Dredge and Dock Co. and is using the trawlers Reva Rose and Lady Paige.
The Emerald Isle nourishment project totals 9.4 linear miles of beach in Emerald Isle, with 166,350 cubic yards of sand to be deposited in the extreme western strand off Coast Guard Road, 708,750 cubic yards to the east of that, 537,750 cubic yards in the center of town and 600,000 cubic yards in the extreme east.
Contact Brad Rich at 252-864-1532; email Brad@thenewstimes.com; or follow on Twitter @brichccnt.