BEAUFORT — As Carteret County elementary schools prepare to open Monday for full-time, in-person instruction, Beaufort Elementary School Principal Karen Wood said she's seen an increase in students transferring back from other schools.
"We've had 13 new students enroll this week," Ms. Wood said Thursday. "We may see more. Our population has definitely grown since we decided to go back to face-to-face instruction because there are definite advantages to face-to-face instruction."
Of those, nine students transferred from Tiller School, a charter school in Beaufort that is opting to stay on a hybrid schedule of in-class and virtual learning. Other pupils transferred from other areas, according to Ms. Wood.
"We've had some from Chapel Hill and Charlotte," she said. "Our school system is known across the state as a top system. Parents take notice of that and want to be here."
Eleonor Huggler of Beaufort was among parents transferring her child, a kindergartner, from Tiller School to BES.
"I work out in Sea Level so I need to start her back full time. I want her to have the five-day-a-week interaction with her teachers and other students," Ms. Huggler said.
Bogue Sound Elementary School Principal Jenny Bell and Newport Elementary School Principal Jody McClenny said they also had transfer students registering last week.
"We have had a handful of students return from home-school and a few that have moved into our area," Ms. Bell said.
The County Board of Education voted Sept. 24 to allow elementary school students to return to full-time, in-person instruction after Gov. Roy Cooper announced Sept. 17 that kindergarten through fifth grade students could return as early as Oct. 5, with COVID-19 safety precautions in place.
The board approved a recommendation by Superintendent Dr. Rob Jackson to make the switch Oct. 19, which would be near the beginning of a new nine-week grading period. He also made Oct. 14-16 virtual days for all students to allow teachers time to rearrange their classrooms for the return of additional students.
Elementary students have been attending on the hybrid schedule. Parents have also had the option to remain full-time virtual. Middle schools and high schools will remain in-person and virtual.
School officials surveyed elementary parents for preferences. Dr. Jackson said Thursday about 85% of parents have opted for in-class instruction, with 15% to remain full-time virtual. He added those numbers could change Monday. While students were on the hybrid schedule, about 70% were attending in-person part time, with 30% virtual only.
To ease the strain on educators who were teaching face-to-face and virtually, Dr. Jackson said elementary teachers will now be dedicated to one or the other.
Ms. Wood said elementary schools will share virtual teachers because of the varying class sizes.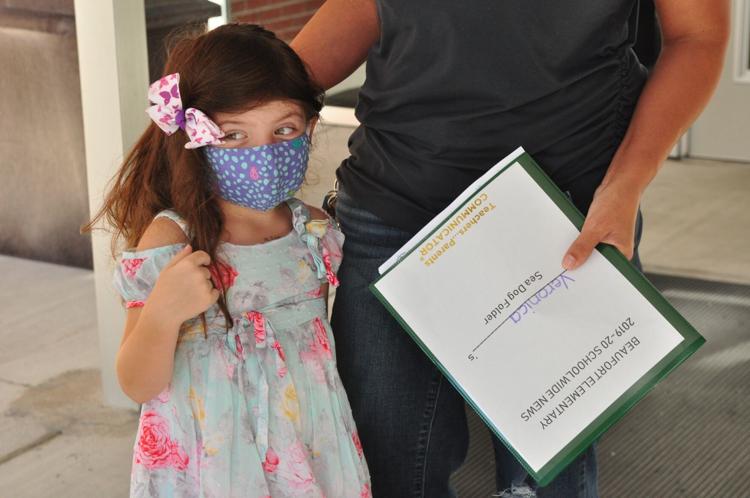 "It depends on the number of virtual teachers and students," she said. "At our school, third and fourth grade virtual students will be taught by our teachers, but grades kindergarten, one, two and five will be taught by virtual teachers from other schools."
Elementary employees were busy last week preparing for the switch.
"Throughout the week employees have worked to address classroom assignments, make bus routes, talk with families, rearrange social distancing areas, set up classrooms and more," Dr. Jackson said.
He added that COVID-19 safety practices will continue, including wellness checks at the beginning of the day, masks being worn and hand sanitizing.
"Social distancing will continue in all common areas and will be adhered to in the classrooms as much as possible," he said. "I am extremely excited to have so many elementary students back in our school buildings. I applaud each and every one of our employees for extensive preparation that has taken place to prepare for this day, and thank parents and families for their confidence."
BES second grade teacher Jyll Williams was among those preparing her classroom Thursday for the return of more students. She said she would have 16 students. When she was teaching on the hybrid schedule, she had seven students Monday and Tuesday and nine students Thursday and Friday. Plus, she taught five students remotely.
"I am looking forward to having all my students face-to-face," she said. "Students definitely learn better in school when they can get real time feedback from me."
Jessica Sabiston of Beaufort was among many parents opting to have their children switch from the hybrid back to full-time, in-class instruction.
"We felt like the Carteret County school system has done a fantastic job of getting schools ready. We felt the health and safety precautions have been top notch and we feel confident this is the right thing for our family," she said.
Her third-grade son Porter said he was ready to go back.
"I feel like it's going to be fun," he said. "I've wanted to get back to school forever. I think doing my work with more people will be easier, and I miss my friends."
Parent Amanda Perry of Beaufort was also getting her two boys ready.
"We were on the hybrid schedule and I've tried teaching. I'm not fit to do it. I tried everything I know, but I can't reach them like a teacher can. They will do better back in school full-time," she said.
As for the number of confirmed COVID-19 cases reported in schools since they opened Aug. 17, as of Friday officials have reported 42 cases, with the most recent Thursday at Croatan High School.
Contact Cheryl Burke at 252-726-7081, ext. 255; email Cheryl@thenewstimes.com; or follow on Twitter @cherylccnt.