CHERRY POINT — The U.S. Marine Corps has broken ground Friday on the newest facility at Marine Corps Air Station Cherry Point.
MCAS Cherry Point personnel and Walsh Federal Construction contractors broke ground Friday on the new P-199 F-35 aircraft maintenance hangar, the first of three to be built at the air base. Base personnel, including Commanding Officer Col. Mikel Huber, were joined by 2nd Marine Aircraft Wing Maj. Gen. Michael Cedarholm and Walsh Construction Senior Vice President Dave Marchiori for the ceremony.
"I think it's an important, symbolic day," Col. Huber said. "Over the next decade, we'll spend over $1 billion dollars on two more hangars, a new flight tower and facilities to support the (F-35) squadrons. Today is all about support to the warfighter."
The hangar is scheduled for completion in summer 2022, according to Mr. Marchiori, while the first F-35 is set to arrive in summer 2023. Col. Huber said two squadrons will be housed at the new hangar, with about 400 new personnel.
Six F-35B and C squadrons are set to arrive over an eight-year period at MCAS Cherry Point. The F-35 is one of the newest models of military fighter jet, used by the Marine Corps, U.S. Air Force and U.S. Navy.
Maj. Gen. Cedarholm said the day marked "another chapter" in MCAS Cherry Point's history.
"It's unknown what conflicts we'll face," he said, "but what is known is we'll be ready, willing and able to meet those conflicts."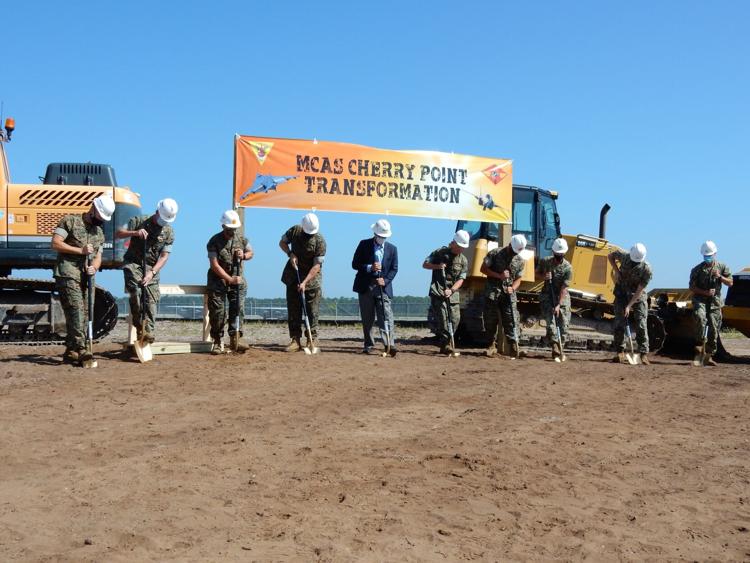 In addition to the three news hangars, Col. Huber said MCAS Cherry Point personnel are planning to take down an old warehouse, replacing it with a simulator facility for personnel training for the F-35. Other changes coming include replacing old infrastructure and the base's flight tower.
Mr. Marchiori said his company is "very excited" to be taking part in this project.
"We've focused on hangars as a specialty," he said. "We're really excited to be here at Cherry Point…We hope to make this a home."
In addition to the construction work, Walsh Construction has also been responsible for designing the new hangar. Mr. Marchiori said the design process took about eight months.
Col. Huber said the project represents the transformation of Cherry Point to "fifth generation capability."
"It's great for Cherry Point and the local community," he said. "This is just a hallmark of things to come. There will be challenges to face, but we'll step up to them."
Col. Huber said the local community is always interested in the health of the base.
"It's important to them and us," he said. "In my 27 years in the military, I've never enjoyed a better community-military relationship."
According to a May press release from Cherry Point, the modernization program going on at the base for the F-35 squadrons has been underway since 2009.
"Transformation and modernization of MCAS Cherry Point is projected through 2027," the release reads. "Installation leaders and manager will provide periodic updates and applicable information as things progress."
Contact Mike Shutak at 252-723-7353, email mike@thenewstimes.com; or follow on Twitter at @mikesccnt.