MOREHEAD CITY — For the first time in Carteret County history, three public high school bands will combine to compete for the 2021-22 marching season.
The band has its own name, Carteret Collective Sound, and its own uniforms, purchased by the school system. There are 150 members, made up of students from Croatan, East Carteret and West Carteret high schools.
WCHS band director Andy Wright said each school will also continue to have its own band for events such as parades and sports, but will come together as one to compete outside of the county.
Additionally, students who don't want to be in the marching band will have the option to just participate in band classes during the school day.
"In the past everybody had to do all things band to participate in band. But what we were finding was a lot of kids that loved band also played sports or had to work after school and couldn't do band," Mr. Wright said as he took a break from the new band's marching camp Thursday at WCHS.
"We decided to provide a competitive band and also offer band during the day for all students. Music education is for everybody, just like (physical education) is for everybody," he continued. "We don't make every kid in PE play football, so why should we make every kid in band be in marching band?"
Band directors from the other two schools said they were excited about the combined band.
CHS band director Mike Self said, "This will allow us to differentiate from what people will see on Friday nights and what we do in competitions on Saturdays. Competitive band has changed over the last decade and having a larger band provides us more opportunities."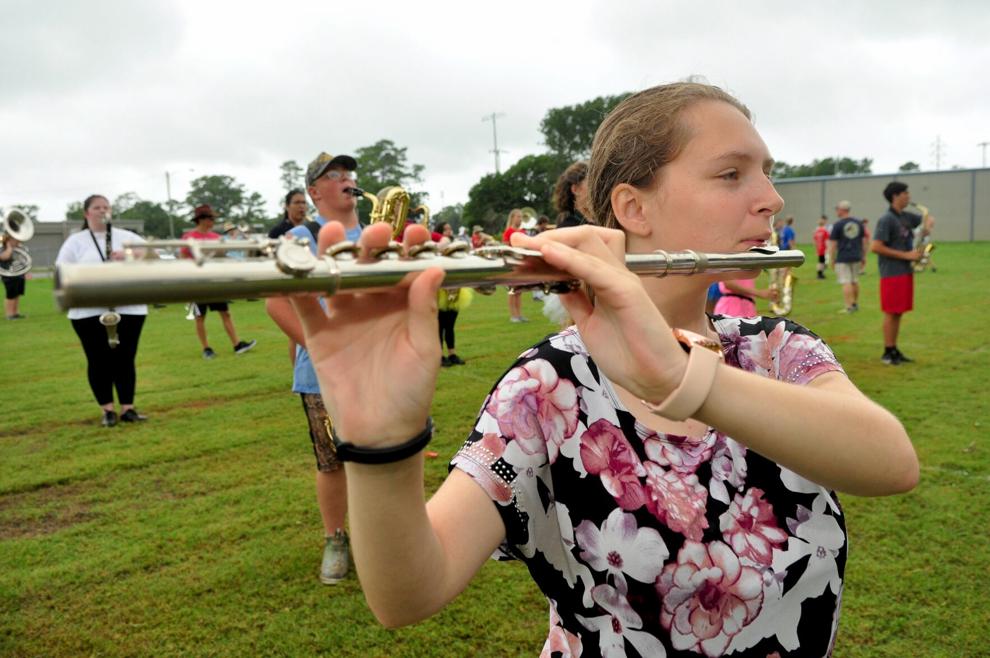 ECHS band director Ashley Wright agreed.
"This is a great way for our students to have a competitive experience and allow other band students to have a more traditional band experience," she said. "We've lost students to sports and other activities that I think will want to be in the program now."
Ms. Wright added that since some ECHS students have to travel an additional distance, her school plans to offer transportation for those who need it. The competitive marching band will practice after school at WCHS because it's centrally located.
Mr. Self said all band programs lost their competition season last year due to the coronavirus pandemic and programs in the county and state lost students at the high school and middle school levels.
"We seem to be recovering our numbers at the high school this year, but I'm concerned about what will happen in a couple of years. We depend on the middle schools to feed students into our high school band programs, and some of the middle schools lost half of their band students. I did hear that Broad Creek Middle School numbers have recovered. We'll see what happens in a couple of years."
Mr. Wright said with the competitive band season canceled last year, it provided the time to reassess the program.
"We really didn't have a true band experience last year. Coming out of COVID, we were all looking at how we were going to come back this year," he said. "That's when we started talking about this new program idea."
Mr. Wright first had to get the blessing of Carteret County Schools music and arts director Craig Everett, a retired WCHS band director. He also had to get the support of Superintendent Dr. Rob Jackson, who agreed to provide the funds for the uniforms. He then got permission from the N.C. Bandmasters Association, which establishes the rules for high school marching bands in the state.
The cost for 150 uniforms was $35,000, with money coming from the school system's operating fund. Mr. Wright said the uniforms are supposed to arrive the first of September, just in time for the premier performance at a county band event Saturday, Sept. 18. The location and time of the event have not yet been set. The band's first official competition will be the last weekend in September at Cleveland High School in Johnston County.
Students from the three high schools said they were excited about the combined band and the upcoming competition season.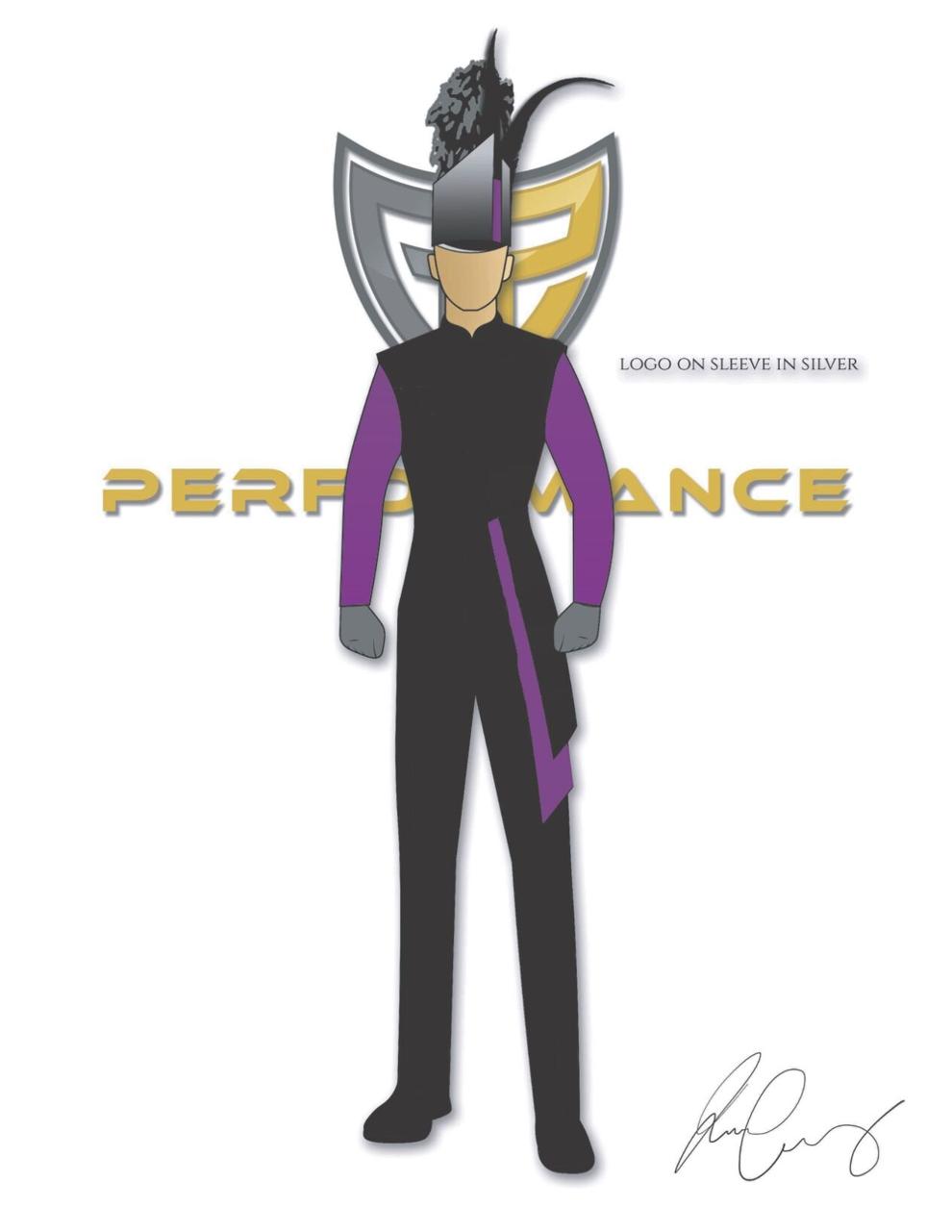 ECHS senior trumpet player Charlotte Bickley of Beaufort said, "I love it. It's really nice to have all the bands together so we can have an amazing program."
CHS senior flute player Molly Fahy of Cedar Point said, "I was so excited when I heard about this. During COVID I missed the big band feel so much. The first time we all played together the music sound was amazing. I'm just glad I get to do it for my last year of high school."
WCHS junior alto saxophone player Joy Miller of Morehead City said, "I thought it was a really great idea. When I heard about this I was excited because I hardly ever get to meet people from East Carteret and Croatan. So I love meeting all of these people."
Joy added that she felt the combined band will take the competition season to a new level.
"When we used to have marching band camp there were kids that really didn't want to be here. But all of the kids here this week for camp really want to be here and compete," she said. "It's just got this whole new energy."
Mr. Wright said he's still working on getting representation from band boosters from all three schools, but parents helping with the camp Thursday were enthusiastic about the combined band.
WCHS parent Tracy Holden, who has two children in the band, said, "I think it's awesome for the children to mix and mingle with those from other programs in the county. Collectively they can do what they love. It also gives us moms and parents an opportunity to meet other parents to support our kids."
Sara Taylor, also a WCHS parent who has one daughter in the band's color guard, said, "It's unity. Also, with these kids collectively coming together everyone can share their creativity with others. Everyone is going to bring something different and new."
Contact Cheryl Burke at 252-726-7081, ext. 255; email Cheryl@thenewstimes.com; or follow on Twitter @cherylccnt.