BEAUFORT — Faced with a new market in the age of Airbnb and Vrbo and squished by a new bypass, Terry O'Pray has had to retool plans for his property along Highway 101 in Beaufort a few times.
The roughly 1.5-acre parcel at 299 Highway 101 – near the intersection of highways 101 and 70 – is well-known as the site of the Carteret County Home, but Mr. O'Pray has a new vision for the site, a village of tiny houses.
"There's plenty of single-family here," Mr. O'Pray said as he walked the now overgrown property in mid-April. "This is a new concept."
He and his wife purchased the site, then far more secluded than it is now, in 1996 and used the existing structure to open a 10-room bed and breakfast. But long before families used it as accommodations for beach getaways, the county home had quite the past.
The building dates to 1914, when it was constructed to house the "poor, aged and infirm," News-Times contributor Chuck Waters reported in a 2017 feature on the property. The residential home folded in 1943, the property was sold at auction and it was remodeled into three rental units.
The structure was used as such until the mid-60s, when the rental operation shut down and the owners left it vacant until the 80s, Mr. Waters detailed. In 1983, Pandora Inc. purchased the property and began restorations, before the O'Prays acquired it in 1996.
The two-story structure was listed on the National Register of Historic Places in 1984, records indicate.
The couple shuttered the accommodations in 2015. The reasons were loud and clear, Mr. O'Pray said. The construction and opening of the Beaufort bypass, the new means to enter the town and access Down East were too much for them to sustain a peaceful oasis for customers.
Since then, the building has fallen into a considerable state of disrepair, with the roof damaged by Hurricane Florence in 2018. The problem deepened with Hurricane Dorian in 2019 and the once-manicured grounds are now overgrown, almost completely sheltering the view of the county home itself. The structure is better suited for a fire training exercise at this point, Mr. O'Pray maintains.
In a 2017 interview, state preservation and restoration specialist John Wood said the "historic structure is worthy of preservation," but Mr. O'Pray's realtor, Cindy Bishop, said they cannot find a buyer.

"I've showed it probably three or four times a year" since undertaking the listing around 2019, Ms. Bishop said. Despite the interest and several written and verbal offers, there have been no takers on the property, listed at $549,000.
The N.C. Department of Transportation bought several of the properties around his for the bypass project, Mr. O'Pray said, but not the county home parcel, he believes because of the registered historic building on it.
In the years since the bed and breakfast closed, Mr. O'Pray said he's looked at several options to sell for redevelopment, none of which have taken off. Among those ideas has been a gas station and drive-thru food joint, but those ideas have been squashed by NCDOT's unwillingness to allow access via the highways.
"We've had several, several offers that have been kiboshed by the DOT because of access," he said. "And we certainly weren't asking for access from up there (near the intersection of 101 and 70), but all of a sudden we couldn't get anything but my 22-foot-wide driveway."
Faced with a property that feels impossible to shed despite the fact the owners now reside across the state in West Jefferson, Mr. O'Pray began exploring other options.
It was Ms. Bishop who pitched the idea of the tiny home development to Mr. O'Pray, a contractor.
"I've been looking at tiny homes for a while, just because they're interesting," Ms. Bishop told the News-Times. "…There's a lot of possibility."
Tiny homes – part of a larger lifestyle movement gaining traction across the state and, particularly, in western North Carolina, as Ms. Bishop noted – can range in size and means. Some are built on site, while others are modular. They typically maximize space through creative storage solutions and use smaller appliances.
April 19, Mr. O'Pray presented a very preliminary proposal to the Beaufort Planning Board for feedback. It included 14 to 15 single-story, 400-square-foot homes on slabs using the existing driveway cut onto Highway 101. They would be mostly pre-sold, he estimated, for about $100,000 to $120,000 each.
The tiny subdivision would be managed by a homeowners' association and also possibly include a community building with laundry amenities in an existing accessory structure thought to be in good shape.
Mr. O'Pray pitched the proposal as a means to provide alternative housing options to the local workforce and increase stock in the area priced under $200,000.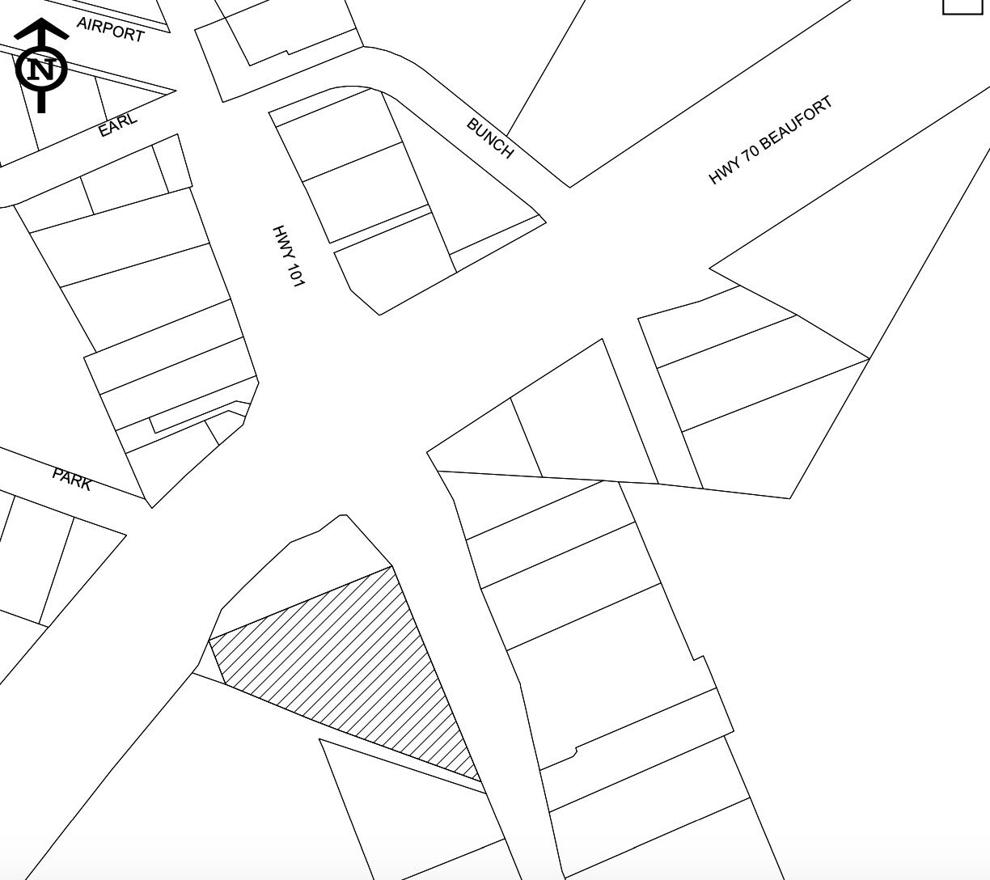 His presentation to the planners required no action from the advisory panel, but served as a means to take the temperature of the town on such a proposition.
To proceed, Mr. O'Pray would need to rezone his property from general business to TCA (townhomes, condominiums and apartments) and pursue setbacks and lot width exceptions.
Town Planning and Inspections Director Kyle Garner noted that the rezoning could bring the property closer to, but not totally, in line with the future land-use plan for that area, which identifies the parcel as low-density residential.
The planning board raised several concerns, including access and increasing traffic near the busy intersection, as well as some worry over whether the project would produce truly "affordable" housing.
"When you look at price per square footage, although people's needs are different for square footage, you're looking at a more expensive home per square foot than a lot of the homes in Beaufort, except for the ones in the core of downtown and along Taylor's Creek, so that is something that we would want to consider in terms of the term 'affordability,'" board member Paula Gillikin pointed out.
Additionally, she said she would hesitate to make the necessary exceptions for the tiny home village without it matching stated needs and community values, worried it could set a precedent for more second homes and short-term rentals under the guise of a more budget-friendly option.
"I think doing something like this could set a precedent elsewhere in town unless it was done very carefully," she said.
Despite the concerns, she and several other board members said they were interested in the concept and the possibilities it presents.
"This seems to be one of the most creative, I call it a proposal, that I've seen for our town that addresses issues that we've talked about in our (comprehensive plan update)," member Ralph Merrill said.
Following the April 19 discussion, Mr. O'Pray told the News-Times there was "sufficient interest to explore it further," or as he phrased it previously, "it's worth a shot."
Contact Jackie Starkey at 252-726-7081, ext. 225; email jackie@thenewstimes.com; or follow on Twitter @jackieccnt.