MOREHEAD CITY — The International Coastal Cleanup occurred Saturday, and on the day, as well as during the week leading up to it, local environmentalists were out collecting litter and marine debris in Carteret County.
At least two environmental groups with offices in or based in Carteret County took part in various cleanup efforts in the days leading up to International Coastal Cleanup Day, as well as on the day itself. Among them was Carteret Big Sweep, a county government-supported program dedicated to educating the public on litter and encouraging year-round cleanup efforts.
Carteret Big Sweep coordinator Dee Smith said the program held its annual fall cleanup to coincide with the international cleanup day.
"Cleanups looked very different this year due to (the coronavirus pandemic)," Ms. Smith said. "Groups were asked to keep their volunteer numbers under 25 people and to follow all COVID-19 recommendations for safety. Many volunteers this year included family units or small working groups. Larger groups were split up into multiple locations to aid in social distancing."
Rain events leading up to Saturday "dampened" some of the cleanup groups, according to Ms. Smith, but she said it was "still a busy day across the county."
"Of the 23 scheduled cleanups, data from 13 of those is back so far," she said. "From those 13 cleanups there were 100 volunteers and an estimate of 2,500 pounds of litter and marine debris picked up."
Many of the Big Sweep cleanups were along roadsides. Ms. Smith said a group from Marine Corps Air Station Cherry Point cleaned up almost 1,000 pounds of litter and debris in the Newport area.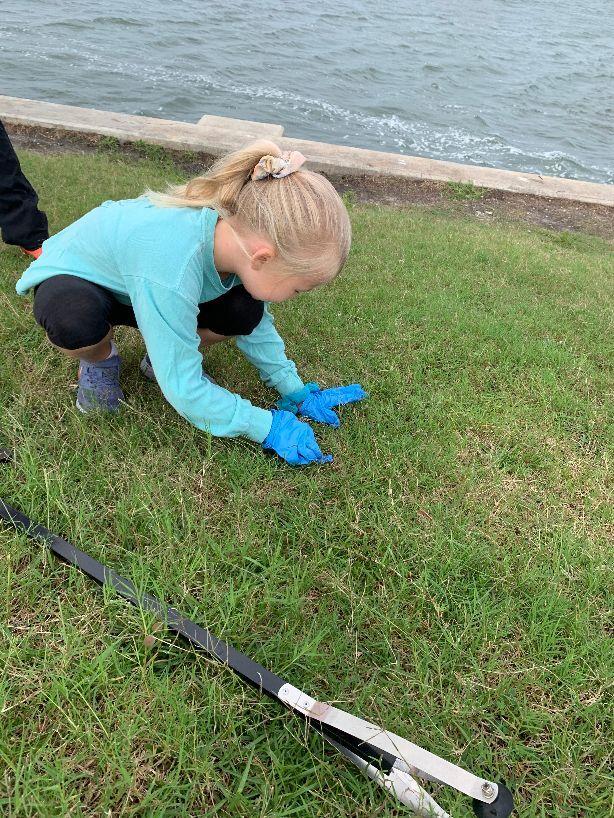 "Roadsides are one of our most needed areas for volunteers and the hardest to get cleaned," Ms. Smith said. "There are still roadsides that need work and we're still looking for more people and more groups."
Coastal Carolina Riverwatch was another environmental group that participated in the cleanup efforts. Executive Director Lisa Rider said her organization held cleanups all throughout the week of the cleanup day.
"At Coastal Carolina Riverwatch, we focus on marine debris prevention and removal all year round," she said, "but during World Cleanup Day we're reminded of how many of us there are around the world that are collaboratively working on the issue."
Ms. Rider said CCR held cleanups at nine locations throughout Carteret and Onslow counties, including Gallants Channel, North Topsail Beach, Pine Knoll Shores, Emerald Isle, Wards Creek, Blue Creek and a section of the New and White Oak rivers.
"Our cleanups this year were held with social distancing in place," Ms. Rider said. "We had 30 volunteers, including staff, board members, organization members and our local Sea Scout Troop 7730. During our cleanups, we picked up 700 pounds of debris."
While International Cleanup Day may be over, local environmentalists can still continue working to keep the coastal environment clean.
N.C. Coastal Federation coastal education coordinator Rachel Bisesi said the federation, a nonprofit based in Carteret County dedicated to protecting the state's coastal environment, is celebrating National Estuaries Week this week, and the federation is posting on social media about its efforts to clean up marine debris.
For more information on Carteret Big Sweep, visit its website, carteretcountync.org/704/Big-Sweep.
Contact Mike Shutak at 252-723-7353, email mike@thenewstimes.com; or follow on Twitter at @mikesccnt.