BEAUFORT — The parents of a six-and-a-half-week-old infant who died under their care made first felony court appearances in Carteret County District Court Monday morning.
Zackary Levy Phelps, 26, and Mellony Cassonpea McIver, 20, both of Morehead City, were each charged with second degree murder in connection with the death of their infant daughter, identified only by her initials, AP. Mr. Phelps was also charged with felony possession of a controlled substance and misdemeanor possession of drug paraphernalia.
During their separate, brief appearances Monday, Mr. Phelps and Ms. McIver both agreed to be assigned public defenders and were ordered to remain in the Carteret County jail in Beaufort until their next appearances, scheduled for Friday, Aug. 13. Both will remain under a $1 million secured bond. Neither spoke except to acknowledge the charges against them.
District Attorney Scott Thomas read their charges and briefly gave details of the case, which he said is still under investigation.  He said law enforcement became involved when the couple called 911 July 7 seeking medical care for the child. Morehead City EMS, as well as officers from the Morehead City Police Department, responded to the couple's apartment on N 9th Street, where officers allegedly discovered evidence of "extensive" drug use, including methamphetamine and marijuana, along with drug paraphernalia.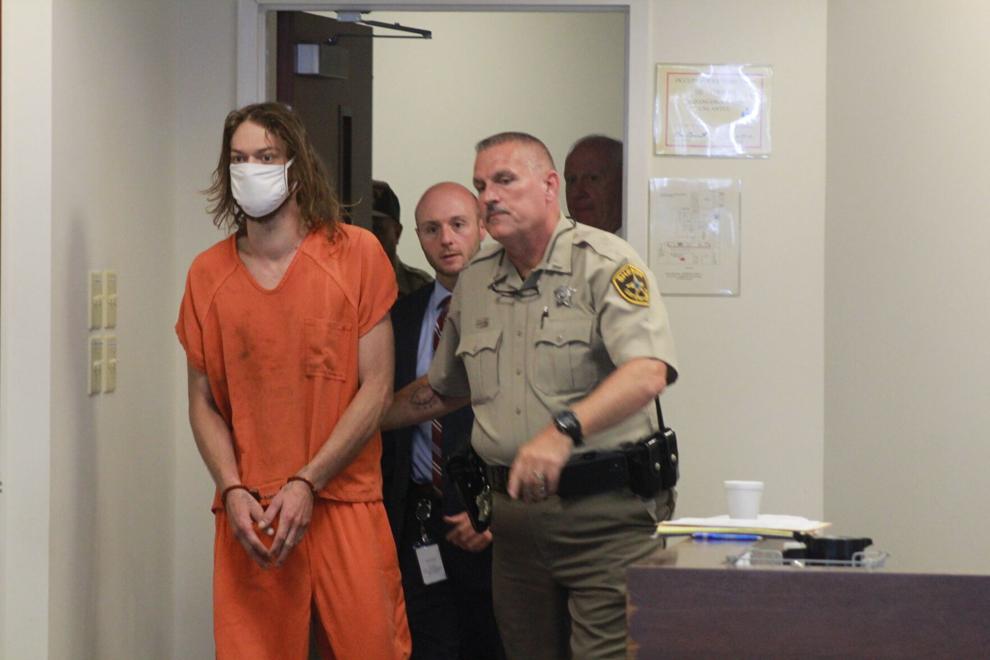 Mr. Thomas said the infant later died of causes he did not specify, at which point his office was notified and became involved in an investigation. He said based on the investigation, Ms. McIver is alleged to have been breastfeeding the infant while using drugs, which he believes led to the child's death.
"An autopsy has been performed on the child, and the pathologist determined that there was no trauma to the child's body on the outside, there were no sort of internal injuries, and that the cause of death was not due to any sort of natural causes," Mr. Thomas said Monday. "We are awaiting final toxicology report, but all the evidence that we have right now shows that the child would have ingested drugs that would have been introduced to the body through breastfeeding from the mother, so that's the basis of the charges that we have on the mother and also the father."
Upon making the determination, the MCPD issued warrants for Mr. Phelps' and Ms. McIver's arrests Saturday, and they were taken to the custody. The second degree murder charges could result in a minimum sentence of at least 20 years in prison, Mr. Thomas said. 
In a brief press conference with reporters following the proceedings, Mr. Thomas said the case was an unfortunate instance of drug abuse that his office and other agencies are trying to crack down on.
"What we're seeing now is that drug users are not only putting themselves at risk of injury or death, but they're also putting their children at risk of injury or death, and we've had several cases in our district within the last few months where this was a situation," he said. "…We are being very aggressive and proactive working with our sheriffs, police chiefs, our law enforcement agencies, and we're going to be in communication with the department of social services to be sure that we are doing everything we can to be proactive and to investigate these cases fully.
"If you put other people, especially an infant child, at risk or death, then there will be charges, and we will be charging with the highest provable offense that we can charge," he continued. "In this case, it was second-degree murder."
Contact Elise Clouser at elise@thenewstimes.com; by phone at 252-726-7081 ext. 229; or follow on Twitter @eliseccnt.