MOREHEAD CITY — Carteret Community College students may have wondered what was happening when a large tractor-trailer rolled into campus Wednesday.
It wasn't a delivery of freight, rather, The Crystal Coast Country Club and its owner, PKS LLC, along with Ryder System Inc. was donating the big rig to CCC for its commercial driver license program.
The 2010 freight-liner donation allows the college to expand its CDL program, according to CCC Vice President of Corporate and Community Education Perry Harker.
"Since 2016, we've partnered with Craven Community College to offer a CDL program and shared a tractor-trailer and revenue from enrollments between the two programs," Mr. Harker said. "It limited our opportunities. Now, the college will be able to operate the program on its own and have a truck and refrigerated trailer on campus full time."
Mr. Harker added that other college workforce programs, such as heating/air conditioning and diesel mechanics, will benefit from the donation, as well. Plus, the refrigerated trailer will serve as emergency storage for the college's culinary and baking and pastry program in the event of an extended power outage.
College officials joined with donor representatives for a brief ceremony Wednesday in front of the tractor-trailer, which was parked on the west end of the campus. Those attending were allowed to check out the big rig.
CCC President Dr. Tracy Mancini, along Mr. Harker, thanked Jason Wordsworth, president of PKS LLC, for the donation. Dr. Mancini said the tractor was estimated at $15,000, and the company donated a vinyl wrap for the trailer that contains colorful photos and advertisements about the college. She estimated the vinyl wrap at $10,000. She said they were still gathering information to estimate the cost of the trailer.
"This is a celebration," Dr. Mancini said. "This donation represents jobs and a brighter future for Carteret Community College and the students we serve."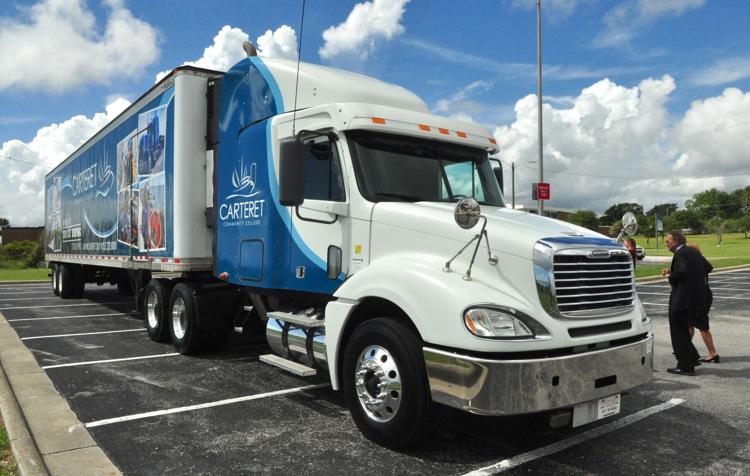 She further said with so many workers displaced due to the novel coronavirus pandemic, it was important the college offer short-term training programs "to get people back to work in high-demand, high-wage jobs. Students taking the CDL course can be job-ready in three months." 
CCC Director of Workplace Training Rick McCormac said the CDL class for the fall semester began Wednesday evening, and he was excited to see the tractor-trailer arrive in time for the fall program.
"We usually have companies hiring our students before they finish the program," Mr. McCormac said. "Sometimes we'll have more companies contacting us than we have students. Especially now, there is such a need for drivers."
CCC truck driving instructor Erica Davis said she, too, was excited to see the rig arrive.
"I think this is great. Anytime a school can get its own rig, that is great for their program. The students that start this week will graduate (Wednesday) Dec. 16 ready to drive," she said.
Mr. Wordsworth said he was glad to be able to help.
"This is all about the college and our community," he said. "With this donation, we hope that it will give the students an opportunity for success."
Students in the program study for their Class A CDLs by receiving classroom instruction and experiencing behind-the-wheel truck driving. Students who successfully complete the course are eligible for immediate employment. A recent indeed.com posting indicates the average salary for truck drivers is $61,250, with some companies such as Sysco and Walmart paying more than $86,000 a year.
Students wishing to register are required to obtain a physical and five-panel drug screening and submit a copy of their driving record for the past five years.
Contact Cheryl Burke at 252-726-7081, ext. 255; email Cheryl@thenewstimes.com; or follow on Twitter @cherylccnt.