BEAUFORT — An estimated 540 Carteret County public high school seniors have persevered through hurricanes and the coronavirus pandemic to graduate.
Their effort has paid off and at 6:30 p.m. Friday the county's three public high schools will celebrate the first traditional commencement exercises to be held inside gymnasiums in two years due to the loosening of COVID-19 safety restrictions.
West Carteret High School senior class president Sydney Eure said, "I am just glad we get to have a graduation. This will be the first time the class has come together the whole school year."
The last official day of school for all county public school students is Wednesday, but some middle and high schools are finishing up in-person classes Tuesday, with Wednesday a virtual day. Elementary schools will dismiss early Wednesday.
Seniors at Croatan and East Carteret high schools got an early start celebrating Thursday when they dressed in caps and gowns and walked through the hallways of elementary and middle schools in their districts. The purpose was to inspire younger students to stay in school and graduate.
In addition, other schools are celebrating with special events, such as drive-thru and in-person promotion exercises for eighth-graders Tuesday.
While it's been a challenging year for all students, it's been especially so for seniors, who weren't certain they would be able to graduate together with a traditional ceremony until early May.
"I was extremely nervous about not getting a graduation earlier. When they said yes, then I wondered what that meant. Then when they said it would be inside the gym and we would be together. I thought this is like a real traditional graduation," ECHS senior Ellie Fulcher said Thursday.
"We've had every curve ball thrown at us, but we've tried to stay positive," she continued. "Our class has only had one normal school year — our freshman year. After that we had Hurricane Florence (2018), Hurricane Dorian (2019) and then COVID (2020). I think we've learned to roll with the punches."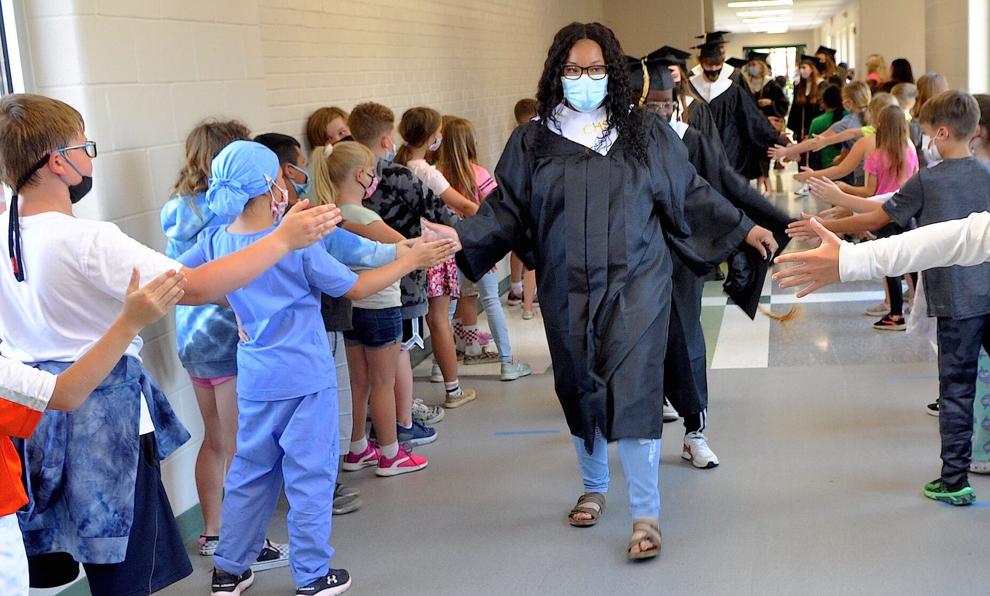 Principals at the three high schools said they would be following the latest Centers for Disease Control and Prevention guidelines regarding commencement as far as social distancing and masks. That means masks will be recommended, but not required, and graduates are being allowed several guests based on the size of each school's gym.
The news earlier this month that seniors would be able to graduate together was welcome at all three schools and a far cry from last year's commencement exercises. Because of the safety restrictions last year, the class of 2020 experienced a range of ceremonies, from drive-thru commencement to graduates receiving diplomas individually in the auditoriums with two family members watching.
WCHS student council president Susanna Segrave said she's looking forward to seeing all of her classmates one last time in a traditional ceremony.
"It's going to be bittersweet. It will be the first time and the last time we're going to be together as West Carteret Patriots," she said.
CHS senior class president Shelby Waltrip agreed it was worth overcoming the challenges to be able to come together.
"It's like it was all worth it this past year of wearing masks," she said. "I'm so excited to get to be with my peers one last time in the most normal circumstances we've been in in a long time."
Students at all three high schools said while they wouldn't want to repeat the last two years, they believe what they've been through has made them stronger and they will carry those lessons into the future.
"I think it's definitely made us stronger," Ms. Waltrip said. "It's taught us to literally persevere through a pandemic."
Ms. Eure said, "I definitely think we've learned to deal with adversity, and not just us, but our parents and teachers."
Ms. Segrave added, "I think we've learned how important our relationships with others are. I realized we need people and miss people. I think that is a good thing to come out of COVID — to realize how much we love and need each other."
As for the number of seniors graduating at each county public high school, CHS reports an estimated 180, ECHS has about 120 and WCHS expects about 240 graduates.
In addition to public high schools, Gramercy Christian School in Newport held a commencement exercise May 28 for 20 graduates. Carteret Community College had 15 students graduate in May from its adult high school diploma program. That makes a total of 575 high school graduates in the county for 2021.
Contact Cheryl Burke at 252-726-7081, ext. 255; email Cheryl@thenewstimes.com; or follow on Twitter @cherylccnt.