EMERALD ISLE — It's 11 a.m. Monday, Sept. 27 and Joel Dunn has not used a watt of electricity from Carteret-Craven Electric Cooperative since Friday at his home at 120 Ethel Drive in Emerald Isle.
Sure, the nice fall weather over that weekend meant he didn't need air conditioning or heat. But the refrigerator kept running, the energy-efficient washer and dryer got some action, the water was hot for bathing and all the electronic devices stayed charged. The all-electric vehicle in the driveway was also charged and ready to go.
All the electricity used for the past three days at the house was generated by the solar panels on the roof and stored, if needed, in the home's Tesla Powerwall.
"I'm a solar advocate," said Mr. Dunn, a retired University of North Carolina System computer scientist and chairperson of the Croatan Group of the Sierra Club. "In fact, I call myself a 'solar evangelist.'"
Fittingly, Mr. Dunn's house is one of five solar sites in Carteret County on the 26th annual National Solar Tour, set for Saturday.
Another site on the tour is the home of Mark and Penny Hooper at 273 E. City Road in Smyrna. Ms. Hooper is the Croatan group's conservation committee chairperson.
The third is a completely off-the-grid farm owned by Michael Murdoch, the Croatan group's N.C. State Executive Committee representative, and his wife, Deede Miller, at 341 J. Bell Lane off Highway 24 in Ocean. Meanwhile the fourth is a house at 4906 Holly Lane in Morehead City owned by Mr. Dunn's sister and brother-in-law, Susan and Mike Land.
Finally, there is a virtual tour of Vance Knight's home in Atlantic Beach.
The club chapter put the tour together so interested individuals have a place to explore the technology. The national event, which was all-virtual in 2020, is under the auspices of the American Solar Energy Society.
Mr. Dunn said the tour aims to dispel myths about solar energy and to inform people how they can use it if they are so inclined.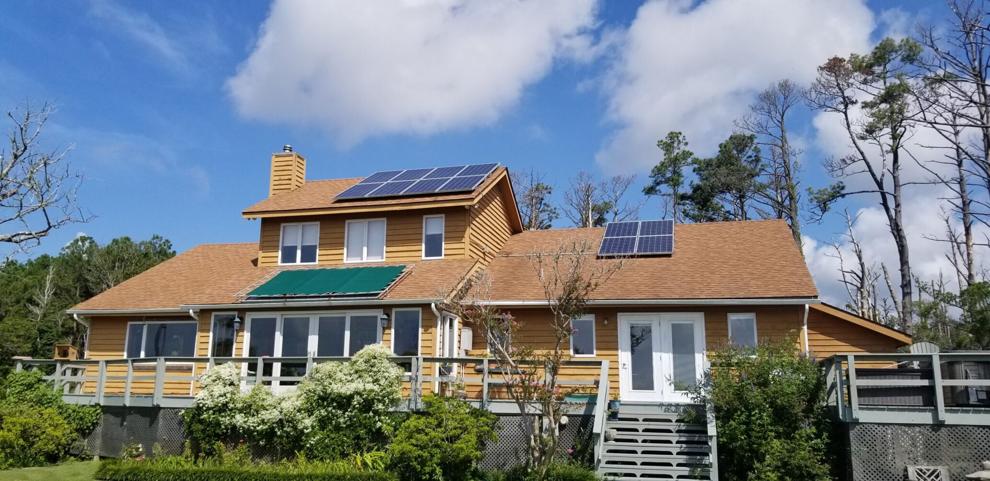 He described himself as a longtime environmentalist, rock climber and hiker who took the solar plunge in 2018 after he and his wife, Jan, and dog, Zefram, moved to Emerald Isle from Chapel Hill.
"I'd always wanted to do this," he said, "but our house in Chapel Hill wasn't suited for it. This one has a good space on the roof, facing directly south, which is perfect."
He went to a solar presentation in Beaufort organized a few years ago by Ms. Hooper, then started doing the research that resulted in his current system.
He concedes it was expensive – $33,500 before then-existing tax credits and incentives kicked in – which shaved the cost to about $22,500. It probably won't pay for itself in electric bill savings until about 25 years after installation.
"That's not why we did it," he contends. "We did it because we thought it was the right thing to do."
One reason for the long time period is Mr. Dunn wanted the optional storage of the power wall, which cost $10,000.
Another is that Carteret-Craven Electric Cooperative doesn't buy excess electricity generated by his system.
Mr. Dunn said the system installed by his sister and brother-in-law in Morehead City should pay for itself through reduced electric bills within about 10 years because it was less expensive to purchase and install.
Melissa Glenn, spokesperson for the co-op, said the business doesn't endorse solar power providers,but offers advice to those who want it and encourages those who pursue solar power to do their homework. The co-op does offer a time-of-use rate for those who install a solar-plus-battery system.
Mr. Dunn said he and his wife are happy with their system.
 "So far in 2021, we've used 10.3 megawatt hours of electricity," he said.
A MWH is 1,000 kilowatt-hours. It is the amount of electricity generated by a one-megawatt electric generator operating or producing electricity for one hour. According to the U.S. Energy Administration Agency, the average American residence in 2020 used 10,649 kilowatt hours of electricity, which equates to 10.649 MWH.
Mr. Dunn said that of the 10.3 MWHs, 6.37 came from the solar system and 3.89 MWH came from the co-op. As for usage, he said, 1.58 of those MWH have gone to charging the electric vehicle, which he said is adequate and effective for the family's travels. In fact, he's planning to buy an all-electric truck and retire the family's gas-powered one.
Mr. Dunn monitors it all on his computer.
The Solar Energy Industries Association, a U.S. trade association, calculates that on average one megawatt of solar power generates enough electricity to meet the needs of 164 U.S. homes, so 100 megawatts of solar power are enough, on average, to power 16,400.
Mr. Dunn said "utility-scale" solar is a big deal for the future.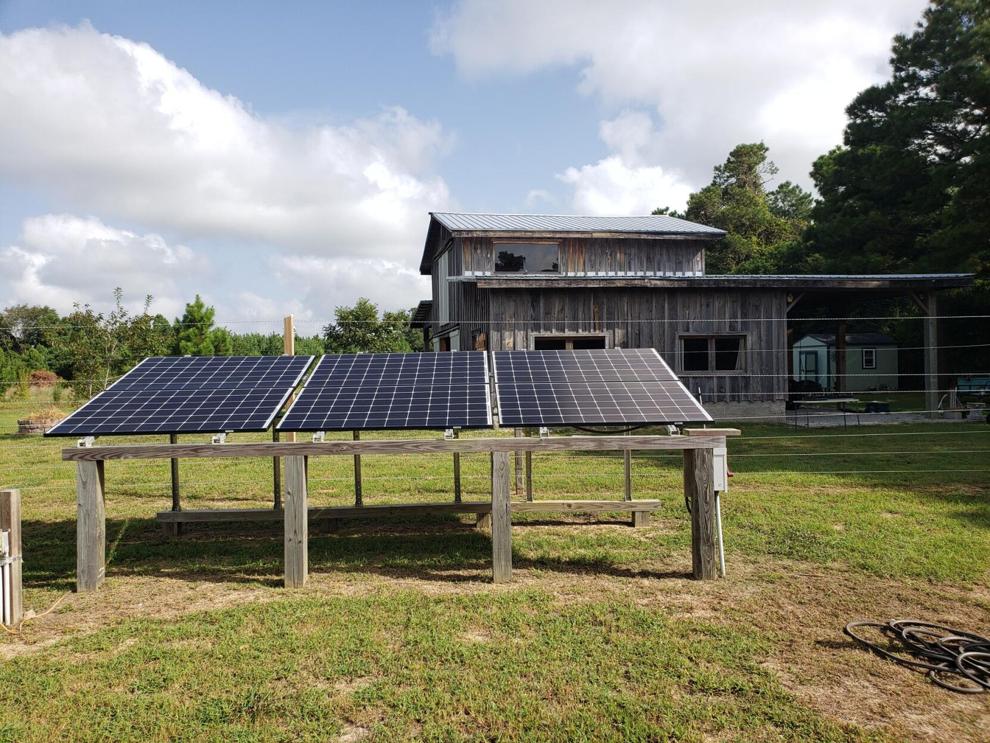 For example, The Trent River Solar Project near Pollocksville, developed by Pine Gate Renewables of Asheville, went online in July and, according to the company's website, features 832,170 solar panels covering about 725 acres. The project is one of the first in the state to be awarded a 20-year power purchase agreement through Duke Energy's Competitive Procurement of Renewable Energy, or CPRE, program.
According to the U.S. Department of Energy, "Solar energy is the fastest growing and most affordable source of new electricity in America, with more than a million installations in the last two years."
Duke Energy's website states North Carolina is second in the nation among states for overall solar generation.
Critics point out that all those solar panels will eventually die and must be disposed of somewhere.
The International Renewable Energy Agency concedes it's a problem, since panels, on average, have a 30-year life span.
"Solar photovoltaic (PV) deployment has grown at unprecedented rates since the early 2000s," the agency states on its website. "As the global PV market increases, so will the volume of decommissioned PV panels, and large amounts of annual waste are anticipated by the early 2030s."
Ms. Hooper, in Smyrna, said she's also excited to share information this weekend with any visitors about the solar experience. The Hoopers get about a third of their power from their panels, which they installed in 2012.
"It's a thing of beauty," she said. "You don't even know it's there. And it's much more affordable now."
She said their panels were made in the U.S., which is unusual now, since China has taken over the manufacturing market. It's important to deal with a reputable installer, she stressed. Theirs went out of business, so maintenance has been an issue at times.
Mr. Dunn said he and the other Carteret County site owners involved in the tour want to talk to interested people in a relaxed atmosphere and help dispel some of the fear, uncertainty and doubt that often pervades debates, especially – about solar and wind energy and electric vehicles.
"The solar tour," Mr. Dunn said, "is an opportunity for people to see and talk to early adopters" of technological solutions to energy use and climate change.
"We can share our experiences, which may be better than 'What I read on Facebook,'" he said.
For more information about the National Solar Tour, visit nationalsolartour.org/.
Editor's note: This report was updated at 1:35 p.m. Friday, Oct. 1, 2021, to clarify the stance of the electric cooperative regarding solar providers. The headline was also previously updated.
Contact Brad Rich at 252-864-1532; email brad@thenewstimes.com; or follow on Twitter @brichccnt.