NEWPORT — Thanks to a joint operation involving Carteret County agencies, Carteret Health Care and emergency medical personnel, 1,142 area residents received COVID-19 vaccinations Monday at Newport Middle School.
County Health Director Stephanie Cannon said this will be the first of many mass clinics to get vaccines to the thousands of residents age 65 and older on a rapidly growing waiting list.
"We will probably start planning for the next clinic Tuesday," Ms. Cannon said. "At the end of this clinic, the health department will not have any more vaccine until we receive another shipment from the state later this week."
Even with the many vaccinations administered Monday, there were still more than 8,000 people on the list to receive shots. Ms. Cannon said as soon as they receive vaccine, they will schedule more appointments for those on the list.
County Emergency Services Director Stephen Rea said another mass clinic will be held in three weeks at the Crystal Coast Civic Center in Morehead City to administer the second and final dose to those vaccinated Monday.
He said it took teamwork to rapidly organize the clinic because neither the health department or the hospital know how many doses of vaccine they will receive from the state from week to week.
Those participating in the clinic included the health department, County Department of Social Services, CHC, several emergency medical service agencies and paramedics, the County Sheriff's Office, Newport police and fire and rescue departments and volunteers from Broad Street Clinic, nursing students from Craven Community College, pharmacy workers and students from CHC and Carteret County Schools personnel. There were also medical doctors volunteering their time.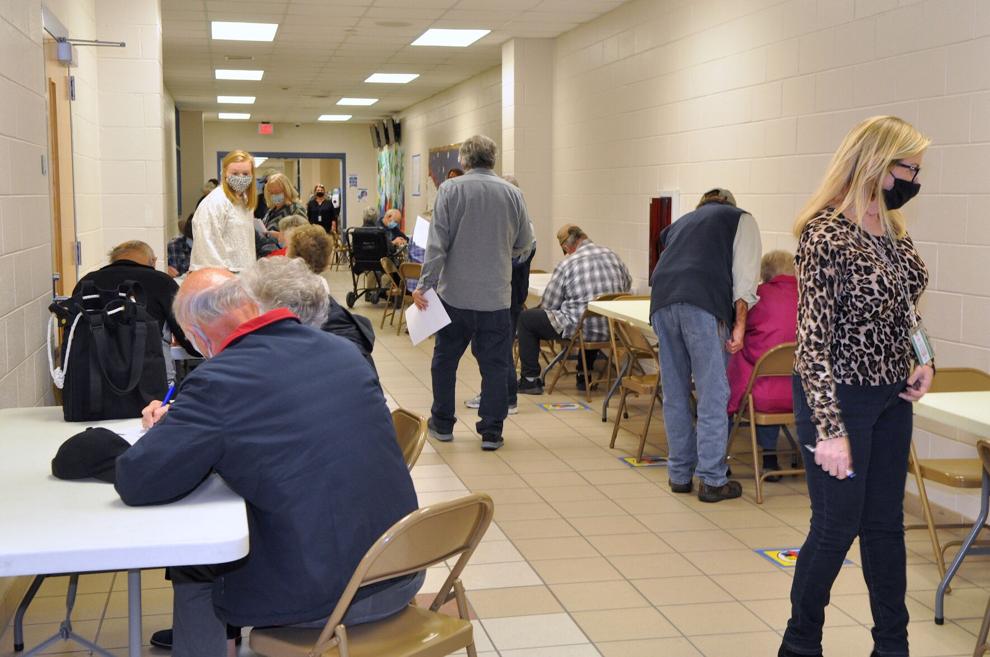 County employees managing a phone bank called residents on the waiting list last week and over the weekend to set up appointment times for the clinic.
Personnel from different county and hospital departments managed the numerous stations set up Monday as residents checked in. Paramedics and other medical personnel were outside with wheelchairs to help those needing assistance.
After their names were checked off the appointment schedule, residents entered the school and stopped at a hand sanitizing station, followed by a temperature check. People then picked up their paperwork and went to a long hallway, where numerous personnel staffed an area to help patients fill out their information.
From there, those about to receive a vaccine proceeded to the school's gym, which had 12 vaccination stations set up. There was also a station where hospital pharmacists and pharmacy students prepared the vaccines to administer.
Those giving vaccinations included CHC pharmacy interns, nursing students from Craven Community College, pharmacy students from the University of North Carolina at Chapel Hill, volunteer doctors and staff from Broad Street Clinic and others.
Once a person received their vaccination, they were escorted to another area of the gym to be monitored by paramedics for 15 minutes to ensure there were no problems or allergic reactions. Mr. Rea said no one had an allergic reaction.
He thanked all those who helped make the first mass clinic a success. He added that it seemed fitting to hold it on Dr. Martin Luther King Jr. Day, often recognized as a day of service.
"It was a wonderful day for doing this, being a day of service," he said. "Seeing all of these agencies come together and get vaccine out to our community was truly great."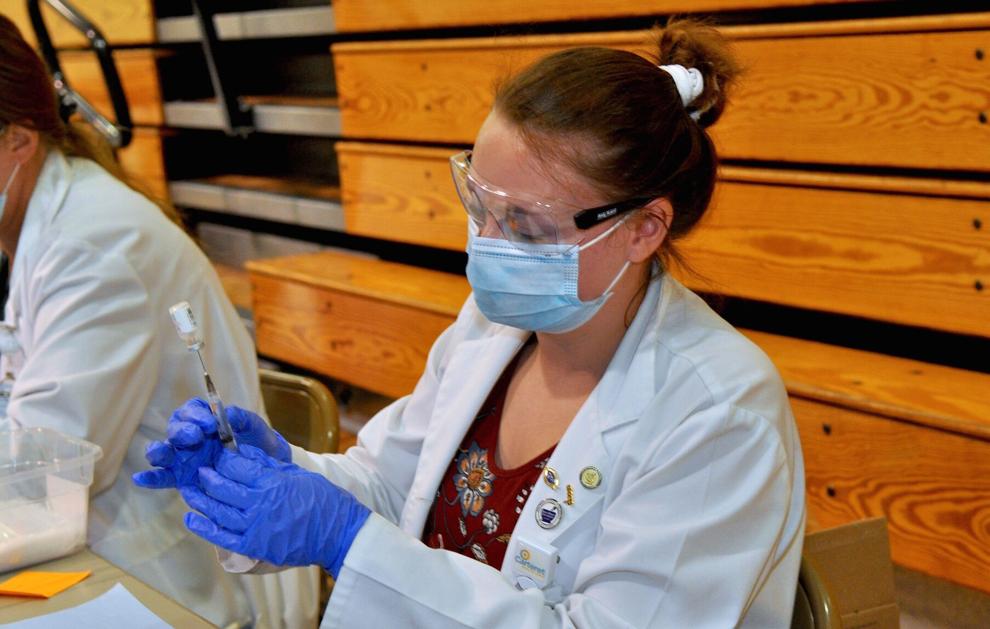 Ms. Cannon agreed.
"It's been really nice to see this partnership," she said. "This is just a ramped up version of a flu clinic. I also think our experiences with hurricanes has made us prepared for this. We know how to quickly pull our resources together because of all the hurricanes we've experienced. We just go into an emergency procedure and we already have the procedures in place. It's just a different set of problems."
CHC President Harvey Case, too, said he was glad the hospital was able to join with county personnel to get residents vaccinated as quickly as possible.
"The key will be how many doses we're going to get to keep these going," he said. "Stephanie did a lot of planning to make this happen quickly."
Newport Middle School Principal Debbie Trogdon said she and Superintendent Dr. Rob Jackson were happy to offer the school site for the clinic.
"We talked a lot about what we needed to make this happen," she said. "We see this as our community service."
Keith Godwin of Newport, 86, one of those receiving a vaccination, said he was impressed with how organized the event was.
"I thought it was the most organized event I've seen," he said. "They met you in the parking lot and walked you through every station. They had paramedics in case you needed assistance. It was very efficient. The people were very caring and courteous. I don't know who organized this, but they and their workers are to be commended."
Kent Neal of Morehead City, 75, agreed.
"I think they are processing a reasonable amount of people. To me, this was like any other shot. It didn't even hurt. I think a lot of people have a misconception about the vaccine based on discredited research. When something is tested as much as this has been tested, I'm getting the shot. If there is any risk, it is far outweighed by the alternative."
Reporter's note: This article was updated at 9:58 a.m. Wednesday, Jan. 20, 2021, to add more information to a cutline. 
Contact Cheryl Burke at 252-726-7081, ext. 255; email Cheryl@thenewstimes.com; or follow on Twitter @cherylccnt.