MOREHEAD CITY — Thirty-eight educators in Carteret and Craven counties received unexpected cash Thursday and Friday for classroom projects.
They are recipients of Bright Ideas grants from Carteret-Craven Electric Cooperative to support innovative classroom projects.
Grant recipients' projects ranged from a drone club to exploring physics and computer coding.
Carteret-Craven Electric Cooperative communications specialist Melissa Glenn said, "Educators who win Bright Ideas grants are going above and beyond for their students. The innovative and creative learning initiatives developed by our area's teachers are impressive and we are proud to help them facilitate these projects."
Multiple educators apply for the competitive grants each year, and winners are not informed until they receive a surprise visit at their schools.
Traditionally, CCEC representatives surprise the winners in their classrooms, but because of COVID-19 restrictions, the past two years' checks have been presented outside school buildings, complete with a CCEC bucket truck to provide a backdrop.
Ms. Glenn said $26,150 in education grants were given to teachers this year. The check amounts varied depending on the projects, and the most given was $1,000.
Thirty awards went to Carteret County, and educators receiving them Thursday said they couldn't do their projects without the funds.
Beaufort Elementary School media coordinator Amy Wilson said, "For me it means being able to provide our children with the extra technology we wouldn't otherwise be able to provide. We are able to purchase equipment without dipping into book funds."
Ms. Wilson received $320 to purchase Ozobots, desk-friendly robots that teach coding and problem-solving skills.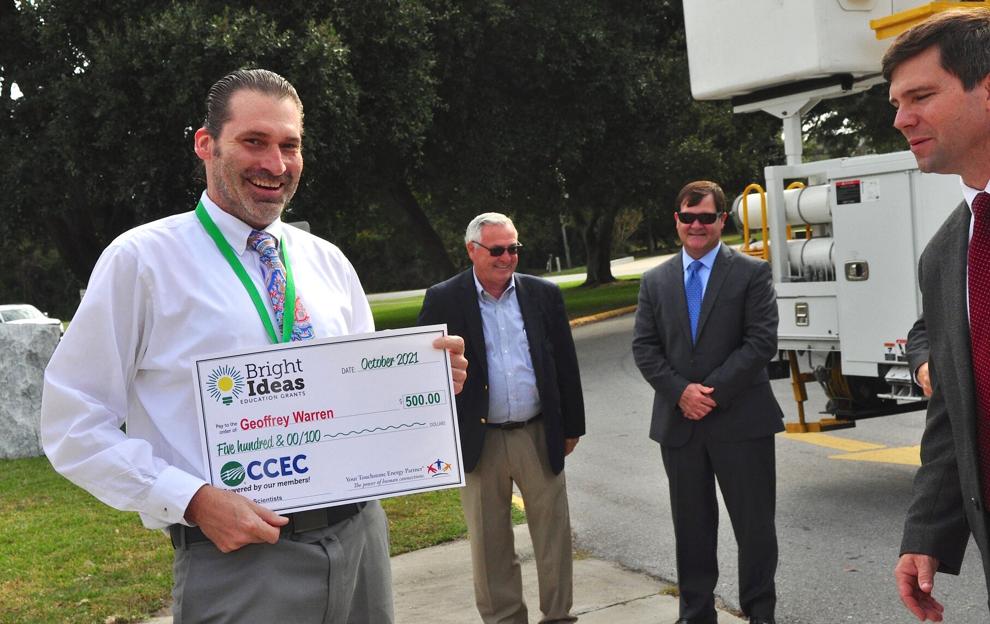 Beaufort Middle School sixth-grade English language arts teacher Geoffrey Warren, who received $500 to purchase science graphic novels to encourage reading, was also excited to receive the extra cash.
"My family and I just put together $1,000 of our own money and bought some graphic novels ourselves," he said. "Now I'll be adding to what I have so more will be available for students."
Morehead City Elementary School fifth-grade science teacher Susan Merrell and her team were excited about receiving $879.82 to purchase Spheros, used to study coding, math, the force of motion and other science and math skills.
"Without this grant we wouldn't be able to get the extras we need and to continue to add to our collection so more students have access," she said.
Then there was West Carteret High School NJROTC instructor Carl Briscoe, who received $1,000 to purchase equipment for the school's drone club.
"The Navy has asked ROTC teams to put together obstacle courses and compete in drone racing," he said. "This money will help us put all the props together and compete against other ROTC teams."
Teachers apply through mid-September of each year for the grants, and judges decide which projects will receive awards. Ms. Glenn said the application process will reopen for interested teachers in April 2022.
Superintendent Dr. Rob Jackson, who joined CCEC for some of the presentations, said he was grateful for the support of community partners like CCEC.
"It makes such a meaningful difference for our teachers, especially when you see repeat winners who build on funds they have received in previous years," Dr. Jackson said. "I'm very grateful."
Since the Bright Ideas grant program began in 1994, the cooperative and its foundation have contributed nearly $559,000 to area educators.
To learn more about the Bright Ideas grant program, visit ccemc.com/BrightIdeas and follow @NCBrightIdeas on Facebook and Twitter.
County educators receiving Bright Ideas grants, their schools and names of their projects are:
·     Deidre Arthur of Atlantic Elementary, "Coding with Math."
·     Amy Wilson of Beaufort Elementary School, "Built to Last: Fairy Tales and Tall Tales."
·     Geoffrey Warren of Beaufort Middle School, "Shine Scientists."
·     Dana L Tucker and team of Bogue Sound Elementary School, "Keep Calm and Learn."
·     Tracey Woodard and team of Carteret Preschool Center, "Exploring Insect Life Cycles."
·     Wendy Gartner of Croatan High School, "De-stressing for Success."
·     Sheila Moore of Croatan High School, "Keeping it Natural and Clean."
·     Susan Merrell of team of Morehead City Elementary School, "Exploring Physics and Coding with Sphero."
·     Wendy Horvat of Morehead City Elementary School, "Listening Comprehension."
·     Claire Ross of Morehead City Primary School, "3,2,1… Learn!"
·     Liz Sharkan and Ernest Pendleton of Morehead City Primary School, "Not Just Getting Over It: Supporting Positive Coping Skills in Our Primary Students."
·     Stephanie Jones of Morehead City Primary School, "Classroom Without Walls."
·     Alicia O'Brien of Morehead City Primary School, "Escape the Worksheets."
·     Emily Golightly of Newport Elementary School, "Engineering Literacy: Building and Designing our Future Through STEAM-based Literacy Activities."
·     Heather Montero and Chadwick Howard of Newport Middle School, "Look at Me, I'm 3D!"
·     Dawn Simpson and Tanner Worrell of Smyrna Elementary School, "Reading Road Trip: A National Park Adventure."
·     Dana Pingatore of Tiller School, "First Lego League Challenge — The Future of Transportation."
·     Courtney Cowley and team of Tiller School, "Moms Do Science."
·     Gillian Rose and team of Tiller School, "Kids Can Code."
·     Deb Connolly and team of Tiller School, "Reversing the Reading Slump."
·     Sandy Quinn Giovanni of West Carteret High School, "WCHS Robotics Team — We are Diametric!"
·     Sarah Noll of West Carteret High School, "Picture This."
·     Carl Briscoe of West Carteret High School, "Drone Club."
·     Deborah S. Butler of West Carteret High School, "21st Century Lab Equipment for AP Chemistry."
·     Marsha Sirkin of White Oak Elementary School, "Coding Across the Curriculum."
·     Elizabeth Foxworth of White Oak Elementary School, "Harnessing the Power."
·     Amy Lee of White Oak Elementary School, "Hatching 'Eggs'traordinary Ideas."
·     Alisha Reynolds of White Oak Elementary School, "As a Matter of Facts."
Contact Cheryl Burke at 252-726-7081, ext. 255; email Cheryl@thenewstimes.com; or follow on Twitter @cherylccnt.