EMERALD ISLE — Eighth-grader Noah Swindell of Raleigh, whose family has a summer home in Emerald Isle, was concerned about the effects of plastics on the beaches and sea life.
He turned his concerns into action by creating and distributing 1,000 magnets with a message, "Join us in protecting Emerald Isle's turtles, beaches and sea life! Remember to keep plastic bags off the beach. Share your good deed with #skipthebags."
With support from his family and state Rep. Pat McElraft, R-Carteret, who lives in Emerald Isle, the young environmentalist spent Saturday delivering his magnets to Emerald Isle real estate companies to place in their rental rooms, as well as at the town's Visitor's Center.
Noah raised the money to create the magnets and also donated checks to organizations advocating for less litter and plastics on the beach.
The idea for his project started back in February, when his school studied climate change and pollution. He emailed his concerns about the effects of plastics on the ocean and environment to Rep. McElraft, asking her to enact legislation to ban the use of plastic bags.
"I am asking you to consider legislation to manage plastic bag use," he said in an email Feb. 28 to Rep. McElraft. "I am concerned about plastic bag use because of the amount of animals in the seas that eat the plastics as well as marine debris that disturbs natural habitats. Also, plastic bags take hundreds of years to break down in landfills and even when they do, they release microplastics which are toxic to humans and other animals."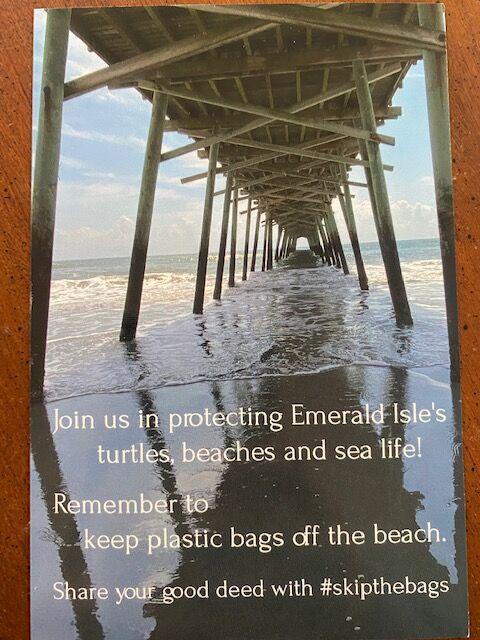 Because legislation controlling the use of plastic bags on the Outer Banks was repealed by the General Assembly in 2017 after businesses complained it was difficult to get customers to pay for recyclable bags, Rep. McElraft suggested Noah try an education campaign instead.
"They found their tourists were bringing their plastic bags from their own states so the requirement was not truly solving the problem. With the repeal the customers have a choice of bags and are not forced to buy recyclable bags," she said in an email response to Noah.
"I truly think that education is the best remedy for plastic bags on the beach," she continued. "The beach towns have placed more trash receptacles conveniently located on our beaches. If you've noticed all the trash on the roads lately, I think it is time to get a do not litter campaign going again and increase fees for littering as well as increase no litter education."
Noah followed through with the suggestion, and magnets with his message can now be seen in rental homes in Emerald Isle.
He thanked Rep. McElraft for her suggestion, and said he planned to continue his efforts to clean up the beach.
"I am planning on attending and participating in beach clean ups at Emerald Isle," he said.
Rep. McElraft said she was impressed with Noah's passion for the environment and his conviction to take action.
"I have been so impressed with this young man and his advocacy for the sea life — not just talking the talk but walking the walk," she said.
Contact Cheryl Burke at 252-726-7081, ext. 255; email Cheryl@thenewstimes.com; or follow on Twitter @cherylccnt.