MOREHEAD CITY — With state officials easing up the on novel coronavirus-related restrictions, local stores are beginning to reopen their doors.
In Morehead City Monday afternoon, two large clothing retailers – Belk and T.J. Maxx – were open again and serving customers. Belk store manager Khris Hamlin said his store opened its doors at noon Monday.
"We had people waiting at their cars and on the sidewalk," he said. "Our customers are really flocking across the store."
Cynthia Hayes of Tarboro, who said she was staying in Atlantic Beach, was among those shopping at Belk Monday afternoon.
"I heard they were going to start opening some businesses, so I took a chance and came here," she said. "I've missed Belk and the other stores being open."
Mr. Hamlin said as of Monday, his store is open daily from noon to 6 p.m.
"We're following local government recommendations to keep people safe," he said.
Similar to other businesses that have been allowed to stay open during the outbreak, Belk of Morehead City has stickers on the floor reminding people to maintain social distancing, as well as marked places for customers to wait while in line for registers.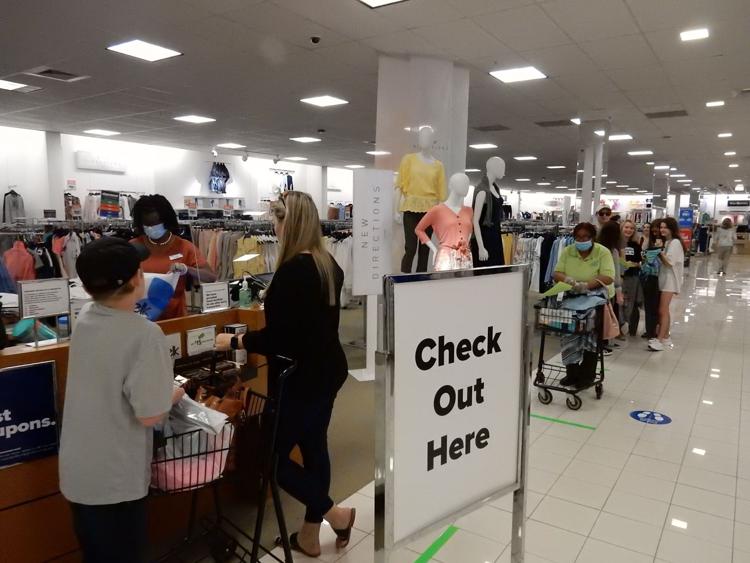 Over at T.J. Maxx, store employees Monday were keeping careful count of how many customers were in the store at one time, limiting the number of shoppers.
People lined up to wait their turn on the sidewalk outside. A sign posted in the window said temporary store hours were from 10 a.m. to 7 p.m. Monday through Saturday and 11 a.m. to 7 p.m. Sunday.
Contact Mike Shutak at 252-723-7353, email mike@thenewstimes.com; or follow on Twitter at @mikesccnt.