MOREHEAD CITY — Frances Fulford, 84, a long-term care resident at Crystal Bluffs Rehabilitation and Health Care Center, waited nearly a year to receive a simple hug from her family members due to COVID-19 restrictions.
Finally, in March, when the N.C. Department of Health and Human Services loosened guidelines to allow in-person visits at nursing homes, that day came for Ms. Fulford and her daughter, Mary Rose of Morehead City.
"Oh my God, we cried our eyes out," Ms. Rose said Friday as she visited with her mother in the lobby.
Ms. Fulford agreed.
"It was great and I loved it," she said. "I cried a whole lot."
Ms. Rose and her family had visited her mother nearly every day during the pandemic, sitting outside Ms. Fulford's window, but that didn't replace the need to physically touch her.
"It's very special," the daughter said.
Crystal Bluffs is among many long-term care facilities in Carteret County and across the nation beginning to slowly open back up for family visits now that the majority of residents have received vaccinations and the Centers for Disease Control is safety precautions.
Crystal Bluffs Executive Director Logan Dunn said Thursday it's not only been an agonizing wait for the residents and families, but for the workers, as well.
"The family response when we opened back up for visits has been quite endearing," he said. "To see the expressions on their faces, especially when they have been able to touch someone they haven't been able to in over a year, it's priceless."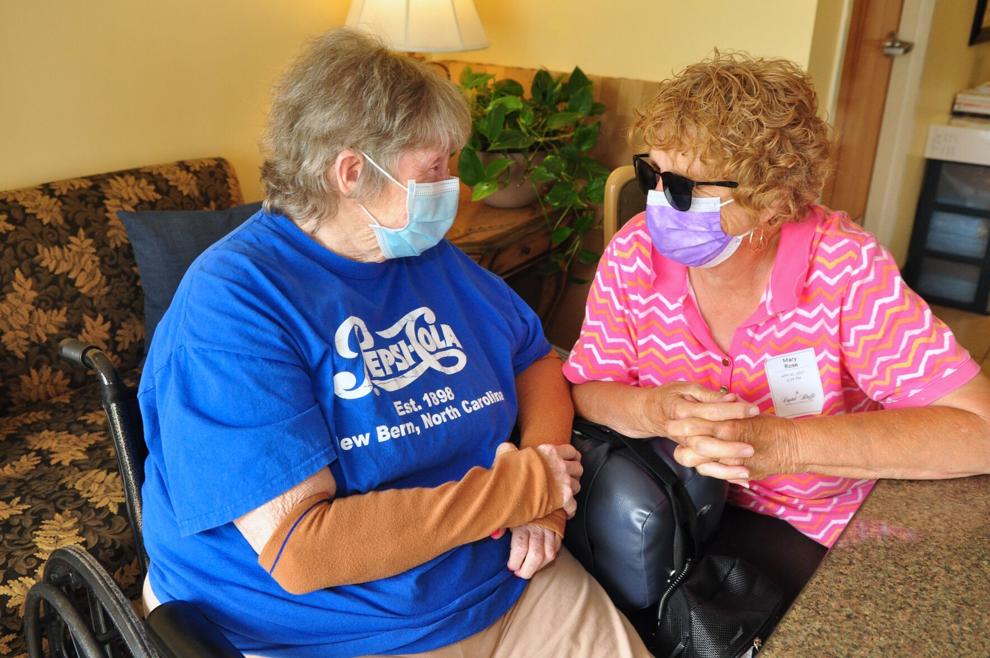 He added that guidance from CDC, the NCDHHS and company policies can change rapidly, which has made it a challenge to set consistent policies on visitations.
"It all comes down to guidance from CDC and the NCDHHS," he said. "The guidance seems to change weekly."
The Morehead City facility currently offers three types of visitations for residents and their families: outdoor, indoor and compassionate care, which involves allowing more in-person visits if a resident's physical or mental health begins deteriorating due to lack of in-person contact. Appointments are required for the in-person visits.
The center has allowed families to visit their loved ones through windows throughout the pandemic, Mr. Dunn added.
"It used to be nothing for me to leave work in the evening and see five or six families standing outside their family members' windows," he said.
With Mother's Day approaching, Mr. Dunn said the facility is planning to offer a special, outdoor event for families Wednesday through Friday.
"We're having a Mother's Day dessert outdoors so residents can eat dessert with their families," he said. "It will be almost like an outing. It should be a good time. We're giving out flowers and desserts to the residents."
Ms. Fulford and Ms. Rose said they were looking forward to the celebration.
"It will be very special to get her out there," Ms. Rose said. "Hopefully this is a step in the right direction so we can get out again and get a shrimp burger at El's (Drive-In) and take her to church."
Ms. Fulford agreed.
"I'm looking forward to going back to church, No. 1, and getting back together with people at church," she said.
Mr. Dunn said all long-term residents at his facility have been vaccinated, and workers continue to do health screenings for those visiting their families.
"Our residents and families are our utmost focus. We want them to be together, but it has to be under the safety guidance," he said.
If a resident or worker tests positive for COVID-19, Mr. Dunn said that person is quarantined, the facility locks down and rapid testing is done. It depends on the specific incident as to when the facility can open to the public again.
"It used to be we stayed on lockdown, but the CDC now gives us more flexibility, depending on the situation," he said.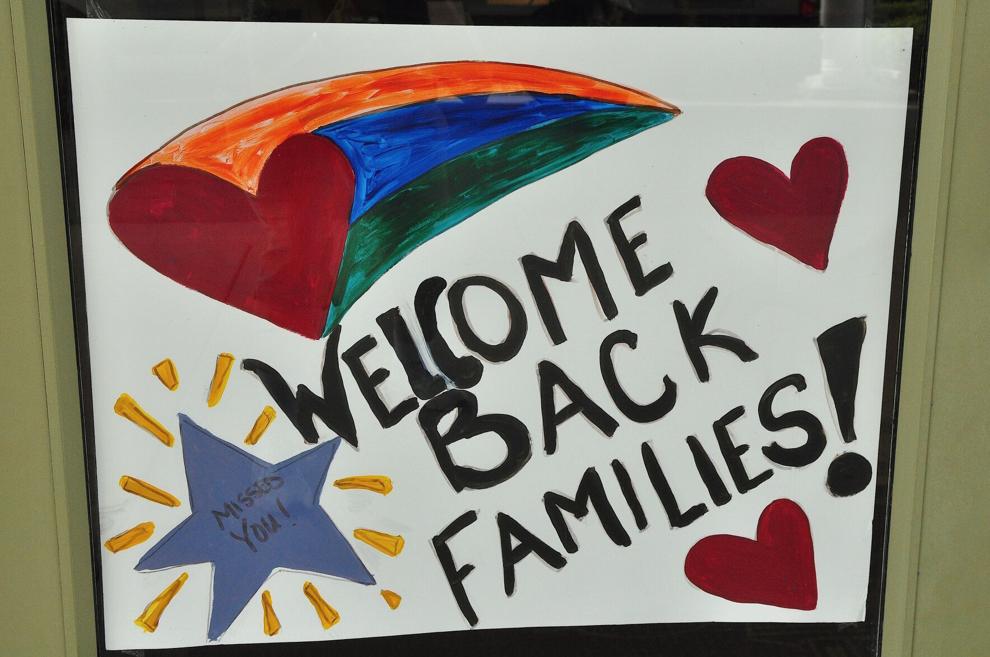 Mr. Dunn added that he's looking forward to the day when his facility can open back up for regular visitations.
"I'm ready to get rolling back to the way it used to be, but it must be done safely," he said.
The NCDHHS revised its visitation restrictions in March regarding long-term care facilities. According to its website, while outdoor visitation is best when possible, indoor visitation is now allowed for all residents, regardless of vaccination status, except for a few circumstances when visitation should be limited due to a high risk of COVID-19 transmission in a particular facility.
"It is recommended that unvaccinated residents who wish to become vaccinated should not start indoor visitation until they have been fully vaccinated," the website states.
Additionally, new long-term care residents will not be required to quarantine if they are fully vaccinated and have not had close contact with someone with COVID-19 in the previous 14 days. Fully vaccinated and non-immunocompromised health care providers with higher risk exposures who are asymptomatic also do not need to be restricted from work, according to the NCDHHS.
In order to mitigate the risk of relaxing restrictions, vaccinating residents and staff in long-term care facilities and continued adherence to prevention measures, including the 3 Ws — wear, wait, wash —are still the safest approach to reducing the spread of COVID-19, according to the CDC. 
The NCDHHS stated expanding visitation has substantial benefits to long-term care residents and their visitors, but safety must still be top priority.
"In order to keep everyone safe, visitors and residents should continue to adhere to the 3 W's, and visitors should still be screened and restricted from visiting if they have signs or symptoms of infection or have been in prolonged close contact with someone with COVID-19 in the prior 14 days," the website states.
Editor's note: The News-Times reached out to other long-term care facilities in the county but did not receive a response.
Contact Cheryl Burke at 252-726-7081, ext. 255; email Cheryl@thenewstimes.com; or follow on Twitter @cherylccnt.