CAPE CARTERET — One western Carteret County town is applying to become a "Bee City USA," thanks to action from commissioners during their monthly session Monday via GoToMeeting.
The Cape Carteret Board of Commissioners voted 5-0 to authorize Town Manager Zach Steffey to proceed with the application to the organization, which, according to its website, seeks to promote beekeeping and the creation and enhancement of bee habitat on public and private lands in the face of worldwide declines in bee populations.
Town Commissioner Steve Martin, a former beekeeper, praised Mr. Steffey for bringing the idea to the board.
"I have to say I was shocked," he said. "I had no idea he was doing this, and I'm very happy to see it."
Problems for bees date back at least 15 years, when, according to National Geographic Magazine, bee colonies began disappearing in what is known as "colony collapse disorder." An ABC News article from 2019 stated that since then, some regions have seen colony losses as high as 90%.
A June 2019 Associated Press report noted over the preceding winter, according to the annual survey by the Bee Informed Partnership, 37.7% of honeybee colonies had died, nearly 9 percentage points higher than the average winter.
Mr. Martin, who said he kept bees for 17 years, said he's read that up to a third of the food humans eat requires bees or other insects for pollination, and much of the bee habitat has disappeared or is threatened. That one-third figure is borne from U.S. Department of Agriculture statistics. The agency also states bees pollinate $15 billion worth of U.S. food crops each year, according to the AP article by Seth Borenstein.
Beekeeper Holly Briggs of Morehead City, who started this year and just harvested her first batch of honey, said a beekeeper friend encouraged her, and she's enjoyed it. She also feels she's doing her small part to help address the ongoing problem.
"Bees are very important for food and for the environment," she said. "And it (beekeeping) is very interesting. I think we did pretty good this year, and I hope we do even better next year."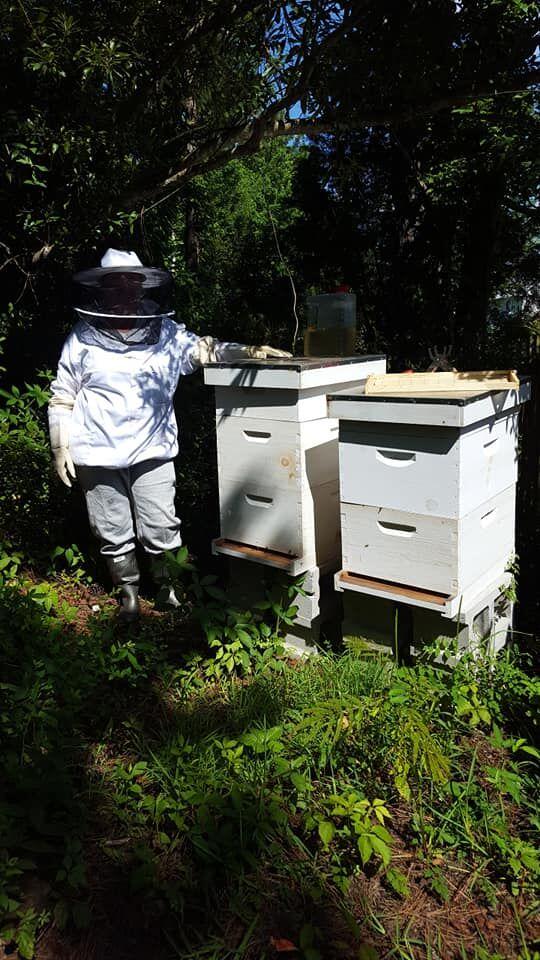 According to Bee City USA's website, 90% of the world's flowering plants depend on pollination by insects.
"It's not good," Mr. Martin said Monday night of the plight of the bees. "I definitely want us to do what we can to help. I can't think of anything more important to us than bees."
There are 120 Bee cities in the country, according to the Bee City USA website. Mr. Steffey said the focus of his town's effort – other than supporting the organization it seeks to join – is on its own properties, such as the grassy park behind town hall off Dolphin Street, the rights-of-way of town streets and the property at the public works department on Taylor Notion Road.
"We've been reducing the use of pesticides and weed-killers," he said, "and we may want to partner with other groups."
The ABC News article quotes Scott McArt, assistant professor of pollinator health at Cornell University in New York as saying, "Every single one of (the) stresses that we put on pollinators is manmade."
Those stressors include habitat loss and poor management practices.
Other problems, according to scientists and Bee City USA's website, include overuse of pesticides, as intimated by Mr. Steffey, and the varroa mite, a parasite that invades hives and spreads diseases.
According to its website, Bee City USA members agree to establish a committee to advocate for pollinators, increase the abundance of native plants, reduce the use of pesticides and incorporate "pollinator-conscious practices into … policies and plans."
The members also agree to host pollinator-awareness events and acknowledge their Bee City USA affiliation with signs and an online presence.
Local governments pay a fee to join, based on population, as well as an annual renewal fee. Cape Carteret's population is under 3,000, and the website says towns under $3,000 population pay a $100 initial application fee.
Mayor Will Baker and town commissioners Mike King also voiced strong support for Mr. Steffey's proposal.
"I support any effort to improve the plight of bees in this country," Mr. King said.
Contact Brad Rich at 252-864-1532; email Brad@thenewstimes.com; or follow on Twitter @brichccnt.