EMERALD ISLE — Some residents of the western end of Emerald Isle say parking problems were "horrendous" over the weekend and are calling on the town to alleviate the situation in time for Memorial Day weekend, which starts Friday.
The town, according to Town Manager Matt Zapp, issued 33 parking citations townwide over the weekend, as well as other citations for expired registrations or unregistered vehicles and for unleashed dogs on the beach. There was also one citation for a noise complaint.
But residents said Monday it was not enough and sent letters to Mr. Zapp. The letter-writers wondered why the 160-plus-space Western Ocean Regional Access at the end of Islander Drive couldn't be opened and asked if the town would engage in more enforcement efforts over Memorial Day weekend to address parking on private property.
Monday afternoon, Mr. Zapp said he, other town staff and the contractors for the western access work – repairs of Hurricane Florence damage, new curbs, parking spaces and other amenities – are trying.
But, he added in an email, "Due to the unstable weather forecast for this week caused by Tropical Storm Arthur, it is not likely that the construction at the WORA will be complete by (Friday) May 22" as the town originally hoped. "We are still working hard to meet that goal."
Mr. Zapp added the town has scheduled "increased police, public works and parks (and recreation) presence for the holiday weekend. Our staff will kindly remind everyone to respect others, park in legal areas only, and place their trash in an approved canister."
A project on Islander Drive was delayed by the timing of construction bids and was originally supposed to be complete by now. The construction has also been delayed by novel coronavirus restrictions.
Although the Eastern Ocean Regional Access was open last weekend, as was the large private parking lot at the Bogue Inlet Fishing Pier, the WORA parking absence was noticeable.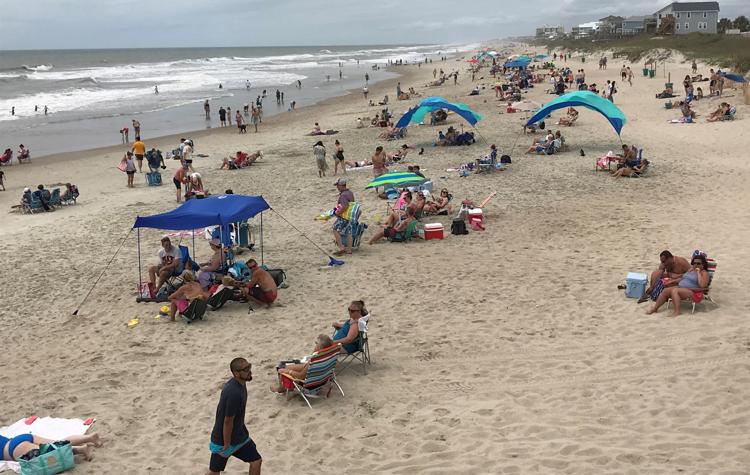 "People were not able to find parking at the pier or at the eastern access because they were full, so they kept looking and they ended up parking anywhere they could," said an oceanfront resident, who asked not to be named because she feared retribution. "There were people parking in front of driveways to unload their stuff to go to the beach. Saturday was terrible. Sunday was better. But everyone was tense. There were some attitudes."
Others complained on social media about trash and urination on private property, in part because public restrooms, even at the EORA, were not open.
The weekend definitely was a busy one. Massive traffic jams in western Carteret County eventually turned into crowded beaches, especially Saturday.
At noon Sunday, as the weather began to deteriorate in advance of Tropical Storm Arthur's approach from the south, beaches were still full of people enjoying what felt like the beginning of summer.
Red flags were flying on the Bogue Inlet Fishing Pier and on the beach to warn of rip currents, and although many people were in the ocean, few ventured out far.
"We had a great time Saturday afternoon and came back out for a while this morning," Jeffrey Dalton of Charlotte said Sunday as he put his family's assortment of beach towels, bbags and water rafts in the back of a blue SUV in the pier parking lot. "It was different, not being able to eat in a restaurant, but we got take-out once and found enough ready-to-eat stuff in (a grocery store) to get by.
Traffic Saturday backed up for several miles on Highway 24, almost all the way through Cedar Point for a time, and on Highway 58 north of its intersection with Highway 24.
The traffic jam early Sunday afternoon was outbound as visitors headed home, bumper-to-bumper on Highway 58 through town, but there appeared to be no delays on highways 24 and 58 west of town.
Contact Brad Rich at 252-864-1532; email Brad@thenewstimes.com; or follow on Twitter @brichccnt.