MOREHEAD CITY — Hundreds of motorcyclists and car enthusiasts came together Saturday to honor the fallen heroes of the Sept. 11, 2001, terrorist attacks during the Morehead City-Beaufort Elks Lodge 9/11 Memorial Ride.
The group joined to pay tribute by riding through Newport, Morehead City, Atlantic Beach, Emerald Isle and Cape Carteret. Several motorcycles and vehicles flew 9/11 memorial flags and American flags.
"We keep doing this so people won't forget what happened 19 years ago and the sacrifices that have been made by our wounded warriors and first-responders," Kent Neil, co-chairman of the event, said.
Proceeds from the event go to assist wounded warriors and veterans, Mr. Neil added.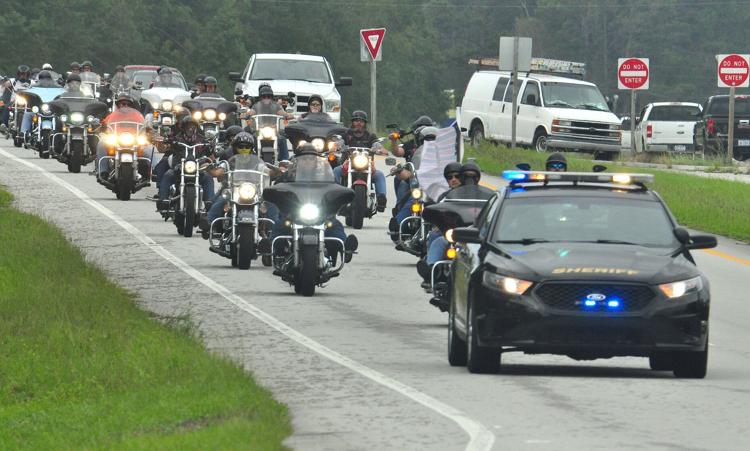 Retired military and law enforcement officer James MacRoberts, president of Chapter 18 of the Blue Knights of Carteret County, said he participates in the ride each year.
"Our members are former or current law enforcement, and I think we're all former military," he said. "We want to help out the wounded warriors and anything else we can do."
While rain threatened the event, it cleared up just in time for the opening ceremonies held prior to the ride.
Ride organizer Jeff Hollowell said they would have ridden, rain or shine.
"Nineteen years ago those people had to make a decision to run into a burning building to save lives. The least we can do is ride in the rain," Mr. Hollowell said.
He further thanked Carteret County sheriff's deputies and other law enforcement officers who assisted by escorting the riders on their route.
The ceremony included the presentation of the colors by the West Carteret High School NJROTC, a small cannon firing, speeches and an opening prayer.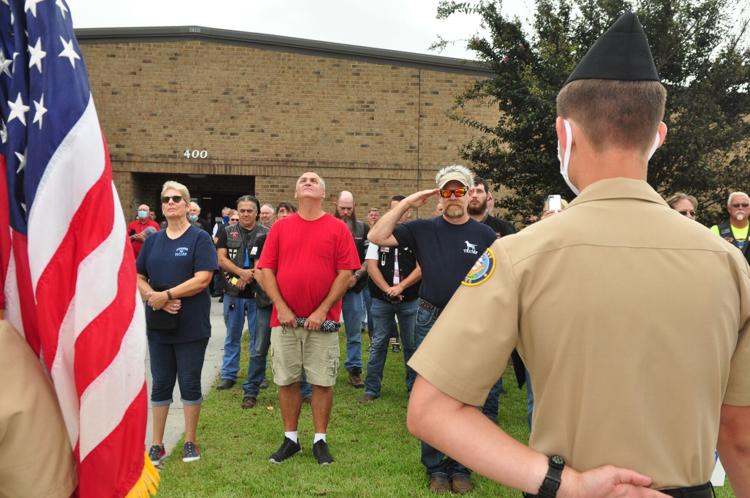 Each year the Morehead Elks Lodge No. 1710, the Pet Adoption and Welfare Society of Carteret and the Military Order of the Purple Heart host the event, which culminates with the ride that includes bikers and vehicles.
The ride began at the Elks Lodge and traveled through Newport, Morehead City, Atlantic Beach, Emerald Isle and Cape Carteret before heading down Highway 24 back to the Elks Lodge. Afterwards, participants enjoyed a meal, music and a silent auction.
Many of those who participated said they will never forget the events of Sept. 11, 2001. The Islamic extremist group al-Qaeda hijacked four airplanes and carried out suicide attacks on the U.S. Two of the planes flew into the World Trade Center in New York City, taking down the Twin Towers. A third plane was flown into The Pentagon in Washington, D.C., while the fourth plane crashed in a field in Pennsylvania after the passengers wrestled back control from the hijackers.
Almost 3,000 people died in the attacks, leading the United States into military conflict overseas.
Contact Cheryl Burke at 252-726-7081, ext. 255; email Cheryl@thenewstimes.com; or follow on Twitter @cherylccnt.