ATLANTIC BEACH — U.S. Coast Guard officials will commission a 154-foot Sentinel-class cutter Friday morning bearing the name of a late Carteret County resident and World War II veteran.
Adm. Linda Fagan will commission the USCGC Glen Harris at 10 a.m. Friday at U.S. Coast Guard Sector Field Office Fort Macon in Atlantic Beach. Due to the coronavirus pandemic, attendance will be limited, but PA2 Paige Hause, with the Coast Guard Atlantic's public affairs division, said family of Mr. Harris will be among the crowd.
The late Chief Petty Officer surfman Glen Livingston Harris was born in the Down East township of Stacy and later resided in Beaufort with his wife, Aline Harris, and daughters, Barbara and Glenda.
 He served as a landing craft coxswain during the landing at Tulagi Aug. 7-9, 1942, according to a release from the Coast Guard.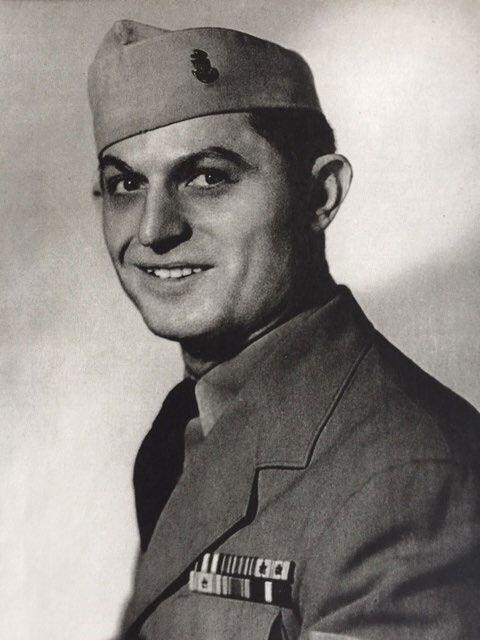 The Japanese invasion of Tulagi, one of the Solomon Islands, began May 3, 1942, as part of Operation Mo. Subsequently, Japanese forces established naval resources and a reconnaissance base on Tulagi and the islands of Gavutu and Tanambogo.  Those actions, along with Japanese attempts to establish a nearby airfield, led to the August 1942 Battle of Tulagi and Gavutu–Tanambogo, during which Allied forces landed on the Solomon Islands, leading to a six-month long campaign in the area.
Chief Petty Officer surfman Harris, alongside three other coxswains, landed the first U.S. Marines on Tulagi and made several trips under heavy enemy fire to deliver ammunition and supplies, according to the Coast Guard.
"In September of the same year, he landed against forces at Taivu Point, Guadalcanal Island, thereby materially contributing to the enemy's eventual defeat," the release continues.
Chief Petty Officer surfman Harris was awarded the Silver Star Medal by Adm. Chester Nimitz Oct. 2, 1942.
In a resolution unanimously passed by the Beaufort Board of Commissioners July 12 honoring Mr. Harris' "heroic contributions," the town said he went on to retire from the Coast Guard and work for the N.C. Division of Marine Fisheries in Morehead City. According to an obituary listing in the Daily Press, of Newport News, Va., Mr. Harris died March 24, 2005.
The USCGC Glen Harris was delivered April 22 to Key West, Fla., and as the Coast Guard's 44th fast-response cutter will serve the southwest Asia region, with a homeport of Manama, Bahrain.
Since April, USCGC Glen Harris has been in use, including assisting with search and rescue efforts in April related to the capsizing of the lift boat Seacor Power in waters off Louisiana, according to PA2 Hause.
During Friday's commissioning ceremony, Adm. Fagan will preside, while Mr. Harris' granddaughter, Stacey Howley, will stand in for her grandfather to accept the ship's namesake as sponsor. Mr. Harris' great-grandson, Mason King, is set to serve as the ceremony's "long glass presenter."
Contact Jackie Starkey at 252-726-7081, ext. 225; email jackie@thenewstimes.com; or follow on Twitter @jackieccnt.