MOREHEAD CITY — Carteret County Emergency Services and the Carteret Long Term Recovery Alliance hosted a Hurricane Preparedness Expo Saturday in the former Kmart parking lot in Morehead City to encourage residents to prepare for hurricane season, which began June 1.
"We are encouraging everyone to have a plan now and not to wait," Misty Long with emergency services said. "You need to think now about your medical needs and have supplies on hand that will last for at least a week. That includes your foods and medicines and anything you need if the power is off for an extended period. We learned during Hurricane Florence that can be for two weeks."
She added that as well as operating an emergency shelter at Newport Middle School during a major hurricane, the county also offers a medically fragile shelter to those who qualify.
"We have forms that people need to fill out for the medically fragile shelter," she said.
Ms. Long further encouraged residents who have not already done so to sign up for the county's emergency notification system, CodeRed. To register, visit carteretcountync.gov/525/Emergency-Notification.
Fourteen vendors from various organizations and businesses set up booths with information and items to assist residents with disaster preparation and recovery.
Julia Royal Johnson with CLTRA, a nonprofit that assists families recovering from damage following a storm, said, "We want to help our community learn about the resources that can help them before, during and after a hurricane. We also want to help people who are still suffering from hurricanes Florence and Dorian with resources."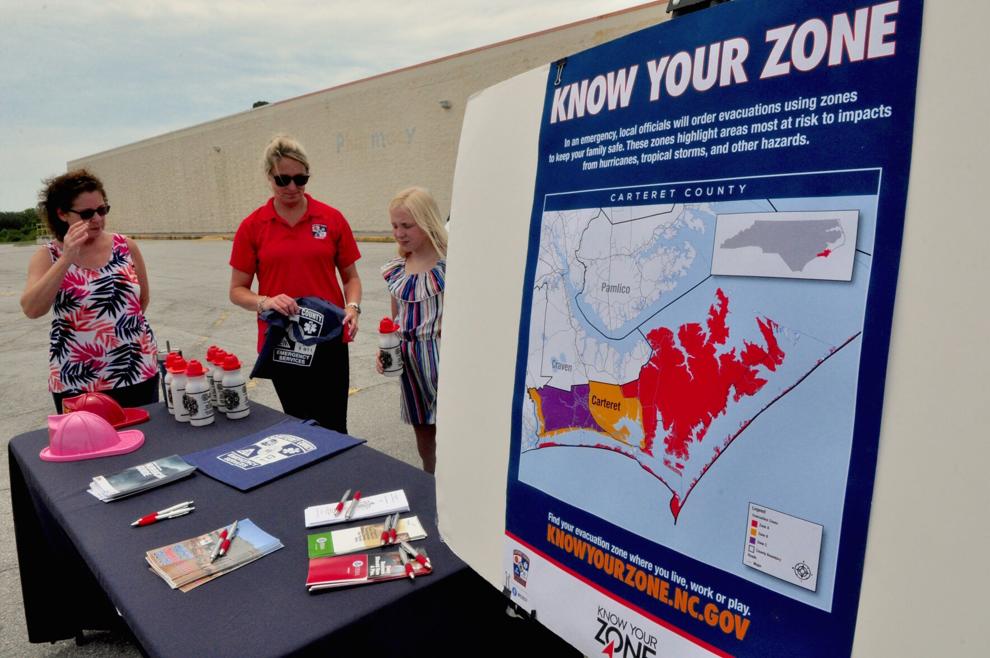 Robby Phillips with CLTRA said there are still an estimated 250 families waiting for repairs to homes damaged during Hurricane Florence, the category 1 hurricane that devastated eastern North Carolina in September 2018, and Hurricane Dorian, the category 2 storm that caused damage in eastern North Carolina in September 2019.
"We still have people who need full house guts, and a lot of mobile homes that need to be torn down," Ms. Phillips said. "We need volunteers to help with various teams in CLTRA. We need people that can lead construction teams. We need volunteer coordinators, people to help with social media and our website. We need administrators. We welcome any volunteers."
Marshell Lavoie with the American Red Cross was among those offering information and advice to the estimated 100 visitors to the expo. As well as ARC providing physical assistance through shelters and emergency housing during and after a weather emergency or fire, she said the organization provides mental and emotional health services.
"When you've lost everything and you don't know what to do, we have mental health workers that help you through a time of disaster recovery," she said. "We have workers to help people through the mental crisis and help guide them through short- and long-term goals."
Jowita Zerilli, outreach coordinator with the Food Bank of Central & Eastern North Carolina, was set up offering information on food assistance available following a hurricane.
"As soon as it is safe following a storm we assess what the needs are," Ms. Zerilli said. "We have several partner organizations in this county that we will provide food to so they can get help out to people."
Delicia Linteau, manager of The Storehouse in Morehead City, is among the nonprofit food pantries that receive items from the food bank to assist families.
"We never closed following Florence," Ms. Linteau said as she assisted Ms. Zerilli with her booth. "We were continually handing out food as people kept coming."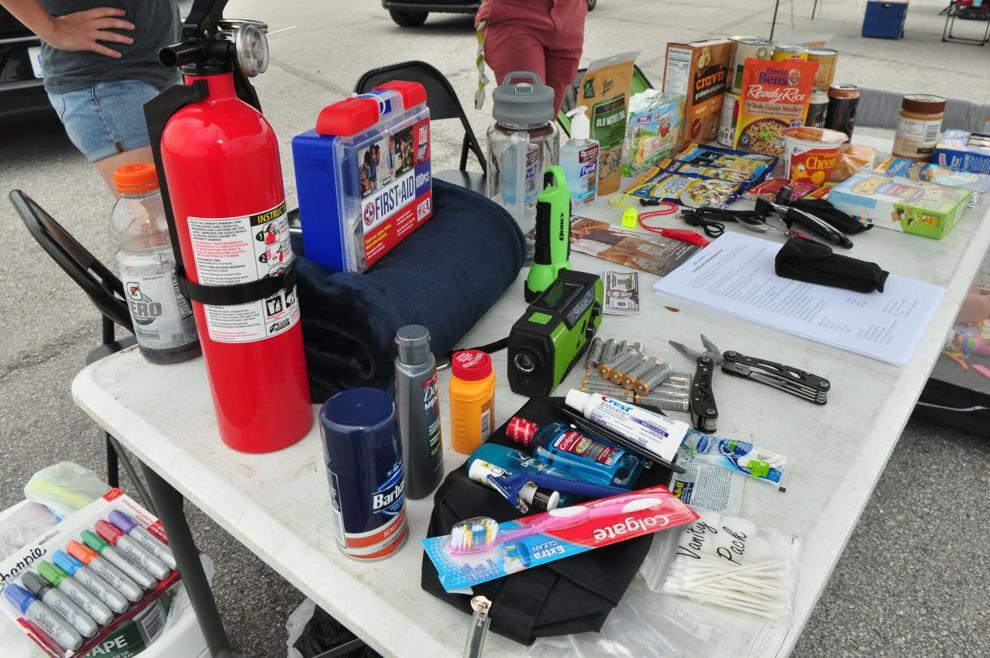 Ryan Cling with Reachglobal Crisis Response, a nonprofit that is repairing homes in the areas affected by Florence and Dorian, said his group still has about 30 homes to repair.
"There's still a lot of roofs that need repairing, and if there is roof damage there is usually drywall repairs and other needs in the home," he said.
Deborah Patterson, a paralegal with Legal Aid of North Carolina's Disaster Relief Project, was handing out information for those who may need help with the ReBuild NC program, which the state created to help residents following Hurricanes Matthew and Florence.
"The application process can be long and tedious and we have attorneys that assist clients through the duration of the process," Ms. Patterson said.
Johanna Showfety of Morehead City was among those attending the expo with her two children.
"I wasn't aware of the amount of food it takes for survival for three days for one person," Ms. Showfety said. "I've picked up a lot of information."
For information on how to prepare, the American Red Cross offers a phone app that can be downloaded at redcross.org/apps.
Contact Cheryl Burke at 252-726-7081, ext. 255; email Cheryl@thenewstimes.com; or follow on Twitter @cherylccnt.