MOREHEAD CITY — After more than 30 years with the Morehead City Fire/EMS Department, Deputy Chief Chris Judy retired Friday, with battalion chief Courtney Wade set to take his place.  
Mr. Judy took over the role of deputy fire chief in January 2020 following the retirement of former longtime Deputy Chief Jack Manley, meaning much of his time in the position was spent responding to the coronavirus pandemic.
"Two to three months in, here comes COVID," the outgoing deputy chief said in an interview with the News-Times Wednesday. "It certainly made the job challenging, there is no doubt about that."
The pandemic presented the department with numerous challenges, Mr. Judy said, especially considering the city cut two full-time firefighter positions last May due to a pandemic-related budget cuts. Those positions have not been reinstated.
"A lot of things got put on hold, our budget was cut, our staffing was cut, and that made a significant impact on our abilities and our staff," he said. "It's been a tough year all across the board, trying to maintain service and find a balance and keep morale up with staff having to work tons of overtime to make those staffing gaps up."
One of the first things Mr. Wade, who has been with the department for 22 years, plans to focus on as deputy chief is training. He said the department fell somewhat behind on training in 2020 because of the pandemic, but the state requires firefighters and EMTs keep up their certifications with yearly classes.  
"Our staff, they hold state credentials, state certifications, and at the end of the day, they're still required to get continuing education hours for the year," he noted. "And with everything going on this past year, some people got behind, so we've got to come up with ideas to safely get back into training so our guys can gain some hours up."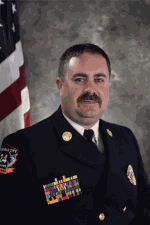 Another challenge Mr. Wade expects to face as deputy chief is that of recruitment, which he said is an issue at the state and national level, not just in Morehead City. He said as a dual firefighting and EMS agency, it's difficult to find qualified individuals with both credentials.
"You can find a good firefighter, you can find a good paramedic, it's just hard to find someone with both credentials," he said.
There are some opportunities coming up in the department that Mr. Wade is excited about, as well. One of those is the department's new water rescue team, which officials are developing as a Type 2 swift/floodwater search and rescue team that will be able to deploy to emergencies not only in Carteret County, but across the state. Twenty-two members of the MCFD, as well as individuals from other agencies, are receiving training to be part of the team, and Mr. Wade hopes it will be ready for certification by the end of the year. 
"That's being developed, and again training has been an issue with COVID, but we're working around it and trying to get some training done, and hopefully that will be up and running by mid-year or the end of the year," he said.
As for his retirement, Mr. Judy said he's looking forward to spending more time with his family and on his hobbies, like hunting and fishing. He summed up his 30 years in the firefighting service as "humbling."  
"To be in a profession where you actually get to change people's lives and make an impact, it's a really big deal," he reflected. "…It's kind of humbling in a way, to have the honor to work in a profession where you get to do that. You take people's worst days of their life and you try to make them better and turn it around for them, whether you're getting someone out of a car wreck or changing a battery in a smoke detector that's going off. It's ever changing and you never know what the next call's going to bring."
Mr. Judy also wished his successor well, saying he feels confident Mr. Wade will rise to the challenge of the moment.
"He's well prepared, well experienced," Mr. Judy said, "I think he'll do a really good job and I'm looking forward to seeing the things he gets accomplished."
Contact Elise Clouser at elise@thenewstimes.com; by phone at 252-726-7081 ext. 229; or follow on Twitter @eliseccnt.