BEAUFORT — After 30 years, Carteret County Schools Public Information Officer Tabbie Nance is trading in her office attire for jeans, boots and horses.
Her last day on the job is Friday, Feb. 26, with her official retirement day Monday, March 1. School officials have begun the search for her replacement.
Ms. Nance, who operates a stable, Trade-Win IV Farm outside of Beaufort, said she plans to spend more time with family, friends, her business and menagerie of animals.
"My parents are healthy, active 89-year-olds and I am so grateful to them and to have them," she said Thursday. "My sister and her family are very special to me and I want to spend more time with them. I will be spending more time with my horses, donkeys and dogs, and with my friends who share a passion for horses. And, of course, my stable business, Trade-Win IV Farm, will keep me busy with the horses and chores."
The 59-year-old owns five large Belgian draft horses and cares for others' horses with the help of an assistant at the 56-acre farm.
In addition, Ms. Nance owns a second large farm in Merrimon, where she has goats, sheep and other animals.
The high-energy Ms. Nance admits her decision to retire was difficult, and it became even tougher with the recent death of her husband, David Wheatly.
"The decision to retire was not an easy one to make, and when I made the decision in November my life was very different than it is now. My husband passed away in early January so my retirement will not be the same as we had thought," she said.
The other challenging part of her decision is the fact she loves her job and the people she works with.
"Serving the students and staff members of the Carteret County public school system has been wonderful," she said. "I have never woken up in the morning and not wanted to go to work, and for that I am grateful. Of course, there were days when I knew I would be facing a difficult project or problem, but I still wanted to go to work. And I am the strange person who thinks Monday is the best day of the week because it is the start to a whole new work week full of new starts and opportunities."
Her love for difficult projects was pushed to the limit with Hurricane Florence, which devastated the county in September 2018. Through the school system's foundation, Ms. Nance, who has served as its secretary, was instrumental in providing $420,000 in assistance to families of students and employees who lost their homes or had damaged homes from the Category 1 storm.
"The foundation turned designated donations of more than $420,000 into life-changing repairs and support for many, many students and employees," she said. "Through these donations for hurricane victims, the foundation was able to help with such items as new roofs, septic tank and foundation repairs, mold and mildew treatments, clothing, food, vehicle repairs, past-due bills and much more."
Ms. Nance, who was also instrumental in writing grants for the school system, said she plans to transition from serving as secretary for the nonprofit to a foundation board member after she retires.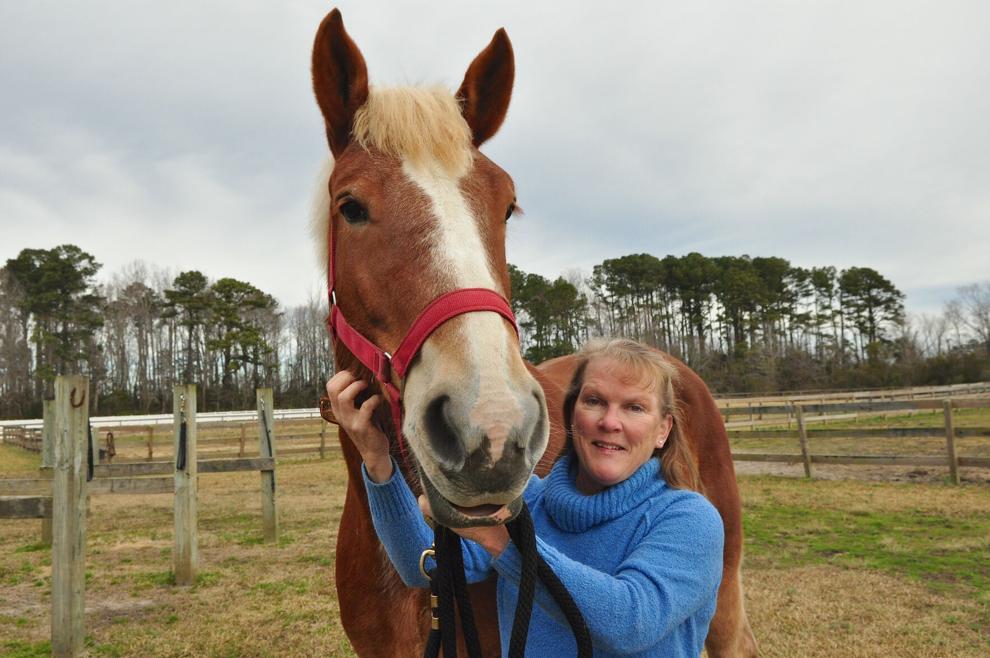 Those who have worked with Ms. Nance, like Superintendent Dr. Rob Jackson, said they will miss her dedication to the school system and community.
"Mrs. Tabbie Nance is the gold standard in educators, teammates, and neighbors," Dr. Jackson said. "Her love, care, and concern for the school system and community are palpable. I have watched as she went over and above to meet a need in the community through the Education Foundation, appreciated her sage advice, and have seen her pour herself into writing grant applications for the school system. Mrs. Nance has given deeply of herself to and for the children of Carteret County. She is the walking epitome of Carteret Strong."
Principals joined in praising Ms. Nance in a joint statement from the school system's Principals' Association Board:
"Tabbie truly embodies everything that makes Carteret County Public Schools an amazing place for students, educators, and their families. She is trusted by all of the Principals because her work ethic is unmatched and she is the voice of reason that we depend on. She is kind, dedicated, thorough, tenacious and passionate in her service. Tabbie is the ultimate champion for public education and has worked tirelessly behind the scenes to ensure the students, staff, and community have their needs met.
"…We are humbled by her servant leadership and have been led by her model of always putting others before herself," it continued, in part. "She has done and continues to do more than we will ever know to support our school community. We are better leaders and better people because of her. We can never thank her enough for all she has done; for her humble, steadfast, and incredible service. We are happy for her as she starts this next chapter in her life but she will be greatly missed."
Ms. Nance said she learned her strong work ethic from her parents. For her, it was expected.
"My parents raised my sister and I on a small farm in Guilford County. We loved working and had jobs on the farm, and then we had jobs off the farm," she said. "During elementary school, middle school and high school, we took care of our horses and farm chores and then worked in hay and strawberry fields, raised vegetables to sell at the local grocery, worked and taught swimming lessons at a local swimming pool and, in our junior and senior years of high school we drove school buses. I appreciate the way we were raised and I appreciate the value of hard work."
Her work ethic was also demonstrated through her involvement with Rotary International. She was named a Rotary International Journalist Scholar in 1988 and spent 10 months in New Zealand as a Rotary ambassador. As a member of the Beaufort Ole Towne Rotary, Ms. Nance was selected and sponsored as a Paul Harris Fellow.
In other endeavors, Ms. Nance worked with the late Doris Buffett and The Sunshine Lady Foundation, which provides scholarships and other opportunities for students. Her community work also resulted in her being named the 2019 League of Women Voters of Carteret County Woman of the Year. She's also an N.C. State 4-H Honor Club Lifetime Member and recipient of the Outstanding Citizen NC 4-H Alumni Award.
Ms. Nance received her undergraduate degree in communications and minor in human relations from High Point College, now High Point University. She received her master's degree in library studies from East Carolina University.
As well as working for the school system, Ms. Nance also worked as a reporter at the News-Times from February 1984 until August 1989, with a one-year leave of absence in 1988 as a Rotary Scholar. She worked as director of college communications at St. Andrews Presbyterian College from 1989-90 and was the administrative assistant for publications with the Carteret County Economic Development Council. In addition, served as an intern at the Greensboro News & Record.
Contact Cheryl Burke at 252-726-7081, ext. 255; email Cheryl@thenewstimes.com; or follow on Twitter @cherylccnt.