BEAUFORT — Those seeking the perfect Christmas tree this year should shop early and be ready to pay a little more, according to Carteret County groups selling Fraser firs this year.
"We ordered 340 and only received 300, and the prices will be a little higher because the farm raised its prices and shipping went up," Beaufort Ole Towne Rotary Club president Stan Lamb said Tuesday as members unloaded a shipment of Fraser firs in front of Ace Hardware in Beaufort.
The trees range in size from 4 feet to 12 feet, with costs varying from $35 for the smallest to $150 for the largest. The club is also selling natural wreaths of various sizes, ranging in price from $20 to $70. They start at 22 inched in diameter and run to 48 inched in diameter.
Mary Miller with Hannah's Hope Christmas Trees at The Market in Cedar Point, too, said she was unable to get the amount of trees she ordered and prices are up.
"We ordered 580 and received 230 because of the shortage," she said Tuesday. "People are coming out early to buy trees and people who wait are going to have a hard time finding them. Last year many people who waited until the week of Christmas couldn't find a tree."
Ms. Miller said due to the shortage and the increased cost of shipping, the price for trees has increased about 20%.
"Shipping almost doubled and there's the issue of supply and demand," Ms. Miller said. "We're trying to keep our prices as low as we can."
Hannah's Hope trees range from $50 for 5-foot Fraser firs to $100 for 8-foot trees. The group is also selling natural wreaths, ranging from 12-inch to 20-inch. The cost of wreaths varies from $30 to $40.
Dr. Jeffrey Owen, forestry extension specialist with N.C. State University who specializes in Christmas trees, said Nov. 19 those shopping for trees will find a great selection, but he, too, recommended shopping early and being prepared to dig a little deeper into pocketbooks.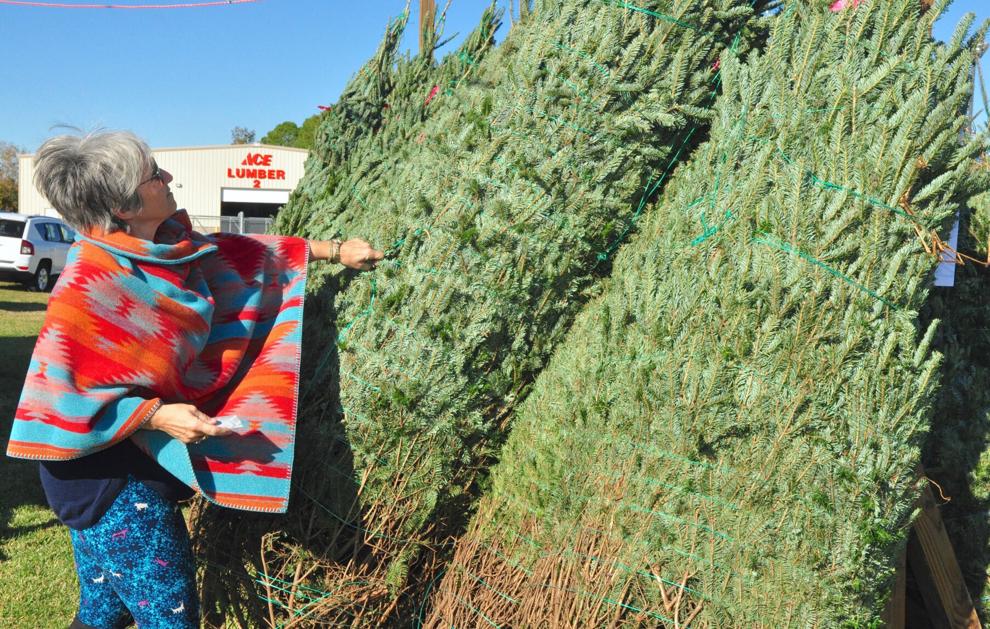 "The trees are still being shipped, but the market will be tight," he said. "We've been in this situation for the last several years. The growers are still cutting, but some of them are cutting into the trees they planted several years ago that may not be quite mature. There's an ebb and flow in the Christmas tree market."
He added that growers planned ahead for any shipping issues caused by the nation's trucking shortage.
"Trees are still being shipped, but the pickings may be slim nearer Christmas," he said. "That is an incentive to buy early."
Truck driver Richard Collins of Beaufort, who delivered the trees to the Rotary lot, said he's been in high demand, especially since his father-in-law is a Christmas tree grower in Boone.
"I've been delivering to Knoxville, Tenn., Tampa, Fla., Murfreesboro, S.C., and this is my last run," Mr. Collins said.
While it's been a busy time, Mr. Collins, who has delivered Christmas trees for about 15 years, said it's a rewarding job.
"You want to deliver the trees on time so people can bring them home in time for the holidays," he said.
His wife, Sara, who spent a good part of her life helping on her father's Christmas tree farm, agreed it's a gratifying job. She encouraged the public to be patient because it takes time for farmers to grow a new crop of mature Christmas trees.
"Most of these trees are 10 to 20 years old," Ms. Collins said. "Growers can't cut all of their smaller trees or there won't be any larger ones. Trees average growing about 1 foot a year. It takes time."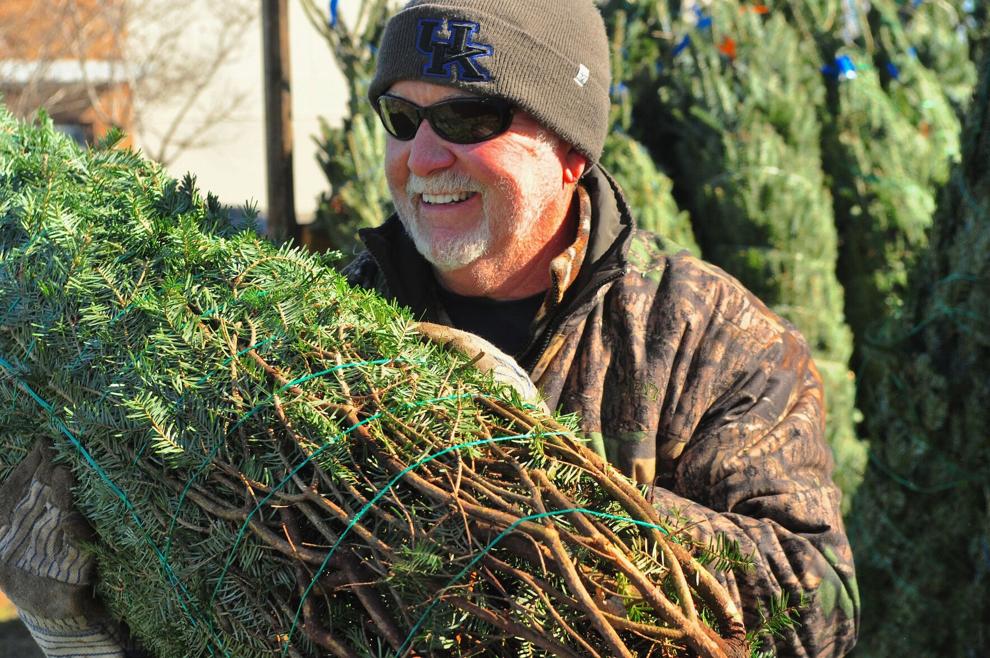 As for the trees being sold at the Beaufort Ole Towne Rotary lot, Mr. Lamb said proceeds from the sales go to help many nonprofits and programs the club supports locally, like Crystal Coast Habitat for Humanity and Broad Street Clinic.
Ms. Miller said a percentage from the sale of trees at The Market goes to Hannah's Hope to help children with the cost of participating in extra curricular activities. Plus, proceeds provide meals for 25 families for Thanksgiving and helps provide food and gifts to families in need for Christmas.
Lynn Custer of Beaufort was among those buying wreaths and searching for the perfect tree Tuesday at the Beaufort lot Tuesday.
"I like a full tree. For me, a tree is like a canvas. It's like a work of art to get the ornaments placed just right. Each ornament tells a story," she said.
Regardless of where you look for the perfect tree, Mr. Owen said there are ways to keep it looking fresh through the yuletide season.
"Keep it watered and keep it away from direct sun and heat sources," he said. "Make sure you get a fresh cut when you buy the tree."
Another plus to a well-watered tree is it's less likely to be a fire hazard in the event of an accident. Trees should not be placed near fireplaces, heaters, furnace vents or televisions.
Light cords and connections used on the tree or in other holiday decorations must be in good working order to ensure a safe and joyous holiday season. Lights should always be unplugged when leaving home or going to bed.
While Fraser firs are the most popular Christmas trees, other species to consider are Douglas firs, white pine, spruce, Virginia pine, cypress varieties and red cedars.
North Carolina is the nation's second-largest producer of real Christmas trees, according to the N.C. Christmas Tree Association.
Contact Cheryl Burke at 252-726-7081, ext. 255; email Cheryl@thenewstimes.com; or follow on Twitter @cherylccnt.