MOREHEAD CITY —A damaged section of shoreline at Carteret Community College underwent repairs on Father's Day weekend thanks to members of local Scout troops and other volunteers.
Ryan Mroch, 13, a member of Boy Scouts of America Troop 130 in Morehead City, headed up a project to relocate oysters in preparation for repairs to a section of the campus shoreline damaged during Hurricane Florence in 2018.
Ryan, along with about 40 volunteers, including several dads and Scouts from four troops, worked Friday through Sunday relocating oysters from the damaged section of shoreline.
He did the project in pursuit of his Eagle Scout rank and a prestigious William T. Hornaday Award given to Scouts who lead natural resource conservation projects.
While he is hoping to achieve both, Ryan said Friday it was also special to work alongside his dad, Ray Mroch, on the weekend dedicated to fathers.
"My dad is the Scout master for our troop and I think it is kind of special for fathers to be out here supporting us this weekend," Ryan said.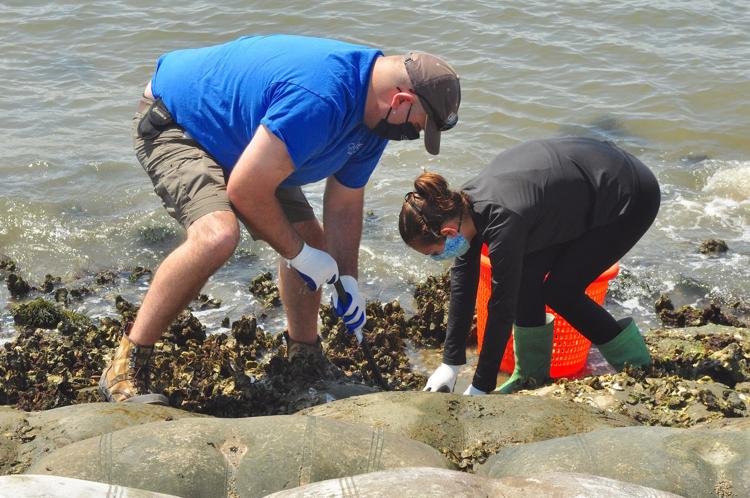 Mr. Mroch said he's proud of his son for taking the leadership role in the project.
"He's leading the whole thing and we're just helping," Mr. Mroch said. "We had debated whether we would get as much participation since it was Father's Day weekend. But what better way to spend the day than helping my son achieve his goals?"
Volunteers removed oysters from rocks and concrete damaged during the storm, placed them in bags and relocated them to another part of the shoreline. The oysters will be placed back in the section when the work is finished.
Ryan finished the project Sunday, and said the volunteers cleared about 1,000 feet of shoreline and bagged at least 7,000 pounds of oysters.
CCC Vice President of Operations and Facilities Steve Sparks thanked volunteers for their help.
"As part of our permitting to repair the shoreline and build a living shoreline, the college is required to relocate the oysters that are currently in areas where they would be crushed to give them a chance at survival," he said. "I thought this would be an excellent project for a Scout to use as an Eagle project. We are so excited to give Ryan this opportunity, and he's done a great job so far."
The college sustained more than $1 million in damage to the shoreline as a result of Florence. Elevated storm surge and high wave energy scoured and compromised an existing bulkhead and walkway located several feet from one of the college's main buildings.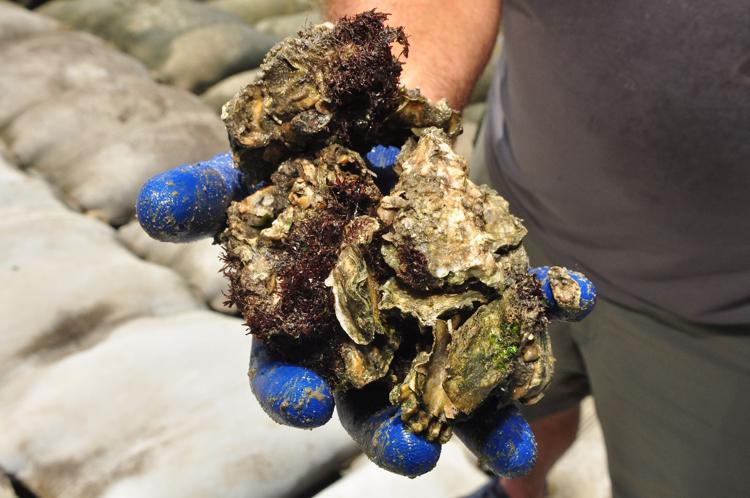 CCC is partnering with the N.C. Coastal Federation to build a living shoreline along the college's Bogue Sound property to reduce further erosion, while protecting and restoring valuable salt marsh habitat. CCC and the NCCF have received a $812,555 grant from the National Oceanographic and Atmospheric Administration/National Fish and Wildlife Foundation Emergency Coastal Resilience Fund to complete the project.
In addition, the college has hired T.A. Loving Co. to make other repairs. Improvements will include removing any remaining rip rap, rocks or other debris, grading and installation of an interlocking vinyl-sheet pile bulkhead. It will be capped with concrete barriers and filter fabric and layered with stone. Eroding dirt will be replaced.
The estimated cost for the entire shoreline project is $1.7 million. Other funds to help with the project come from a Golden Leaf Foundation Hurricane Florence Recovery grant, state Hurricane Florence Recovery funds, Federal Emergency Management Agency funds and college institutional funds.
As for Ryan's efforts to earn his Eagle rank, he must complete a project where he demonstrates leadership. He and volunteers have dedicated about 200 hours toward his project to date.
Ryan thanked all those who helped with the initiative, which he sees as a way to help the college and environment.
"We're trying to remove the oysters instead of letting them die when they start the work on the shoreline," he said. "Once we place them back they can help create a new reef and habitat for fish."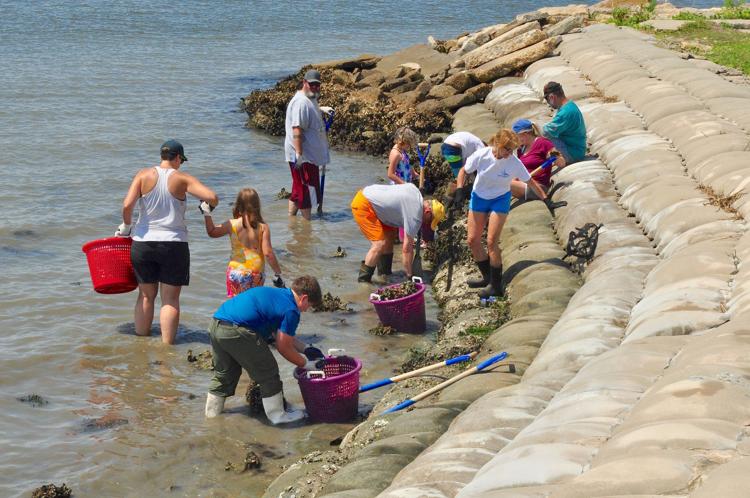 Ryan is also pursuing the William T. Hornaday Award and medal, which he is especially excited about
"A Hornaday project is an Eagle-level project that focuses on conservation, but also requires Scouts to do independent research on their topic. To earn a Hornaday Award is rare," he said.
In a press release about his project, he explained a Scout has to earn four Hornaday badges in different conservation areas to get the chance to earn the medal.
Ryan is the recent recipient of his first Hornaday Badge in the resource recovery topic by collaborating with an N.C. State University researcher to develop a curriculum to teach the third-grade students at Tiller School about vermicomposting and building a vermicomposting station at the school. If awarded a Hornaday Badge for the current project, his work on the oyster relocation project will count toward the fish and wildlife management area.
Ryan will try to earn his third and fourth badges in the soil and water conservation area by continuing work on the stabilization project and in the air and water pollution control area by organizing a non-motorized boat trash collection competition later this year.
After he earns four badges, he can submit his projects for the chance to earn the William T. Hornaday silver medal.
Contact Cheryl Burke at 252-726-7081, ext. 255; email Cheryl@thenewstimes.com; or follow on Twitter @cherylccnt.