HARKERS ISLAND — The N.C. Department of Transportation has awarded a contract for a long-awaited project to replace the two bridges that connect Straits on the mainland to Harkers Island with a single span.
NCDOT said in a release Thursday work to replace both bridges, including the Earl C. Davis Memorial Bridge, a drawbridge, and Bridge No. 96, a fixed span, is expected to begin in late summer, around the Labor Day holiday. It will take about four years to complete, with a projected opening date in fall 2025.
The contract was awarded to the lowest bidder, Dallas, Texas-based Balfour Beatty Infrastructure Inc., for nearly $60 million, compared to an original cost estimate of around $35.37 million. Balfour Beatty was also awarded the contract for the nearby James City interchange project in Craven County. 
"Generally speaking, as a project gets through the final design, the estimate would constantly evolve based on needs and actual design factors," NCDOT spokesperson Lauren Haviland said of the project's estimated cost increase. "Inflation and supply shortages due to COVID lead [sic] to cost increases too."
According to a cost breakdown on NCDOT's project website, development and design costs totaled around $1,720,000, property acquisition was $1,320,000 and utility relocation cost $5 million. With construction costs around $60 million, the entire project has a total estimated price tag just more than $68 million.
Carteret County Commissioner Chris Chadwick, who represents Down East and other areas, including Harkers Island, said he is glad to hear the project is finally moving forward. He said the two existing bridges, which together provide the only roadway connection between Harkers Island and the mainland, are old and in poor condition, posing a safety hazard as increasing numbers of residents and tourists cross the span.
"It's time to be replaced," he said Friday.  
Both bridges are more than 50 years old and due to be replaced, NCDOT said in its Thursday release. According to a February 2018 report, the Earl C. Davis Memorial Bridge was found to be in poor condition and labeled structurally deficient by a 2014 bridge inspection. A 2015 inspection found Bridge No. 96 to be in good condition following emergency structural repairs that were completed in 2013.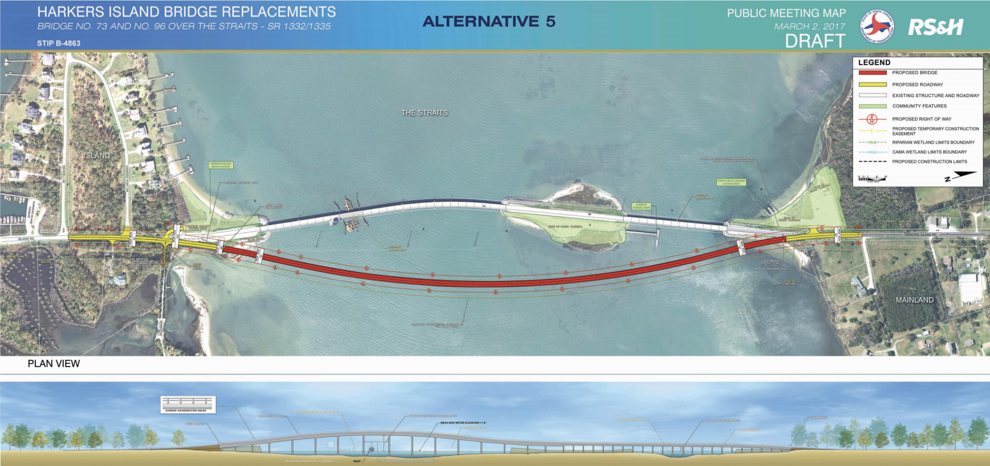 Since that report, Mr. Chadwick said he's had to request NCDOT make emergency repairs to the bridges due to pieces of the roadway occasionally falling off into the water. He said patches have been made, but he knows that is only a temporary fix.   
NCDOT's plan, chosen in 2017 from five possible alternatives, is to construct a single, fixed-span structure about 3,200 feet in length with a 45-foot navigational clearance just east of the two existing bridges. The Earl C. Davis Memorial Bridge will be removed, while Bridge No. 96 will remain as a pedestrian bridge providing access to the Straits Fishing Pier on the existing center island that connects the two spans.
According to a June 2021 report in the ECU magazine East, the new bridge will be reinforced with non-corroding, carbon fiber-reinforced polymer strands rather than more traditional materials, like steel. Engineers say the material is lighter and more durable than traditional ones, which should lead to less maintenance needs and increase the lifespan of the new bridge. That is especially important in a coastal environment where harsh marine factors can speed up corrosion and lead to costly repairs.
Hon Yeung, NCDOT project team lead, told East magazine the bridge will the agency's first complete structure reinforced with the carbon fiber-reinforced material.
NCDOT said once complete, the new bridge will have increased capacity and better access to and from the island in emergencies, such as hurricane evacuations.  
The project, originally expected to begin construction in 2020, became embroiled in controversy when two nearby property owners filed a petition in July 2019 claiming NCDOT did not follow the proper environmental review processes for the project. The project was essentially put on hold while litigation was ongoing, and a departmentwide budget shortfall as a result of the coronavirus pandemic added additional uncertainty to the project timeline.
The parties involved reached a settlement in September 2020 just before a scheduled hearing on the petition. As part of the settlement, NCDOT agreed to redesign part of the bulkhead of the new bridge, among other stipulations.  
With four years of construction time, the bridge replacement project has a longer timeline than most. Ms. Haviland said that's due an in-water work moratorium that lasts April 1 through Sept. 30 each year for fish-spawning season.  
The same moratorium affected work on the North River Bridge replacement, partly accounting for the longer-than-expected construction time on that project.
As construction progresses, Ms. Haviland said the contractor may have to periodically close or narrow lanes, affecting bridge traffic. She said the public will be notified in advance of any planned lane closures.
Contact Elise Clouser at elise@thenewstimes.com; by phone at 252-726-7081 ext. 229; or follow on Twitter @eliseccnt.