MOREHEAD CITY — Three conservations groups have jointly given notice they'll be filing a complaint against federal fisheries managers, alleging they've weakened rules protecting sea turtles.
Turtle Island Restoration Network, a global environmental organization dedicated to advocating for the oceans and marine life, issued an announcement Monday. According to the newtwork, Earthjustice attorneys filed on behalf of the network, the Center for Biological Diversity and Defenders of Wildlife, formal notice of intent to file a civil complaint against the National Marine Fisheries Service. Sea turtles can be found in the ocean waters off the North Carolina coast, including Carteret County, especially during nesting seasons. The three most frequently seen species are loggerhead, Kemp's Ridley and green sea turtles.
The environmental organizations allege recent actions by the fisheries service are "drastically weakening rules that prevent sea turtles from dying in shrimp trawl nets."
"The Trump administration's final rule (reversed) course on a proposed rule about turtle excluder devices in shrimp trawl fisheries in the Gulf of Mexico and South Atlantic, reducing the measures' effectiveness by more than 50%," TIRN said in its announcement. "The weakened rule exempts turtle excluder devices on vessels smaller than 40 feet, which will result in an estimated 1,300 preventable sea turtle deaths form smaller vessels each year."
TIRN Gulf Program Director Joanie Steinhaus called the new proposed regulations "irresponsible," and said they "must be improved."
"There's no excuse to let sea turtles suffer an excruciating death drowning in shrimp nets when there is a simple device to let them escape," she said.
The notice gives the fisheries service 60 days from Monday to address the alleged violations before the lawsuit is formally filed. News-Times staff reached out to the NMFS for comment, however, Public Information Officer Allison Garrett said the fisheries service "doesn't comment on pending litigation."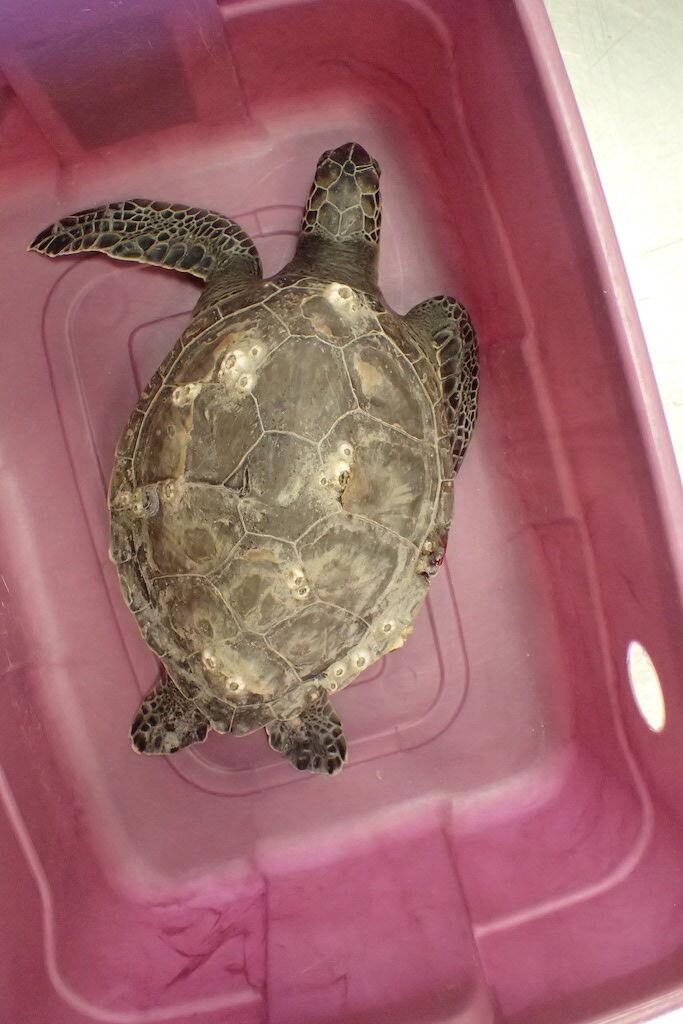 At the N.C. State University Center for Marine Sciences and Technology in Morehead City, Department of Clinical Sciences Professor Dr. Craig Harms often puts his skills to use helping stranded marine animals, including sea turtles, rescued by stranding networks.
"We've been getting a steady trickle of cold-stunned turtles this year," Dr. Harms said Tuesday in an email. "It's not as bas as in some years, but over 40 turtles state-wide have gone to the N.C. Aquariums or to the Karen Beasley Sea Turtle Rescue & Rehabilitation Center for rehabilitation."
He said shrimp trawls are "a significant threat to sea turtles, but far less so than formerly before TEDs were developed by a commercial fisherman and eventually mandated in many of the fisheries.
"TEDs aren't perfect, and there have had to be modifications over the years to improve design and further reduce lethal sea turtle bycatch while maintaining shrimp catch rates, but they have had a big role to play in (the) rebound of some sea turtle populations over the past couple of decades," he continued.
N.C. Wildlife Resources Commission sea turtle biologist Dr. Matthew Godfrey said in the last 10 years, scientists have seen an increasing number of loggerhead sea turtle nests on North Carolina's beaches.
"The average number of loggerhead nests per year in North Carolina between 2010-2015 was 911 nests," Dr. Godfrey said, "while the average number of loggerhead nests laid per year in North Carolina from 2016-2020 was 1,441 nests."
Dr. Godfrey said state biologists are looking at whether the cause of the the increase in nests is more adult, reproductive females or more eggs being laid by the same number of females.
"On average, an adult loggerhead female lays four nests per year," he said. "So far, data suggest that the increase in nests reflects an increase in adult reproductive females. This may be due to various actions taken in the past few decades to protect loggerheads in the U.S., including use of TEDs in otter trawls, improved measures in hopper dredges to reduce accidental mortality associated with dredging, increased protection of incubating nests on east coast beaches, etc. We hope this positive nesting trend continues for this protected species."
Dr. Harms said adding TEDs to trawls where they currently aren't required would be an additional protection for sea turtles.
"This proposed rule is another example of the outgoing Trump administration trying to roll back as many environmental and public health protections as it can before leaving office," he said.
Contact Mike Shutak at 252-723-7353, email mike@thenewstimes.com; or follow on Twitter at @mikesccnt.