Reporter's note: This article was updated at 1:23 p.m. Monday, May 18, 2020, with more information. 
HARKERS ISLAND — The National Park Service at Cape Lookout National Seashore said Monday it's still looking for three tourists who allegedly harassed a wild foal on Shackleford Banks.
The Associated Press reported Sunday the NPS was looking for three tourists who'd allegedly tried to capture a month-old wild foal on Shackleford Banks Friday in order to "take some selfies." The report said the three tourists chased the foal, scaring it to the point it became separated from its mother.
NPS Cape Lookout Superintendent Jeff West confirmed in an email Monday to the News-Times the incident occurred.
"People are very upset this occurred," Mr. West said. "The mare and foal did make it back together, and they are fine. But this is simply senseless harassment of the wild horses; not only dangerous to them, but dangerous for the people approaching that close to the horses."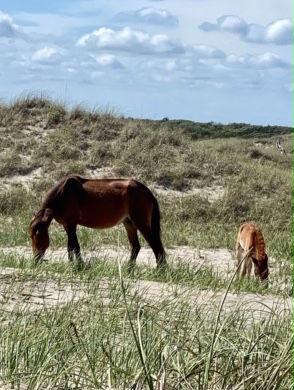 Mr. West said they don't have any suspects yet, but the NPS is hopeful someone can identify those responsible.
"If found, they will be prosecuted," Mr. West said.
Federal regulations state touching, feeding or intentionally disturbing wildlife, including horses, is dangerous and could result in a fine.
 U.S. Park Ranger Will Lawrence with Cape Lookout National Seashore stated in an email Monday the fine for harassing wildlife, including horses, is $200, plus a $30 processing fee.
"In an aggravated case Visitor and Resource Protection (Law Enforcement) might forego the fine and either arrest them or write the ticket with a mandatory court appearance," Mr. Lawrence said. "In either of those cases the maximum penalty would be $5,000/6 months in jail." 
NPS guidelines for visiting Shackleford Banks and viewing the horses, available at nps.gov/calo/planyourvisit/upload/Horse2018_color_2_rev2019.pdf, advise visitors to stay at least 50 feet away from the horses.
The nonprofit Foundation for Shackleford Horses manages the herd.
The organization said a visitor reported witnessing the situation and intervened, prompting the three tourists wanting the selfies to take off.
Contact Mike Shutak at 252-723-7353, email mike@thenewstimes.com; or follow on Twitter at @mikesccnt.