BEAUFORT — Things felt different Saturday morning at the Olde Beaufort Farmers' Market, and it wasn't just the unseasonably cold temperatures.
Now in its eighth year, the popular organization featured in the May issue of Southern Living as one of the "South's Best Farmers' Markets" is joining other establishments in adapting to doing business during a global pandemic.
"We have three hand-washing stations set up," market manager Cindy Bunch said through a mask. "We have a great volunteer team making masks, and we're spread out, 10 feet apart."
Beth Edmonds and Garrett Cawman met visitors at the entrance, offering free masks. Donations were gladly accepted. The majority of those in attendance donned masks as they shopped.
A sign also greeted customers, reminding them "The COVID-19 threat is real. Stay Safe." The sign encouraged attendees to wash their hands, practice social distancing and discouraged loitering or congregating in the market – to shop and go home. At this time, pets will not be allowed.
"Of course, there is apprehension about the COVID(-19) situation, and making sure we are setting up safely to keep the public safe," Ms. Bunch said. "We don't have as many vendors. We don't have the artisans in yet, just the farmers, the food producers, the fishermen."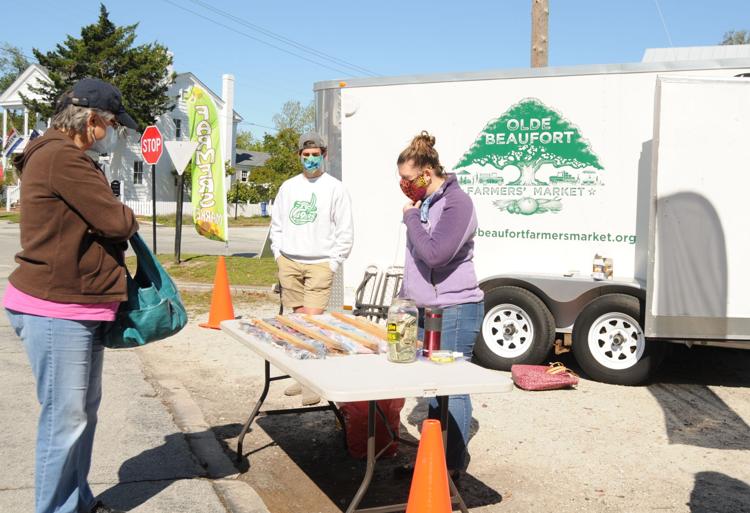 There were 15 vendors under the live oak trees on the Courthouse Square, where there are typically twice as many during most normal Saturdays.
In another effort to cut down on crowd size, the market has established a preorder, prepackage and prepay system, allowing customers to contact vendors in advance and place orders for items that are available for pickup at booths. For a list of vendors, visit oldebeaufortfarmersmarket.org.
Typically opening the second weekend in April, the market kicked off May 2 with new hours, 9 a.m. to 1 p.m., under guidelines from the governor classifying farmers' markets as essential services, comparable to grocery stores.
Ms. Bunch said she was excited to get fresh food to the community.
"We've had fantastic turnouts, and sales have been good," she said. "We're happy with how things are going."
Sallie Edwards, Anne Gorton and Ryann Carter were there representing Black Sheep.
"This is the first year we've done the market, and it went great last week," Ms. Edwards said. "Business is going well. Doing this gets people familiar with our products."
Like other restaurants, the Front Street brick oven pizza eatery has been limited to takeout orders during the novel coronavirus outbreak. Black Sheep will soon expand next door to its restaurant with a convenience store-style shop.
Gray Hall was also entering his first year as a vendor, showing off fresh vegetables from his small Bettie farm GrayzFarm.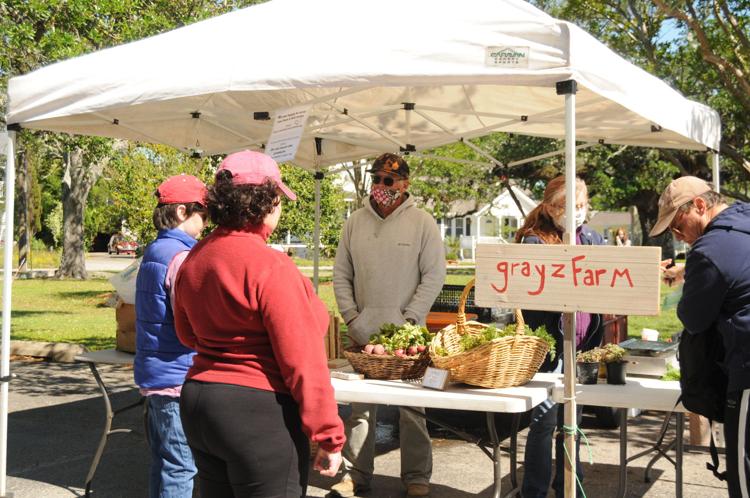 "Last weekend was good," he said. "I brought just the right amount of product, got rid of most everything, and I think the same will happen today. Foot traffic may have been a little stronger last week but I chalk that up to the weather. It's a little chilly this morning, but sales have been good."
Mr. Hall said the market had proved to be a good spot for his new farm to earn name recognition and sell produce. A charter fisherman for nearly 25 years, he said he's now "gathering instead of hunting."
"It's just a couple of acres, just myself, with a quarter acres of production at all times," Mr. Hall said. "No gasoline, just rakes, broad forks, organic seed. The pandemic has slowed things down, but it's still great to be able to go to work every day."