BEAUFORT — Rain couldn't prevent Carteret County Department of Social Services workers from observing Tuesday as World Elder Abuse Awareness Day.
DSS employees, originally set to hold an outdoor ceremony in front of the facility in Beaufort, gathered in the main lobby to raise awareness of an issue that threatens one of the county's vulnerable populations.
"It's crucial that we try to raise awareness of this issue anytime we can," DSS adult protective supervisor James Chiavola said following the brief ceremony. "Older folks should be honored and revered in our community for what they've accomplished. They've laid down the foundations that we come behind. It's an honor to raise awareness of abuse and neglect for this vulnerable population."
Adult guardianship supervisor Patti Sigmon added that it's up to community members to watch out for their elderly neighbors.
"We have a lot of people who are relatively new to our community because they retired here. They may not always have a lot of family support, so it's important for the community to have their eyes and ears out for them. Otherwise, we may not become aware of those experiencing abuse or neglect," she said.
"We also have elderly people who may be in dire straits financially. It's important to be looking out for them to make sure they aren't being abused or neglected," Ms. Sigmon continued. "They may be in a tough situation, and they shouldn't be left to spend their last years in abuse or neglect."
During the ceremony, DSS Director Jessica Adams read a proclamation, adopted in May by county commissioners, which recognized Mother's Day, May 9, through Father's Day, which is Sunday, as Vulnerable Adult and Elder Abuse Awareness Month 2021.
Ms. Adams pointed out there is an average of 30,000 reports of abuse, neglect or exploitation of vulnerable and older adults made to North Carolina's 100 DSS offices each year.
"National and international research shows that abuse, neglect and exploitation of vulnerable and older adults is grossly underreported," she said.
In Carteret County, as of May, there were 345 reports of elder abuse filed with DSS since 2020.
Elder abuse refers to intentional or negligent acts by a caregiver or trusted individual that causes harm to an older person. The abuse can come in many forms, including physical, emotional, psychological, sexual, neglect or financial.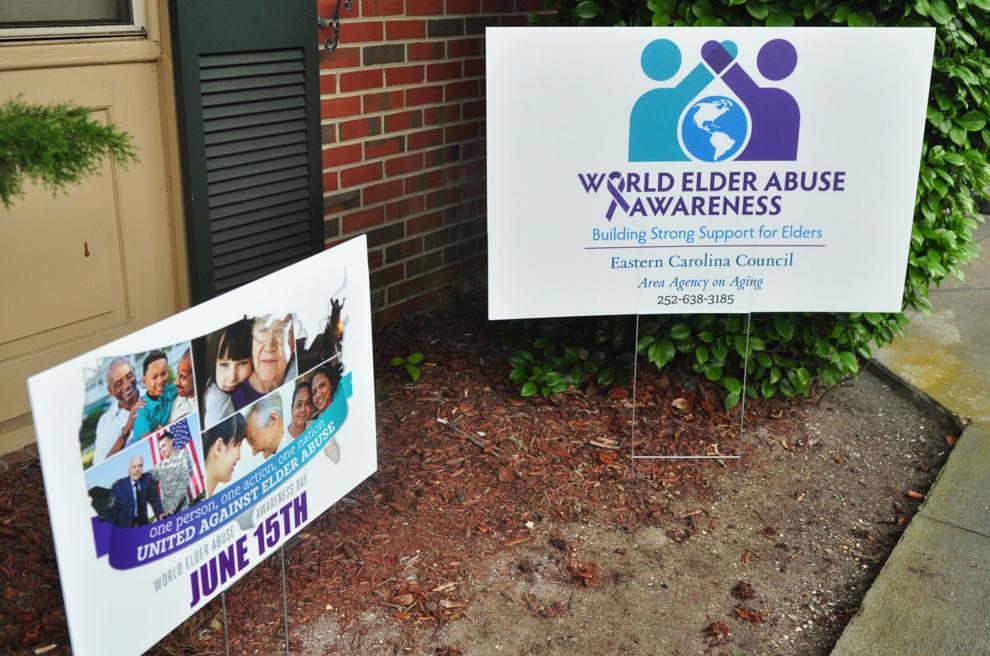 As part of the observance Tuesday, many DSS workers wore purple and held purple pinwheels, the official item and color that marks Elder Abuse Abuse Awareness Day.
Kay Huffman, DSS human services evaluator, said the agency also raised awareness by placing signs in front of the DSS building and workers planned to create a pinwheel garden near the signs. They also distributed two pinwheel topiaries with brochures about elder abuse awareness at the county courthouse, as well as gave out purple ribbons at various locations, including the Leon Mann Jr. Enrichment Center in Morehead City.
In addition, Mr. Chiavola gave a presentation about elder abuse at the senior center.
Those suspecting elder abuse, neglect or exploitation should contact DSS at 252-728-3181 or the Carteret County Sheriff's Office at 252-728-8400.
Those suspecting abuse or neglect in long-term care facilities should contact Eastern Carolina Council at 800-824-4648.
Contact Cheryl Burke at 252-726-7081, ext. 255; email Cheryl@thenewstimes.com; or follow on Twitter @cherylccnt.