MOREHEAD CITY — There was a cautiously optimistic atmosphere in Carteret County schools Tuesday as about 600 teachers reported back to classrooms for a very different 2020-21 academic year due to the coronavirus pandemic.
Teachers had to wear masks and were not allowed to enter school buildings without first answering health questions and having temperature checks.
At Morehead City Primary School, nurse Susan Wainwright took temperatures at the main door. At West Carteret High School, teacher assistant Janie Fleming was doing the same.
Despite the challenges imposed by the many safety precautions due to the coronavirus, teachers at the two schools said they were looking forward to seeing students face-to-face. However, they were concerned about keeping a safe environment for their students and themselves.
"The best part of my job is seeing my kids," MCPS third grade teacher Stephanie Jones said. "It will be very different and I think everyone is concerned because the guidelines keep changing, but the school system has done a good job preparing for safety and precautions."
WCHS Spanish teacher Lorena Herbst was also preparing for the new normal of teaching.
"I love the fact that West Carteret is doing the plan B (both onsite and remote learning). I feel more at ease that we are compliant with the (COVID-19) regulations as far as limiting the number of students in the classroom," she said. "Everyone is a little scared, but the fact that only 50 percent of kids will be here at a time so we can social distance helps."
Students will report for their first day of school Monday, learning under a hybrid plan that involves attending two days a week, with remote learning three days a week. Families also have the option to request total remote learning.
Teachers were asked in a previous survey if they had health risks and preferred total remote teaching.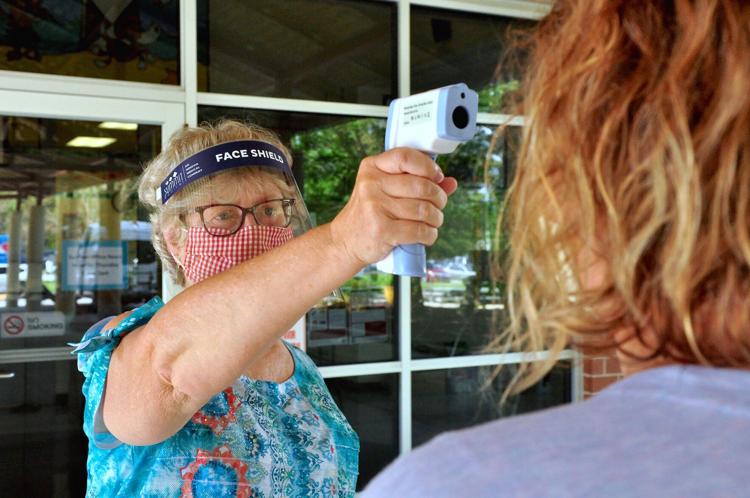 Under the plan, students alternate in-person days within each week of school. Students, prekindergarten through grade 12, have been assigned a cohort, A or B. The two groups will alternate days, with cohort A attending Monday and Tuesday and cohort B at home remote learning. Wednesday will be a remote learning day for all students and a teacher planning and conference day. Thursday and Friday, cohort B will attend onsite, with cohort A students doing remote learning.
Teachers, such as WCHS Latin teacher Michael McGinn, will teach online and in-person courses.
"I'll be teaching three classes face-to-face and one class totally virtual," he said.
At MCPS, each grade level has one teacher that will do only remote teaching, while other teachers will do both.
Classrooms will look different as well. For example, at MCPS, Ms. Jones, with help from third grade teacher Kristin Lupton, was moving desks and measuring them to ensure they were 6 feet apart.
"We can only have one child at each desk," Ms. Lupton said.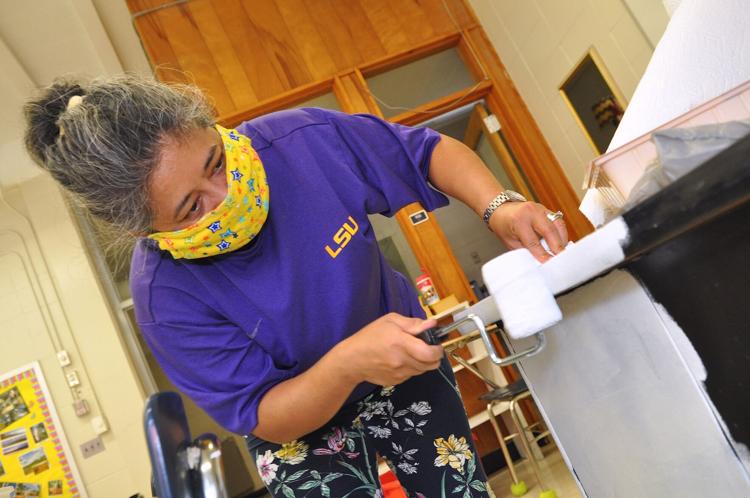 Both teachers said they would only have eight to 10 students in their classrooms at a time. Ms. Herbst said she was expecting about the same number of students in her Spanish classes.
Ms. Jones said this year students will need to bring their own supplies, with no communal supplies allowed. Ms. Lupton added that as far as book stations, students will be allowed to keep books in a bin for the week, then the books must be sanitized and placed in quarantine for three days before other students can use them.
Both teachers appealed to parents to be patient as teachers and staff prepare for the many changes.
"Schools are just as unique as their students. Every school's plan will probably look different based on their unique needs," Ms. Jones said.
While there are many challenges ahead, MCPS Principal Jeannie Smith said she's confident her staff will do all they can to protect students.
"We are so excited to see the kids. We've all missed the children, but at the same time I feel a tremendous burden to make sure everyone is safe," she said. "We're all serious about this. Everybody is going to do everything they can to keep themselves and their children safe."
Contact Cheryl Burke at 252-726-7081, ext. 255; email Cheryl@thenewstimes.com; or follow on Twitter @cherylccnt.