MOREHEAD CITY — Gail Scarborough, a 77-year-old resident at Crystal Bluffs Rehabilitation and Health Care Center, had not seen her daughter and grandchildren in person since early March due to the novel coronavirus pandemic.
That changed Friday when the facility allowed family and community members to do a drive-by Mother's Day parade for the residents, who were lined up along the sidewalk to watch.
Ms. Scarborough's daughter, Danielle Leach of Newport, said she was grateful to see her mother in person, even if it was at a distance.
"I think this was great to allow everyone to see everyone," Ms. Leach said. "It's great that I've been able to Skype with her, but that is not the same as seeing somebody in person."
Ms. Leach's daughters also rode in the vehicle, waving at their grandmother and the other residents who sat in wheelchairs along the sidewalk. Some of the residents and workers held signs as they watched the vehicles pass by.
 "I like to come here and visit with my grandmother and all of the people," Tori Leach, 9, said.
Ms. Scarborough said she was thankful to see her daughter and grandchildren, as well as all those who participated in the parade.
"I think it was such a nice thing for them to do," she said. "I never expected such a turn out."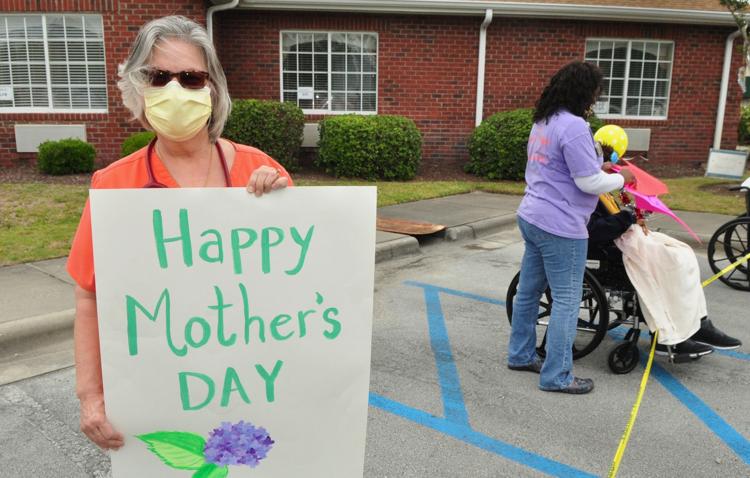 Crystal Bluffs Executive Director Logan Dunn said he and his staff had wanted to do something special for their residents, especially for Mother's Day weekend.
"The residents who reside here have not been able to see family members face-to-face since the beginning of March," he said. "We sent out texts and emails when we decided to have the parade. It's so nice to see how the families and community supported this."
As well as family members driving through the parking lot, a second parade was held for community members who wanted to participate. In addition, many people driving down Bridges Street who saw the residents lined up outside of the facility honked their horns as they drove by to show their support.
Contact Cheryl Burke at 252-726-7081, ext. 255; email Cheryl@thenewstimes.com; or follow on Twitter @cherylccnt.