MOREHEAD CITY — As well as encouraging residents to remain vigilant about coronavirus safety precautions, Carteret County Health Department Director Stephanie Cannon also urges residents to get their flu vaccinations by the end of October.
"The overarching message here is you need to get a flu shot," Ms. Cannon said during the County Consolidated Human Services Board meeting, held Monday via Zoom. "The CDC recommends you get a flu vaccination by the end of October."
Ms. Cannon said the health department has not yet received its supply of vaccines, but individual doctor's offices already have them. Many pharmacies do, as well.
As for updates regarding COVID-19, Ms. Cannon said as of Monday, there were 649 confirmed cases in the county.
"At our last meeting (in August), we had 376 cases. As of today's (Monday's) report, we have 649 cases," she said. "The positivity rate has held steady around 4 to 6 percent for over a month. The World Health Organization recommends a positivity rate of 5 percent or lower, so this is what we should be working toward."
Ms. Cannon added that she continues to see an increase in cases in the younger populations, 49 years of age and younger.
"This virus continues to spread very effectively in household settings," she said.
Ms. Cannon said it's critical people who are sick get tested and stay home.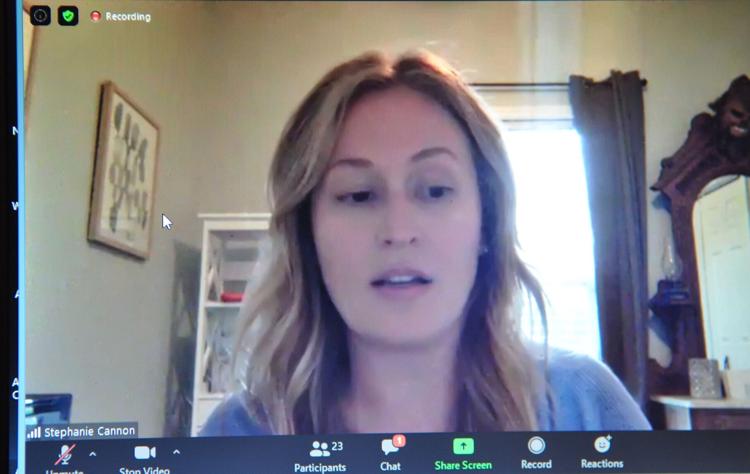 "Those who are considered close contacts should get tested on or around the sixth day of their last known exposure and stay home for 14 days," she said. "The state recommends giving a little bit of time before being (tested). They say about six days allows the virus time to get into your system. The test is just a snap shot of a given time."
She continued that the general population should continue monitoring for symptoms and seek care as needed.
"We cannot afford to let up on the prevention methods that slow the spread of this virus," she said. "Wear a mask when in public settings. Wait 6 feet apart from others and wash your hands frequently."
Ms. Cannon asked that the public give accurate contact information to the provider collecting their specimen for testing.
"We are finding that we are unable to contact some positives because their telephone numbers are not in service or it is a wrong number," she said. "We are also finding that people are not returning our phone calls so we can notify them of their positive results."
She further asked that the public "be forthcoming with us in our contact tracing efforts. We only want that information to identify people who are close contacts and need to quarantine."
Ms. Cannon said the health department would offer another mass testing event from 9 a.m. to 1 p.m. Wednesday, Sept. 30 at East Carteret High School.
Contact Cheryl Burke at 252-726-7081, ext. 255; email Cheryl@thenewstimes.com; or follow on Twitter @cherylccnt.