MOREHEAD CITY — State Rep. Pat McElraft, R-Carteret, said she is hopeful the 2021-22 state budget will contain salary increases for community college system employees.
"These folks deserve it, and I'm hoping we can come up with a reasonable raise. We're trying to get to 6 percent, but we've not finalized the budget," Rep. McElraft said Friday during a tour of Carteret Community College in Morehead City.
CCC officials invited Rep. McElraft to tour the campus as part of an effort by the N.C. Association of Community College Presidents to have legislators at all 58 state community college system campuses in October and November.
"This is a great opportunity for our students, faculty and staff to see our state legislators and for legislators to meet our students and hear about what their plans are," CCC President Dr. Tracy Mancini said following the tour. "It's also great to have Pat see some of the good work going on here, talk to our students and see some of our capital needs."
Rep. McElraft toured the Big Rock Career Center, the automotive technology program, diesel and heavy equipment facility, welding, the basic law enforcement training building and the campus' newly renovated living shoreline.
During the tour, Dr. Mancini shared some of the future capital goals of the campus. The N.C. General Assembly is considering allocating special construction funds to the institutions for capital improvements.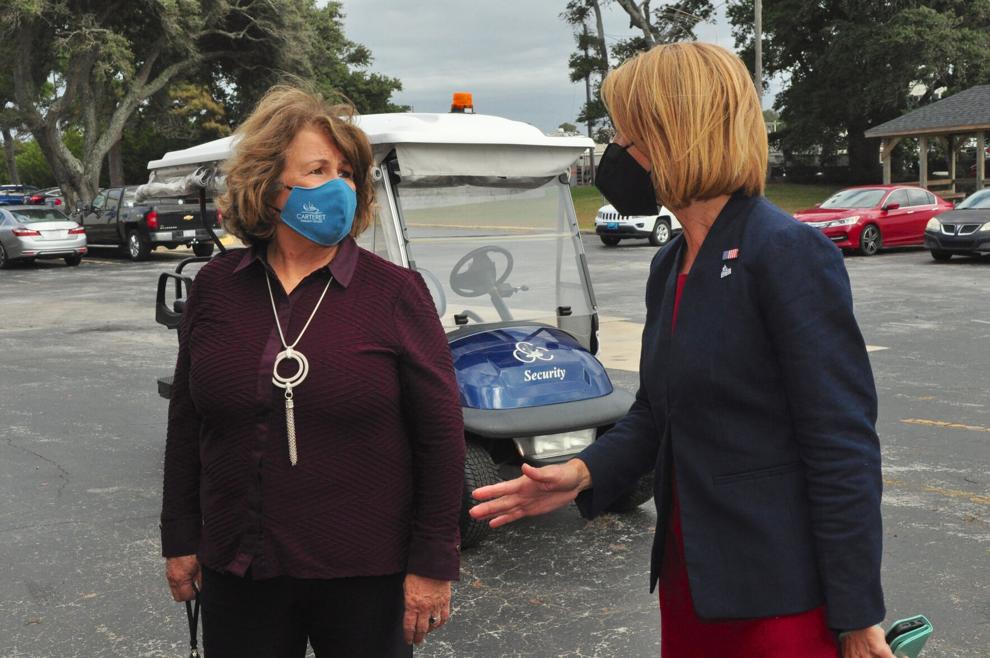 Dr. Mancini said if legislators approve construction funds, she and CCC trustees plan to use the money to build a transportation technology building. The facility would house the welding, diesel and heavy equipment and automotive systems technology programs.
"These programs are growing rapidly and are at capacity," she said. "The building would allow us to consolidate all three programs into one building so the faculty can work together to serve our growing enrollment."
Dr. Mancini said college staff have started touring transportation centers housed at other community colleges to gather ideas. She did not share a cost estimate for the proposed facility.
Rep. McElraft said she was impressed with what she saw at CCC and is a believer in the community college system.
"I graduated from a community college and that led to me working for 30 years in a career," she said. "Doing these tours helps me when we're working on the budget. I want to see how they utilize the money and how well they take care of buildings and what sorts of needs they have."
While Rep. McElraft is a proponent of the community college system, she said she didn't support funding free tuition for all students to attend community colleges.
"That would be a very expensive venture and I believe students should have some skin in the game," she said. "If we just gave funding to everyone we would have students who wouldn't take true advantage of their education. There are benefits to working while you attend college. There's also benefits to being debt-free when you graduate. I am so proud of our community college system."
Contact Cheryl Burke at 252-726-7081, ext. 255; email Cheryl@thenewstimes.com; or follow on Twitter @cherylccnt.