MOREHEAD CITY — Local residents and others stopped by the University of North Carolina at Chapel Hill Institute of Marine Sciences Tuesday to show their support for local marine research during GiveUNC 2021.
UNC holds an annual "day of giving" to request donations for the university at its various campuses throughout the state. Tuesday's event continues through 6 p.m.
UNC IMS development manager Libby O'Malley was in front of the institute's main lab building on Arendell Street in Morehead City attending a table set up with pictures of students and faculty out in the field, as well as oyster shells they were giving away, painted with UNC colors and logos.
"We've had a good response," Ms. O'Malley said. "We've had some drive-up folks and folks from the community. There's no donation requirement. These (donations) are from folks that love the coast and marine science."
At least one member of the lab's staff gave back to UNC. Misty Parrish of Smyrna came by the table out front to make a donation that afternoon.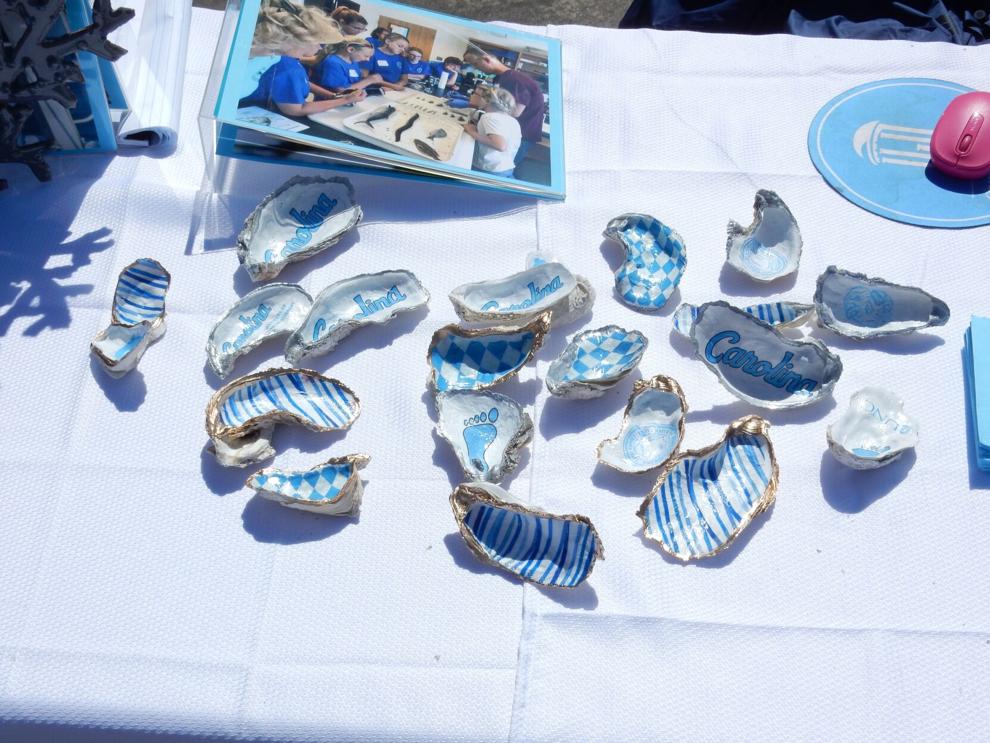 "I work here at the lab in human resources," she said. "I've been here a little over a year. I think (GiveUNC) is amazing, you can give whatever amount you're able."
In addition to in-person gifts, UNC collects online donations during GiveUNC at the website giveunc.unc.edu. Because some donations are made online, Ms. O'Malley didn't have a total for the amount IMS received this year; however, she said as of noon, the university reported 3,181 individual gifts for a total of $810,121.
"You can choose where you want to designate your gift," Ms. O'Malley said, "from UNC IMS to the School of Journalism to the School of Dentistry. Our funds go into the Director's Fund."
She said the fund is used by UNC IMS Director Dr. Rick Luettich for projects and research of his choosing. She went on to say Dr. Luettich's current project is funding faculty positions at the lab to compensate for budget cuts resulting from the coronavirus pandemic.
"Last year, $7 million was collected across campuses," Ms. O'Malley said. "That it was during a pandemic that the total quadrupled from the previous year is amazing."
Contact Mike Shutak at 252-723-7353, email mike@thenewstimes.com; or follow on Twitter at @mikesccnt.