PINE KNOLL SHORES — After a year's hiatus due to the coronavirus pandemic, Pine Knoll Shores' Kayak for The Warriors race returned Saturday, bringing out about 130 registered kayak and paddleboard participants.
Racers of varying ages and skill levels came together Saturday at Garner Park to take part in the charity race. The event raises money for Hope for The Warriors, a nonprofit dedicated to providing assistance to active and retired service members and their families.
Ray Moore of Roxboro took first place in the elite kayaker's category, while John Bedford of Rock Hill, S.C., took first place in the general kayakers category.
Mr. Bedford, a U.S. Navy veteran who turned 80 recently, said this is his first time taking first place in the general category based on race time. Participant's places are also determined by how much money they raise for Hope for The Warriors.
"I feel good knowing I can still do it," Mr. Bedford said. "This is my fourth time participating. When you look at the high end (competitors) in the elite group, they're people in their 50s and 60s probably due to experience. It's a fun race, they do a great job here in Pine Knoll Shores."
Mr. Bedford wasn't the only person to come to Pine Knoll Shores from outside the state for the race. U.S. Marine Corps veteran Doug Thomas of Herndon, Va., said he's participated in 12 of the 14 kayak races held in Pine Knoll Shores.
"I support Hope for The Warriors," Mr. Thomas said. "I think it is a great iceabreaker to show people we can still get together (after the pandemic). You want to get out and be outdoors, and this is a great way to do it."
Among the younger participants Saturday was 12-year-old Brook Grady of Grifton. Brook said it was his second time taking part in the kayak race.
"I've been kayaking for about seven years," Brook said. "It feels good to have something to do."
Town officials not only help organize the race, they also participate. Town manager and Marine Corps veteran Brian Kramer took part, as did Mayor Jon Brodman.
"I like to paddleboard, and it's for a good cause," the mayor said. "This is our 14th annual race. It's great to see everyone come out after the pandemic. There are many who registered just today. I think over the 14 years we've raised in excess of $800,000. I'm very proud of this town for that."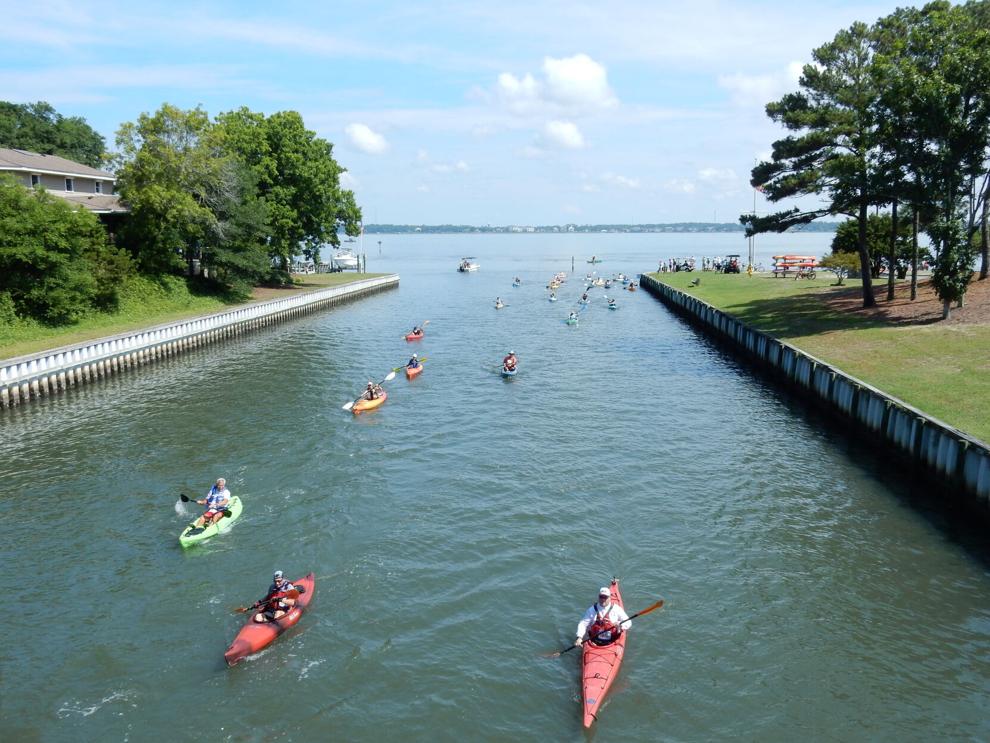 Hope for The Warriors Director of Military Relations Lee Bonar was at the race Saturday. He said he and other members of the nonprofit were "so excited to be back out" in Pine Knoll Shores.
"Our relationship with Pine Knoll Shores is very dear to us," Mr. Bonar said.
Town officials and volunteers don't put on the race by themselves; the National Charity League has also lent a hand for several years, and this Saturday was no different. League military liason Amanda McCall said they had five mother-daughter teams helping cook and serve food for the barbecue lunch provided after the race. Ten more mother-daughter teams provided desserts and other food.
"It seems like the turnout's great," Ms. McCall said. "We're excited to help."
Mr. Kramer said after the race he's "just so proud with what the volunteers did" organizing the event Saturday.
"To go a year without putting this on, then picking right back up is a testament to this town," he said. "It's a big win for Hope for The Warriors."
Contact Mike Shutak at 252-726-7081 ext. 206, email mike@thenewstimes.com; or follow on Twitter at @mikesccnt.