MOREHEAD CITY — With 316 confirmed drug overdoses in the county in 2020 and a similar trend underway for 2021, one Christian ministry is proving there is hope for those struggling with substance abuse addictions.
Hope Recovery Homes, a 24-hour nonprofit facility that provides shelter and recovery services to those battling substance abuse, graduated five men from its program during a special celebration Tuesday.
The men are among many who have completed a six-month rehabilitation program that provides 12-step, self-help and peer support as its approach to assist men and women start a new path.
Carteret County Sheriff Asa Buck was among those who attended the celebration, held in Hope Mission Soup Kitchen at 1410 Bridges St., another ministry of the organization, which operates Hope Recovery Homes.
Sheriff Buck said the court system refers many charged with crimes where substance abuse is involved to Hope Recovery Homes and other nonprofit recovery groups in the county to offer an alternative to going to jail.
"It depends on what charges are involved," he said. "When people are suffering from addictions, they can commit acts due to addiction issues. If we can help them deal with their addictions, it will help with the other problems."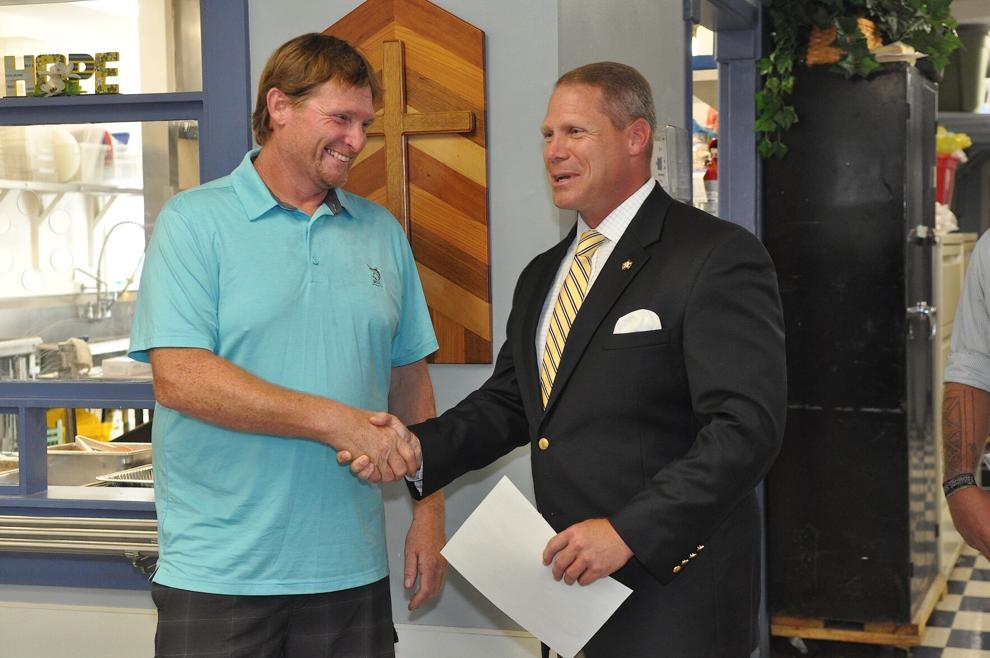 The sheriff added he's seen how programs like Hope Recovery have helped those addicted to substances turn their lives around.
Hope Recovery Homes has proven so successful that it's now partnered with Trillium Health Resources and the sheriffs' offices in Carteret and Craven counties.
"Our county contracts with Hope Recovery to fund beds," he said. "Those coming here get recovery services, job training and all sorts of things. When they finish the program, they are in a much better place to return to society."
Two of those who graduated from the program said Hope Recovery has indeed helped them see hope for the future.
Clay Royster, 26, said he was addicted to heroin and methamphetamine for eight years. He had tried other rehabilitation programs but ended up back in his addiction.
"The difference here is the fellowship and having people around who have been where you are and have made it," Mr. Royster said. "They get down to where things are real. I would encourage anybody to come here. It has helped me get sober and stay sober. I am eternally grateful to them for helping me."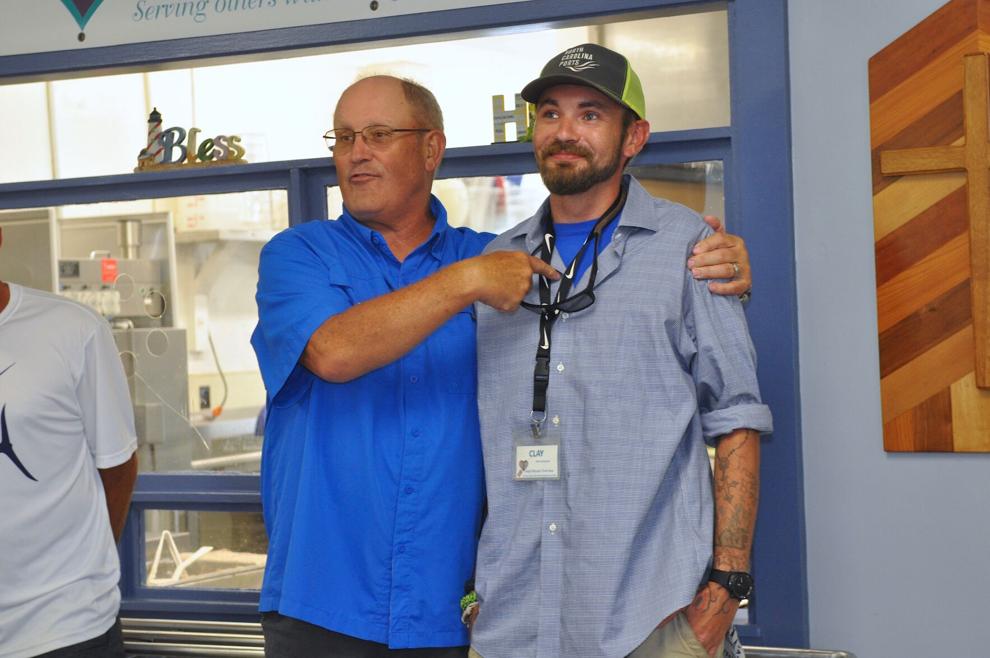 As is the case with many of those completing the program, Mr. Royster has been hired on as a staff member with Hope Recovery. He will help mentor others going through the program.
Chad Lilley, 38, came to the program after struggling with alcoholism.
"My life had become unmanageable," he said. "I was homeless. I had lost control and lost my friends and family. I heard about Hope Mission. I came here once before but I hadn't really paid attention to what they were telling me. This time I paid attention. It's not my will anymore, but God's will. There's been a whole lot of prayer. I'm just glad I got here and everybody here has been so supportive."
Hope Recovery Director Ken Johnston said it's important for those who have gone through the program to continue working toward recovery.
"This is a commitment for life. If you're not doing something for your recovery everyday, you're doing something for your relapse," Mr. Johnston said.
He added it's critical that those who have gone through recovery stay in fellowship with those who can help them when they are struggling.
"The opposite of addiction is connection. Here's your family," Mr. Johnston told the graduates as he pointed to the room filled with others still completing or who have finished the program, as well as family and friends of the graduates.
Hope Mission Executive Director Gene McLendon gave a charge to the graduates.
"You guys are free," he said. "And to get it, you've got to give it away. We've helped you get clean and sober. Now help others."
Hope Recovery operates four homes where clients live as they complete the program. They also volunteer at the soup kitchen as part of their treatment. Many end up being hired as Hope Recovery staff, such as Heather Jones, a recovery assistant.
"My addiction was alcohol," she said. "I was a registered nurse before I came here. I feel like now I'm making a bigger difference with my life."
Ms. Jones said last year, Hope Recovery Homes helped 99 clients and this year has helped 60, so far. The main reasons people enter the program are due to opioid and heroin addiction and alcoholism, according to Ms. Jones.
Sheriff Buck said he's grateful to Hope Recovery for the positive impact it's making in the lives of recovering addicts.
He pointed out that the number of those overdosing and dying due to drugs is an epidemic.
Of the 316 drug overdoses in the county in 2020, 35 died. Of the 162 overdoses in the county so far this year, 15 have died.
While he praises programs like Hope Recovery for helping people overcome their addictions, Sheriff Buck said the easiest solution is to prevent addictions from forming in the first place.
"The best thing to do is not use these substances in the first place," he said. "It's important that we educate young people about their dangers. It's also important for people to understand there are some who can drink in moderation and there are some who can't. But even if you can drink in moderation, you can't use drugs in moderation."
For more information about Hope Recovery Homes, like the organization's Facebook page or visit the website at hoperecoveryhomes.org.
Editor's note: This article was updated at 3:05 p.m. Saturday, July 10, 2021, to correct the date of the graduation ceremony. 
Contact Cheryl Burke at 252-726-7081, ext. 255; email Cheryl@thenewstimes.com; or follow on Twitter @cherylccnt.