CARTERET COUNTY — Retail businesses of all sizes noted an uptick in customers and excitement Memorial Day weekend as North Carolina moved into phase two of Gov. Roy Cooper's gradual reopening in the midst of the novel coronavirus pandemic.
At Belk in Morehead City, likely the largest retailer in the county aside of Walmart, store manager Khris Hamlin said Monday things had been hopping all weekend.
"It's been super," he said. "People have been excited to get back in, and they've been buying everything, really."
Like other retailers, Belk could accommodate half of its store capacity under the governor's executive order. Mr. Hamlin said the store kept careful count, and as of midday, it had neared the limit, but not reached it.
"It's really been very good," he said. "People have been super excited to get out and shop after being cooped up for so long."
He thinks business will continue to build as tourism season progresses and the state heads, hopefully, to further loosening of restrictions in the next month or two.
The tourists, he said, were definitely back in full force and were ready to buy bathing suits and other beach attire.
Over the high-rise bridge in Atlantic Beach, Bert's Surf Shop owner Curtis Pearson said Monday that store, as well as his location in Emerald Isle, had done well all weekend.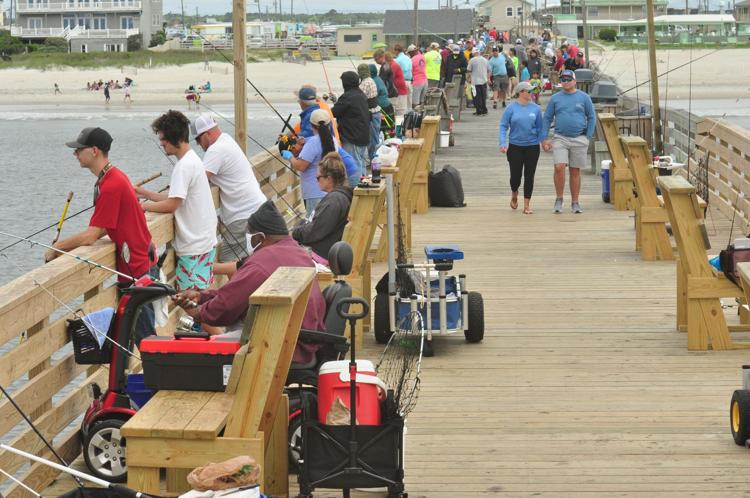 "There are lots of people in town and the weather has been good," he said. "People are happy. Nobody is really talking about the coronavirus. Not many are wearing masks. Nobody seems all that concerned. They're just happy to get out."
Store staffers, Mr. Pearson said, did their best to sanitize, and he hadn't been too worried about overcrowding because the stores are large and people come and go.
Those visiting Atlantic Beach and Oceanana Fishing Pier Monday said they were glad to be able to get out and spend time at the beach.
"It's a just a day off to be with the kids and get out," April Peaden of Farmville, who was spending the day at Fort Macon State Park with her husband and children, said.
The fishing pier was packed as fish were being caught up and down the structure.
By all reports, Beaufort was crowded over the weekend, and at Clawson's Restaurant on Front Street, co-owner Joey McClure said business had been good, although different.
With the restaurant's banquet room, the capacity under the 50% rule is about 150 people. But Mr. McClure said he used 100 seats as the limit and spread the tables out to ensure adequate social distancing.
"People were very appreciative" of being able to dine inside a restaurant, he said, "and glad to be able to get out and do something.
"We had a few people who didn't like that we were limiting them to groups of 10, but that was really a pretty minor thing. Most people understood the rules."
Staff, he said, wore masks, and some customers did, too.
Overall, Mr. McClure said, business was down at least 50% from what he would normally predict for the holiday weekend.
"But it was actually a little better than I expected," he said. "We were still doing take-out and that helped, too. It was probably about 20 percent of sales."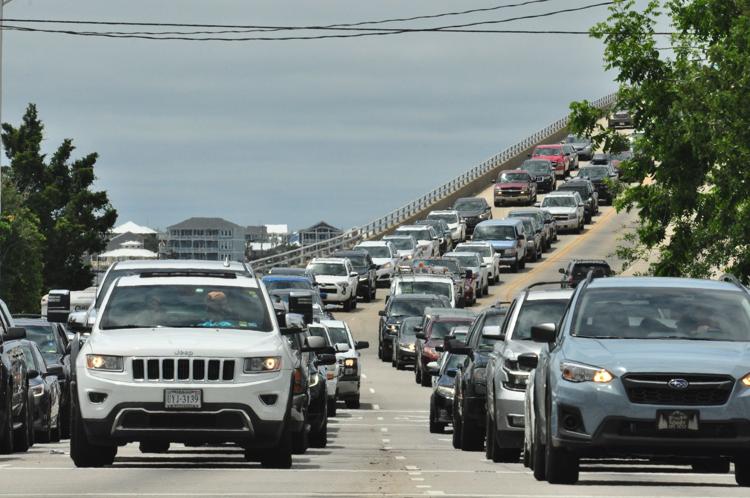 Mr. McClure said he's optimistic about the summer.
"Everyone wants things to get back to normal," he said. "But the good thing is, we're set up for the next few weeks. We've got the things in place we need."
In tourist-crammed Emerald Isle, where traffic backed up repeatedly on the high-rise bridge, Mark Shepperd, one of the managers of RuckerJohns restaurant in the Emerald Plantation Shopping Center, said much the same.
"We were busy. The weekend went very well, with some pretty major adjustments," he said.
The maximum capacity was about 140 occupied seats, Mr. Shepperd said, and the restaurant probably approached that a couple of times.
Like Clawson's, RuckerJohns still did a sizeable take-out business.
Mr. Shepperd said the majority of the dine-in customers appeared to be tourists, while many, if not most, of the take-out business was from locals, who he believes will start dining in again soon.
Small but popular Frank's Pizza & Subs in Newport was noticeably busier, with scads of tourists in the area but didn't start inside dining over the weekend.
"We're very small, and we don't really have the space to put that much distance between the tables," said owner Jenny Grassi.
"For everyone's safety, and to do the right thing, we just decided to keep things as-is for a few more weeks. People understood."
But, she added, there was a big increase in take-out orders, and the business is hanging in there and waiting for things to get back to normal.
"It's not that much longer," she said. "Just a few more weeks, maybe. But it was really good to see more people. We were super busy."
Reporter Cheryl Burke contributed to this report.
Contact Brad Rich at 252-864-1532; email Brad@thenewstimes.com; or follow on Twitter @brichccnt.