BEAUFORT — A group of residents who want to keep the Carteret County water system under local ownership voiced their concerns to county commissioners Monday night, though no final decision was made on the matter.
The County Board of Commissioners met Monday evening in Beaufort. Before the meeting, dozens of individuals with the community group Carteret County for Public Water, many wearing blue to represent water, gathered on the steps of the county courthouse in a show of solidarity.
The group was there for the second month in a row to express its opposition to a potential sale of the county's water system. As county staff emphasized Monday night, officials have not sold the system, which serves around 1,200 customers, but is currently engaged in an upset bid process with two privately owned water companies vying for the chance to purchase it.
The latest bid was received last week from Aqua North Carolina for almost $9 million. The other company bidding is Carolina Water Service, and county staff said Monday it's possible the company will submit another upset bid before the 10-day bidding window closes Wednesday, April 28.
Once the bidding process ends, county commissioners will have the choice to either accept the high bid or reject all offers.
Several residents spoke during public comment to share their various reasons for opposing a sale, chief among them the concern quality would diminish and rates would increase under a for-profit company. The group also made a presentation of their concerns and several unanswered questions, sparking a lively discussion between commissioners, staff and residents.
"It's pretty simple, our ask to commissioners is don't sell this water system," said Steve Bolding, a Deerfield Shores resident who is a user of the system. He and the others who presented Monday provided commissioners with a copy of a petition that has signatures from 830 individuals, some on the water system and some not, all opposed to the potential sale.
County Manager Tommy Burns also presented information, including financial details and a timeline of events, in an effort to clear up "misinformation." Mr. Burns shared the county's water system is not self-supported by user rates and fees alone, but is essentially subsidized by a special water district tax.
"The average annual loss on this system (before adding the special tax revenues) over seven years is about $110,000 a year, and in order to maintain this system, it will take substantial rate increases," Mr. Burns said. "We just last year (in fiscal year 2019-20) did a 15 percent rate increase on the system."
Everyone in the water district, regardless of whether they're hooked up to the system, pays the 5.5-cent tax on real property, generating around $420,000 per year for operations. The district contains around 3,700 parcels with only a fraction, 1,208 customers, actually using the county water system.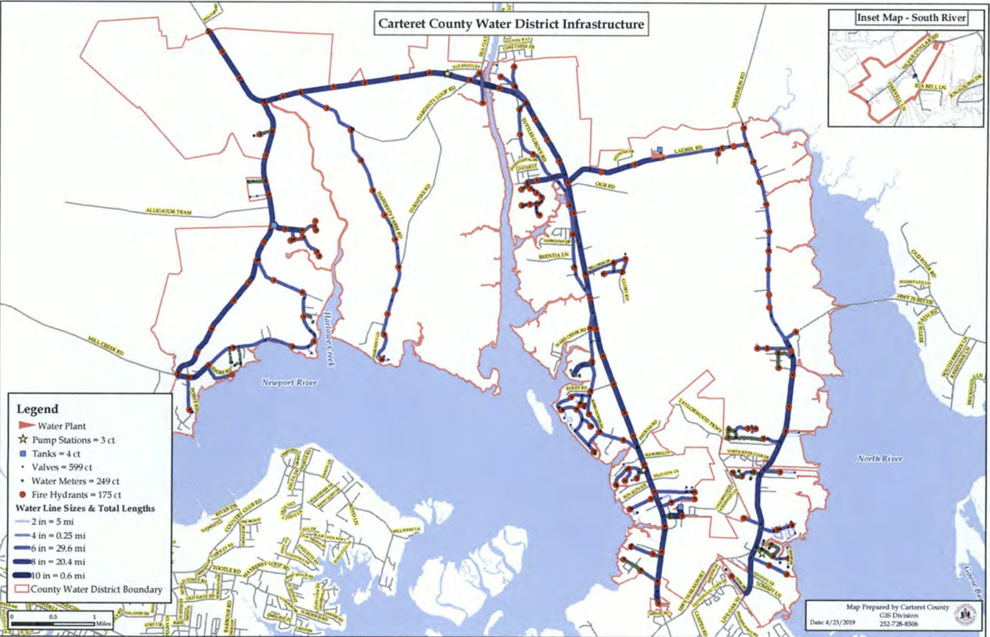 For that reason and others, Mr. Burns said the State Water Infrastructure Authority is considering labeling Carteret County's water system a financially distressed system. The authority met April 14 to consider the designation, but tabled a decision due to the pending bids. 
"They tabled any decision on Carteret because they were aware that they county had looked at the possibility of selling the system," Mr. Burns said.
As for the bids, Mr. Burns said the county first got the attention of the two water companies after it published a grant-funded study on the possibility of merging its water system with that of the town of Beaufort's. The town declined the merger, citing financial concerns of its own, and Mr. Burns said soon after Aqua N.C. and Carolina Water Service reached out with interest in purchasing the system.
"From June 2020 to January 2021, myself, (Assistant County Manager) Mr. (Gene) Foxworth, (county attorney) Mr. (Rob) Wheatly, we met and had some conversations with both interested parties because we wanted to actually find out from them what exactly is your interest, is it just simply kicking tires or are you legitimately interested in purchasing the system," Mr. Burns said.
In February, Aqua N.C. made a formal bid of $7 million for the system and commissioners accepted the offer, kicking off the upset bid procedure that's ongoing. Mr. Burns said if the county ultimately decides to sell, a purchase agreement would have to be drawn up and there would be a due diligence period and other requirements, such as approval from the N.C. Utilities Commission, before it's finalized.
If the county ends up holding onto its water system, Mr. Burns said likely the only way to make it financially viable will be to raise rates. He also recommended eliminating the special water district tax in order to keep the system from being labeled financially distressed, which would require county staff and elected officials to attend trainings related to the water system.
The county projected rate increases ranging from about 30% to up to 87%, depending on whether or not the county retains the special taxing district. That translates to an average monthly water bill increase of $13.60 to $36.96. The suggested increase also accounts for $100,000 per year to be set aside for future capital needs for the aging system.
The speakers with CC4PW indicated they would be OK with rate increases if they came from county.
"I've been saying since day one, we want to pay you guys because we don't want to pay a boardroom and shareholders money. We want to keep it here in the county, we're willing to take the rate hike," Patrick Kelly, a main organizer for the group, said. "We're not complaining about our rates going up. We don't want to be subsidized, the water that y'all provide is wonderful, we have no complaints on it. We really just want to work with y'all and make sure that money stays with the county."
After digging into the numbers, commissioners briefly discussed some of the different options going forward, whether it be to sell or keep the water system. Commissioners said they are still evaluating all options and appreciate the dialogue that was started Monday.
"It's been a great discussion, there have been a whole lot of different issues asked, very good questions," Chairperson Ed Wheatly said. "I think Mr. Burns laid his facts and figures out there very nicely, I think he showed you exactly where we are and I know exactly how you feel."
Following the discussion, Mr. Kelly told the News-Times he, too, appreciated the conversation and had many of his questions answered, but he made it clear his stance remains the same: "No sale."
"I appreciated the back-and-forth with the commissioners and the ability to actually have discussion this time. I think we made some common ground, which is a good thing." he said. "We'll keep following along and hopefully continuing conversations with them, just seeing what's going on and keeping an open dialogue."
Editor's note: This article was updated at 1:05 p.m. Tuesday, April 20, 2021, with a full report.
Contact Elise Clouser at elise@thenewstimes.com; by phone at 252-726-7081 ext. 229; or follow on Twitter @eliseccnt.