NEWPORT — It may look a bit different this year due to coronavirus precautions, but Garner Farms has opened its Corn Maze & Pumpkin Patch for the season.
In the past, the farm has also offered games for children, but Sherri Garner, co-owner of Garner Farms, said due to safety precautions, they opted to not open the game area this year.
There is still plenty of family fun, with a hayride to a self-pick pumpkin patch and a hike available through a 2.4-mile corn maze. There is also a 0.3-mile version for children.
Ms. Garner admitted there was a time she wondered if the farm would be able to open the events for the season.
"I had my doubts, but Clayton (her husband) had faith that we'd be able to open," she said Friday as she checked the pumpkin patch and tall stalks of sorghum, similar to corn, used for the maze. "We had to plant the fields earlier in the year, and we weren't sure at that time what we would be allowed to do."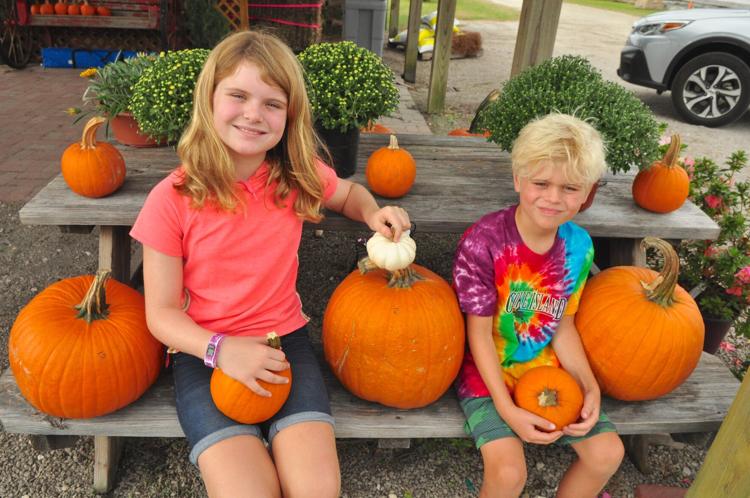 The maze, a joint operation between Garner Farms, Garner's Landscaping and the Plant Stand, opened Saturday and will remain open through Saturday, Oct. 31. It's located at 5878 Highway 70.
The hayride and pumpkin patch opened the first week of October. The tractor leaves from The Plant Stand, near the Garner Farms produce stand on Sam Garner Road.
Events coordinator Katie Smalley said the hayride and pumpkin patch will be available from 1 to 4 p.m. Monday through Friday, and from 11 a.m. to 4 p.m. Saturday and Sunday.
The corn maze will be open from 10 a.m. to 6 p.m. Saturdays and Sundays only.
For safety, they ask those participating in the hayride or corn maze wear a mask if they are not socially distanced. Those showing symptoms of COVID-19 or who have been exposed to the virus are asked to not come.
People should book their hayrides ahead of time by visiting Facebook.com/garnersfallfestival. There is a link on the site to purchase tickets.
The maximum allowed in the trailer will be 20 people. It's important those signing up for the hayride let the farm know how many there will be in a party.
The cost for the hayride and pumpkin patch is $5 for those ages 4 and up. The corn maze and hayride to the pumpkin patch is $10. Those who purchase tickets will receive a $3 off voucher for the purchase of their pumpkin.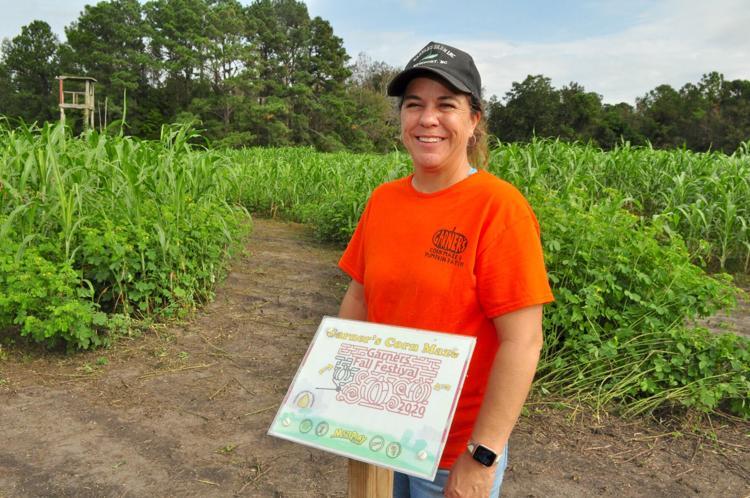 Prices on pumpkins range from $3 for the smallest to about $35 for the largest. Families can opt to cut a live pumpkin from the vine or pick free-standing ones that are sitting in the fields.
As for the corn maze, Ms. Smalley said the farm is only allowing 15 people to go through every 30 minutes.
Kennedy Hiner, 9, and her 6-year-old brother Winn were among those who took the hayride Friday to pick out pumpkins.
"It was pretty fun," Kennedy said. "We rode through a big patch of mud and that was fun. So was the pumpkin patch."
Those wanting more information can contact Garner's Corn Maze & Pumpkin Patch at 252-241-1184.
Contact Cheryl Burke at 252-726-7081, ext. 255; email Cheryl@thenewstimes.com; or follow on Twitter @cherylccnt.