MOREHEAD CITY — Eastern North Carolina chefs were cooking up delicious cuisine Monday in the Carteret Community College Hospitality and Culinary Arts Center during a preliminary round of the fifth annual N.C. Restaurant and Lodging Chef Showdown.
The preliminary competition is one of four being held across the state over the next three months, leading up to two regional rounds, then a final competition Monday, Aug. 9, at Angus Barn's Bay 7 at the American Tobacco Campus in Durham. Winners will be named N.C. Restaurant and Lodging Association Chef of the Year and NCRLA Pastry Chef of the Year.
This is the first major event involving out-of-town guests CCC has hosted in its new, state-of-the-art culinary center, which opened in January, according to CCC lead hospitality and culinary arts instructor Shana Brophy-Olmstead.
"This allows us to be on the state stage and highlight this wonderful facility," she said. "You can't put a price tag on that. We are so proud of what we are doing here and what we will be doing."
The annual competition is designed to promote and spotlight the talent of North Carolina chefs, pastry chefs and mixologists. This year 48 chefs from across the state are competing in one of the four preliminary rounds.
Throughout the competition, sponsored by Got To Be NC Agriculture, chefs are encouraged to cook with as many North Carolina-found ingredients as possible. Competitors are judged on the presentation, plating, creativity and taste, as well as the best use of ingredients on each plate.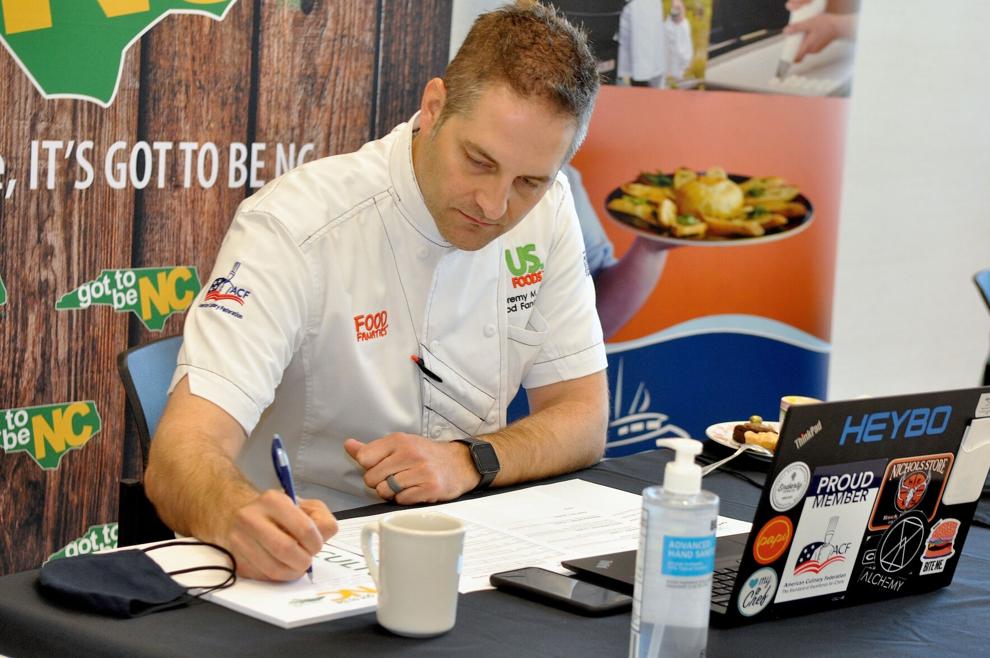 Sam Smith with Sugar Island Bakery in Surf City was among the pastry chefs competing Monday at CCC.
"My children encouraged me to enter because they love to watch all of the cooking shows," she said as she prepared a plate filled with mouth-watering pastries and desserts. "My presentation tells the story of the island I grew up on. It tells the story of Topsail Island."
All ingredients included in her pastries and desserts were produced on Ms. Smith's beloved island. Her passion for detail was reflected in the plates she used to present her entries to the three judges.
"These plates came from my former landlord. They survived Hurricane Fran when it destroyed her home on the island," she said.
Amanda Ezzell, owner of Ezzell's Catering and Something Good Food Truck in Warsaw, along with her mother, Carolyn, entered the chef category.
"I'm here representing the farmers in my county," Ms. Ezzell said. "It's not just for me. Farmers are not appreciated the way they should be. I don't think people realize what farmers do for us."
Everything in Ms. Ezzell's entry was local to Duplin County. To protect the integrity of the competition, the media is not allowed to release specifics of contestant's entries until after the regional winners are announced.
Following the preliminaries, the field will be narrowed, based on judges' scores, to 20 chefs, who will cook for the win in one of two semi-final regional rounds of competition in July. The same 20 chefs move on to cook for the public and a chance at People's Choice honors at the Aug. 9 Grand Finale in Durham.
In addition, six mixologists, each representing a North Carolina distillery, will compete for the title of 2021 NCRLA Distillery & Mixologist of the Year during the Aug. 9 event.
During the finale, chefs and mixologists will serve samples of their entries to the public. Guests will be invited to vote for People's Choice honors in three categories: sweet, savory and cocktail.
Heidi Billotto, a food and travel writer who was overseeing the competition Monday at CCC, said three judges were brought in from another region of the state to avoid the chance of a judge knowing the contestants from this area.
"Each region we visit we try to bring judges from different regions," she said.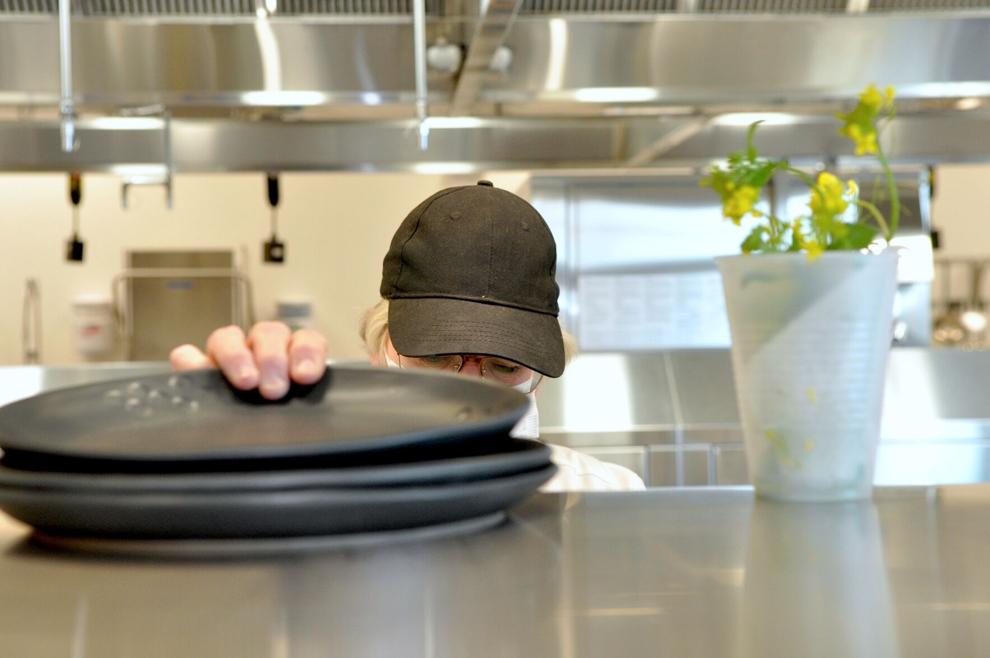 Jeremy Bevins with US Foods was among those judging at CCC.
"I'm looking for great flavor profile and if the dishes are cooked properly," he said. "Is there a healthy balance of sweets, salty and savory? I'm also looking for the best show of North Carolina products."
Judge Ricky Moore with Saltbox Seafood Joint in Durham said, "Before anything else, I am looking for craftsmanship. There's a science to cooking and baking. I'm looking for seasonings, flavor building, dish composition, texture and, at the end of the day, is it delicious?"
Judge Lucia Bobby of Bobby Boy Bake Shop in Winston-Salem said, "The biggest component is the use of local products and how they are raised locally. I also want to see how they are creatively put together."
As for dates and locations of other preliminary rounds, which aren't open to the general public, they are: Monday, May 17, Central Piedmont Community College in Charlotte; Monday, June 7, Bobby Boy Bakeshop in Winston-Salem; and Monday, June 14, Wake Technical College Baking and Pastry School in Raleigh.
Two regional rounds will be held Monday, July 12 at CPCC and Monday, July 19 at Wake Tech.
The public can follow the preliminary and regional action and results on the NCRLA and Chef Showdown social media pages. Look for @ncrlachefshowdown on Facebook, Twitter and Instagram.
Tickets for the Aug. 9 NCRLA Chef Showdown Grand Finale go on sale Monday, June 21 at NCChefShowdown.com.
Contact Cheryl Burke at 252-726-7081, ext. 255; email Cheryl@thenewstimes.com; or follow on Twitter @cherylccnt.