BEAUFORT — Community members, students, parents and school administrators lined the entryway and parking lot of Beaufort Middle School Thursday to thank teachers for their hard work.
The event was one of many held across the county and nation this week to celebrate National Teacher Appreciation Week, which is May 4-8.
BMS hosted a celebration for all Beaufort and Down East school teachers, but Interim Superintendent Richard Paylor said all county teachers are worth celebrating for their dedication, especially in light of the novel coronavirus pandemic.
"On a good year we appreciate the hard work that teachers do, but this year they have gone way above and beyond to get our online learning up and going," Mr. Paylor said.
Principals, booster clubs, advisory council members and other supporters set up booths with gifts to hand out as teachers drove through the parking lot. Chick-fil-A in Morehead City was also handing out free lunches, which they have done all week at schools across the county.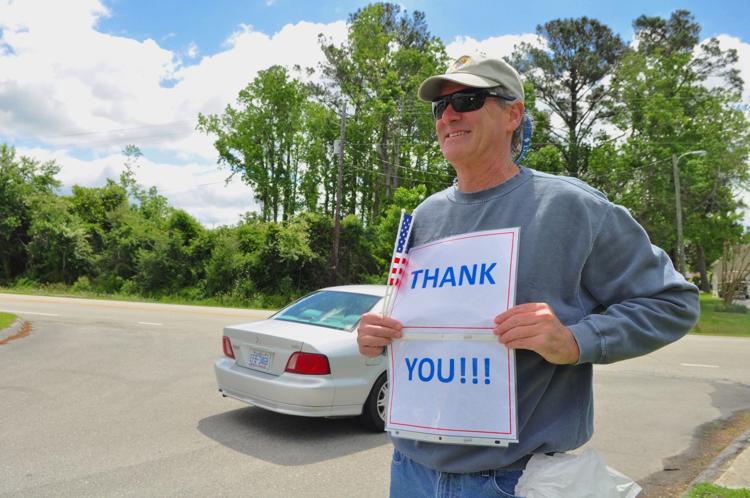 Among those holding up signs in celebration Thursday was Beaufort Mayor Rett Newton.
"I'm the son of a teacher, the brother of a teacher, the father of a teacher and the husband of a teacher," he said. "I know how important they are to our community. In a crisis like this they've gone above and beyond to take care of our students and each other. I especially appreciate what the school is doing about the food insecurity situation. They have done a great job identifying those in need of help."
County Board of Education members Kathryn Chadwick, who represents the Down East district, and Brittany Wheatly, who represents Beaufort, agreed teachers have gone to great strides to meet the needs of students and families.
Ms. Chadwick said, "We appreciate all they've done and are doing. This has certainly been a challenging year. I think everyone has figured out what a hard job teachers have after helping their children at home with online learning."
Ms. Wheatly agreed.
"I think everyone has always appreciated teachers, but much more so this year," she said. "They work really hard and wear many hats."
BMS Principal Jessica Emory added that the celebration at her school was not only for teachers but all staff.
"Every staff member has a part in teaching our children," Ms. Emory said.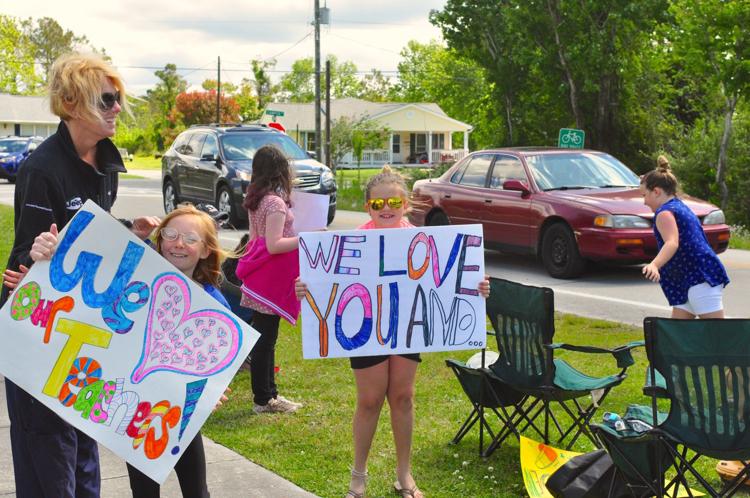 East Carteret High School athletic booster vice president Allison Bernauer, too, thanked teachers.
"I thank them for the way they have adapted so quickly and made this as easy as possible for the kids," Ms. Bernauer said.
BMS sixth-grade student Clay Michels agreed teachers have helped students adjust to the challenges.
"They do so much for us and during these times we notice it so much more," he said as he held a sign.
Teachers receiving gifts said they appreciated the pat on the back.
BMS math teacher Elizabeth Mason, who not only received gifts but waved to fellow teachers as she stood in front of the school with her new golden retriever puppy, said, "I am humbled by how much love we are being shown."
BMS health and physical education teacher Peter Carraway agreed.
"I think it's great that the community can come together to support teachers," he said. "It's so nice to see the kids out here."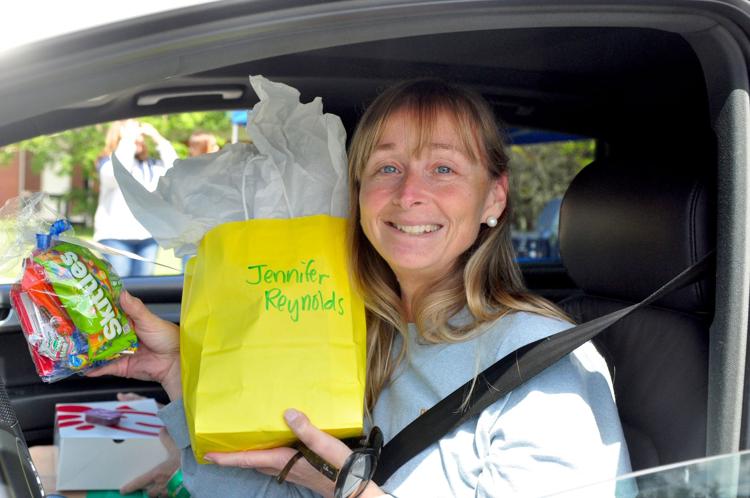 In addition to celebrations this week, the school board Tuesday adopted a resolution recognizing May 4-8 Teacher Appreciation Week.
The State Board of Education also asked families to show their support for teachers statewide by displaying lights in windows, on porches or in their yards.
North Carolina public schools employ nearly 200,000 full-time teachers and staff across the state.
Contact Cheryl Burke at 252-726-7081, ext. 255; email Cheryl@thenewstimes.com; or follow on Twitter @cherylccnt.