BEAUFORT — The County Board of Education honored two members who attended their last school board meeting Wednesday.
County Board of Education Chairman John McLean presented Recognition of Service Awards to District 3 representative Melissa Ehlers of Morehead City, who opted to not run for re-election after serving six years, and District 2 representative Jake Godwin of Newport, who lost his bid for a second term during primary elections.
Republican Katie Statler of Newport will replace Mr. Godwin, and Republican Dennis Goodwin of Morehead City will replace Ms. Ehlers. Both will take their seats Tuesday, Dec. 3.
During the meeting in the school system's central office on Safrit Drive, Mr. McLean thanked Mr. Godwin and Ms. Ehlers for their dedication to the students and families of Carteret County.
"There's not a bigger heart than yours on our board when it comes to working for our students," Mr. McLean said to Mr. Godwin as he received his award.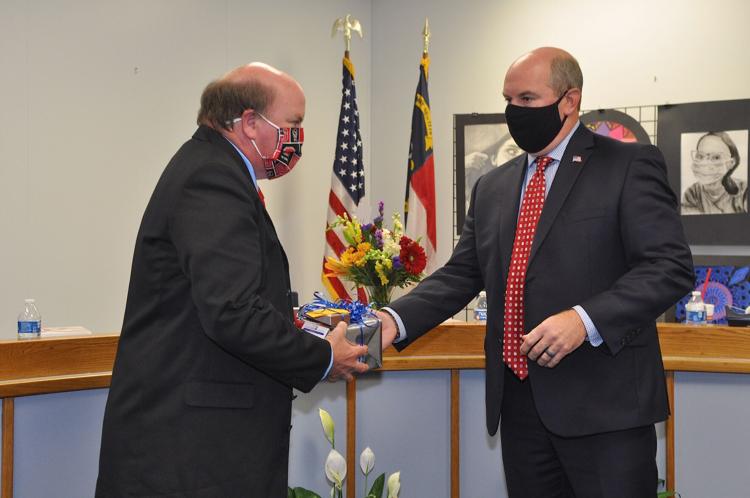 To Ms. Ehlers, he said, "I have always admired your leadership skills," adding that part of her legacy will be passage of the $42 million school bond referendum and hiring Superintendent Dr. Rob Jackson.
As for being on the board, Mr. Godwin said, "I've enjoyed being here and working for all of the students and people. It's been an honor to serve this county."
Ms. Ehlers, too, said she has enjoyed her time on the board.
"It's been a real honor and privilege to serve here," said Ms. Ehlers, who was joined by family members.
She thanked former school board member June Fulcher, who attended the meeting to wish Ms. Ehlers well, for her guidance over the years.
"I thank Ms. June, who has been my mentor through all of this," Ms. Ehlers said. "I also want to say thank you to all of the students and those who supported me."
Family members with Ms. Ehlers were her husband Loy, daughter Elsa Ehlers, daughter-in-law Lindsay Ehlers, and grandchildren Piper, 3, and Townley, 1.
Contact Cheryl Burke at 252-726-7081, ext. 255; email Cheryl@thenewstimes.com; or follow on Twitter @cherylccnt.