MOREHEAD CITY — Carteret County families and individuals struggling financially will have a place to come for a free Thanksgiving meal Thursday.
Hope Mission of Carteret County, a nonprofit Christian ministry that operates a community kitchen, will be open to serve turkey and all the trimmings from 11 a.m. to 12:30 p.m. Thanksgiving Day. Meals can be eaten in or taken out, according to Hope Mission Director Gene McLendon.
"We've been offering take-out meals throughout the pandemic, and we now offer them in the dining area as well," Mr. McLendon said Nov. 17.
With many families still struggling, Mr. McLendon said he's seen a recent increase in those seeking assistance with meals at the soup kitchen, as well as those needing financial help.
"We are especially seeing more people asking for help with medicines and medical needs through our financial assistance program," he said. "In the past, it's been needing help with rent and utilities, but right now the No. 1 thing is medical needs."
That's why being able to offer free meals each day at the soup kitchen, especially for Thanksgiving, is key.
Mr. McLendon said volunteers from Liberty Christian Church in Havelock will once again serve the holiday.
"Liberty Christian has been doing this for probably 10 to 12 years, and we are so grateful. It gives our staff a day off so they can be with their families," he said. "We are so thankful to be able to provide for the needs of families and the homeless and provide a Thanksgiving meal in a family atmosphere here at Hope Mission."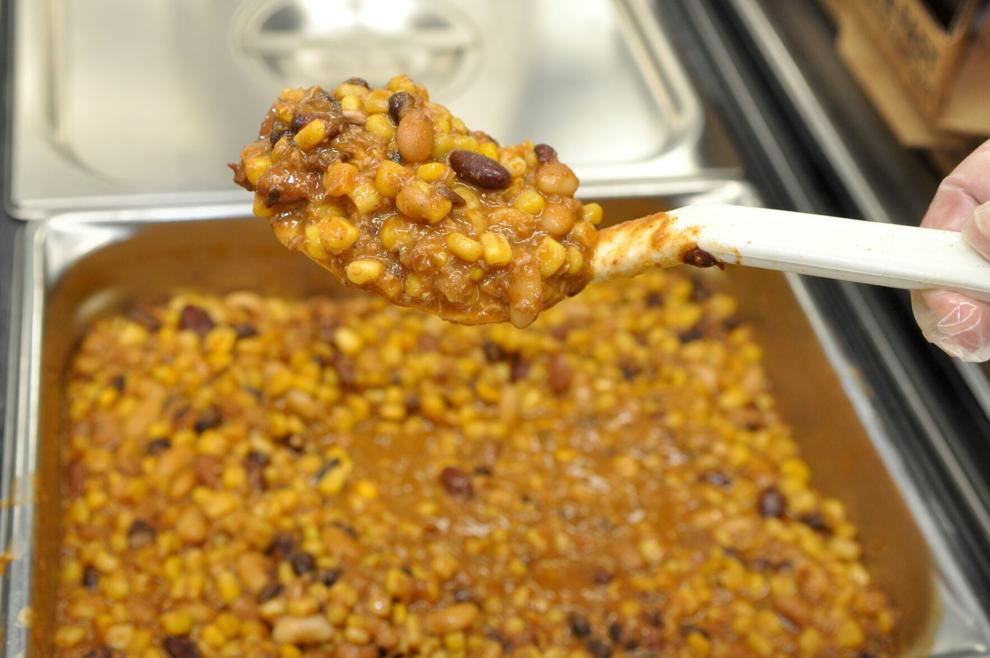 As well as offering meals each day at the soup kitchen, Mr. McLendon said the mission now operates a Meals on Wheels program, which is currently serving 40 clients throughout the county.
Kitchen supervisor and Meals on Wheels coordinator Katie Nixon said she's hoping to expand the program as volunteer drivers come on board.
"We need volunteer drivers for areas like Broad Creek, Salter Path, Newport and Atlantic Beach," she said.
Ms. Nixon said for Thanksgiving, her Meals on Wheels crew plans to double up on meals Wednesday and provide two dinners, with one of those being turkey with sides.
"We want to make sure our clients have a nutritious Thanksgiving dinner," she said.
Hope Mission also provided turkeys to several individuals Monday who will be able to prepare meals at their homes.
Those who volunteer at Hope Mission, like Ken Yearick, who was serving meals at the soup kitchen Nov. 17, said it's a rewarding experience.
"It's a good ministry to the community and a chance to share the joy of Christianity and faith to others. It brings a smile to somebody's face," he noted.
Others who work and serve at Hope Mission, like Mike Horne, supervisor of one of the men's substance abuse shelters, are former clients at Hope Mission.
"I had an alcohol problem and was in the men's recovery program," he said. "I love Hope Mission and being able to help these young men."
He added that he plans to eat at the mission on Thanksgiving Day.
"I'm very grateful. Some people may not have family to be with on Thanksgiving," he said. "I consider this my second family."
Hope Mission operates women's and men's shelters, five homes for people dealing with substance abuse issues, a financial assistance program, the Meals on Wheels ministry and a thrift store. Hope Mission has served 31,638 meals at the kitchen from January through October. That compares to 43,046 meals served in all 2020.
Those interested in volunteering, donating or wanting more information about Hope Mission can call 252-240-2359 or visit hopemissionnc.org.
Contact Cheryl Burke at 252-726-7081, ext. 255; email Cheryl@thenewstimes.com; or follow on Twitter @cherylccnt.