OCEAN — Croatan High School seniors, dressed in graduation regalia, were greeted with cheers and high-fives Tuesday as they walked the halls of three county schools.
In an effort to inspire elementary and middle school students to stay in school and graduate, the seniors toured Bogue Sound Elementary, White Oak Elementary and Broad Creek Middle schools. Students who attend those schools will end up at CHS if they stay in the district.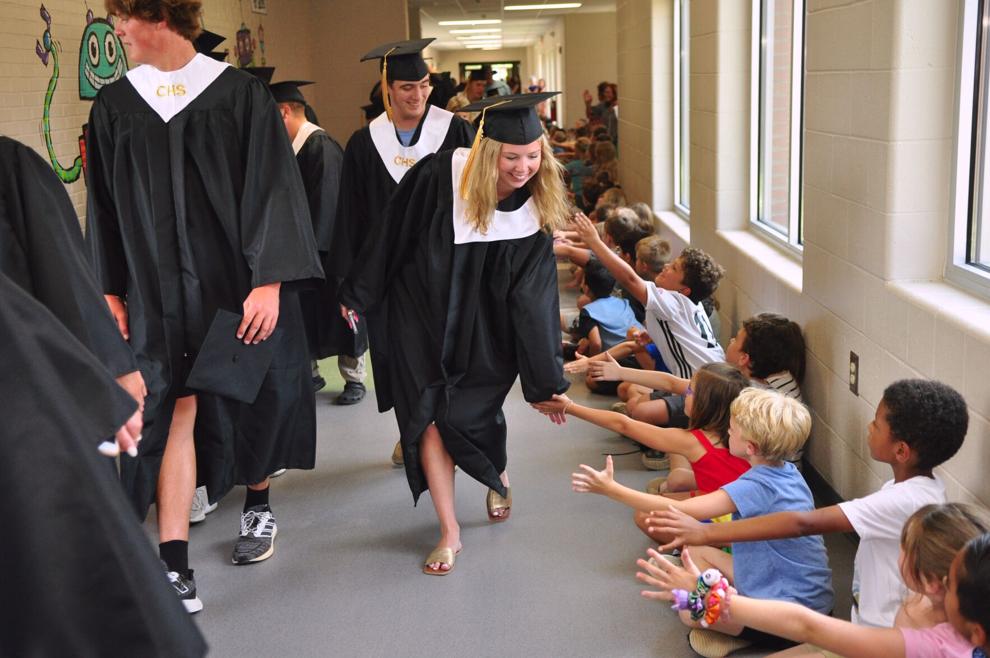 Seniors at East Carteret and West Carteret high schools did similar walks through their districts' schools in May.
CHS seniors touring schools said they hoped the effort pays off for the younger students.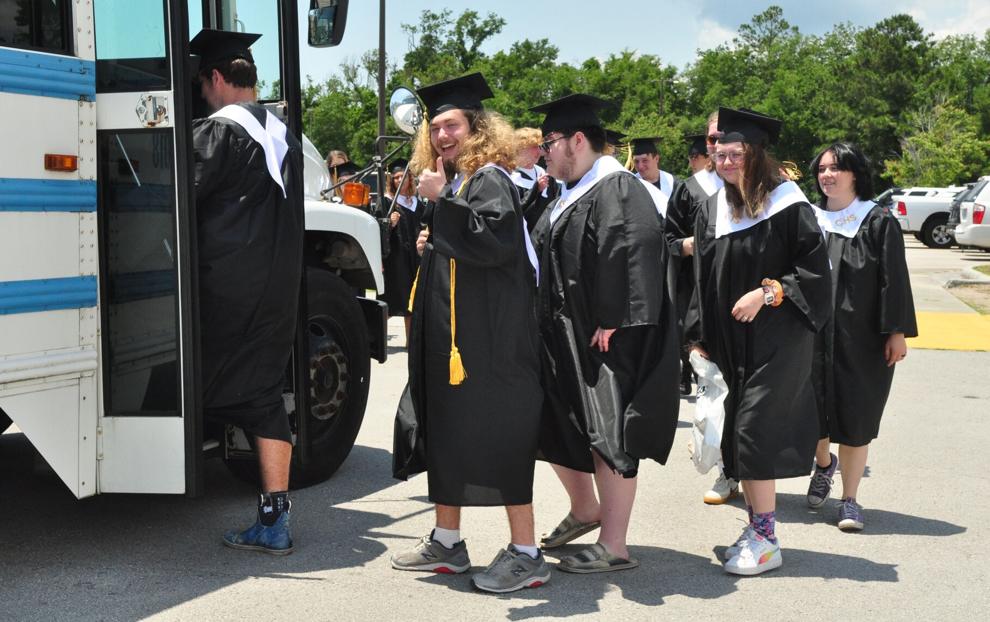 "Croatan does a lot to inspire younger students to graduate," senior Ryan Michalowicz said. "Our freshman year the school gave us fake (graduation cap) tassels to hang on our mirrors to remind us of what was coming in our future."
For some Croatan Cougars, like senior Natalie Pollock, the tour brought back memories.
"It really is nostalgic," she said after finishing the tour of Bogue Sound Elementary School. "I started kindergarten at Bogue Sound and went to Broad Creek Middle School before going to Croatan. It was really neat to see the kids that will be here in 12 years."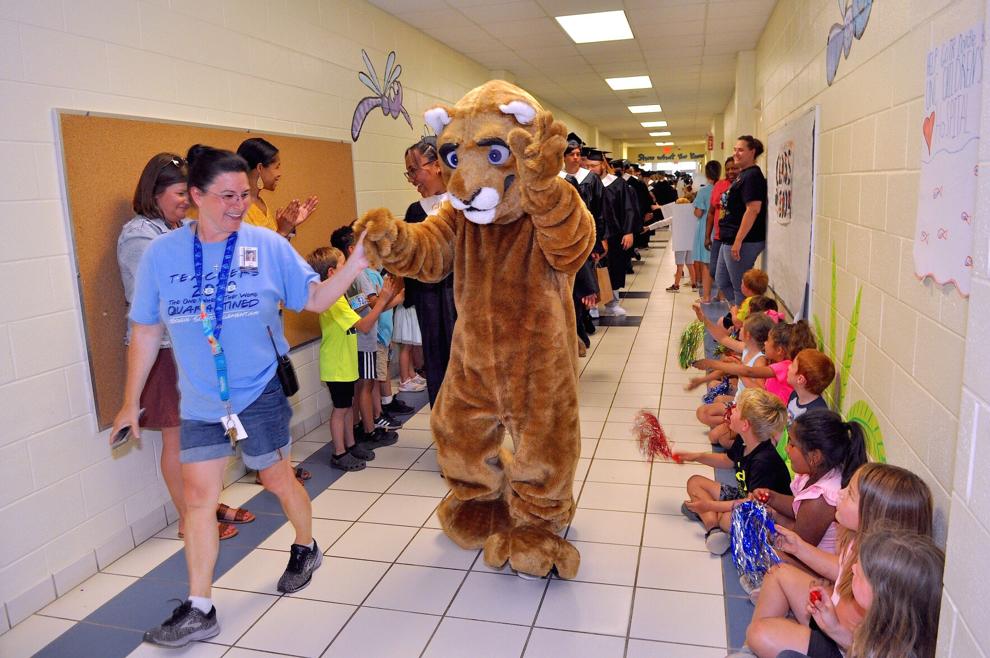 After cheering seniors on through the halls of White Oak Elementary School, fourth-grader Annie Fahy said seeing her older peers solidified her commitment to graduate.
"It makes me feel excited," she said. "I'll be there one day, and I will get to walk through the halls."
Teachers who taught many of the students said the senior tour encourages them as well.
"I cry like a baby every year when they go through our halls," Broad Creek Middle School media coordinator Heather Blackwell said. "I'm so proud of them and that they made it through from the sixth grade. It's one of the best days of the year for me."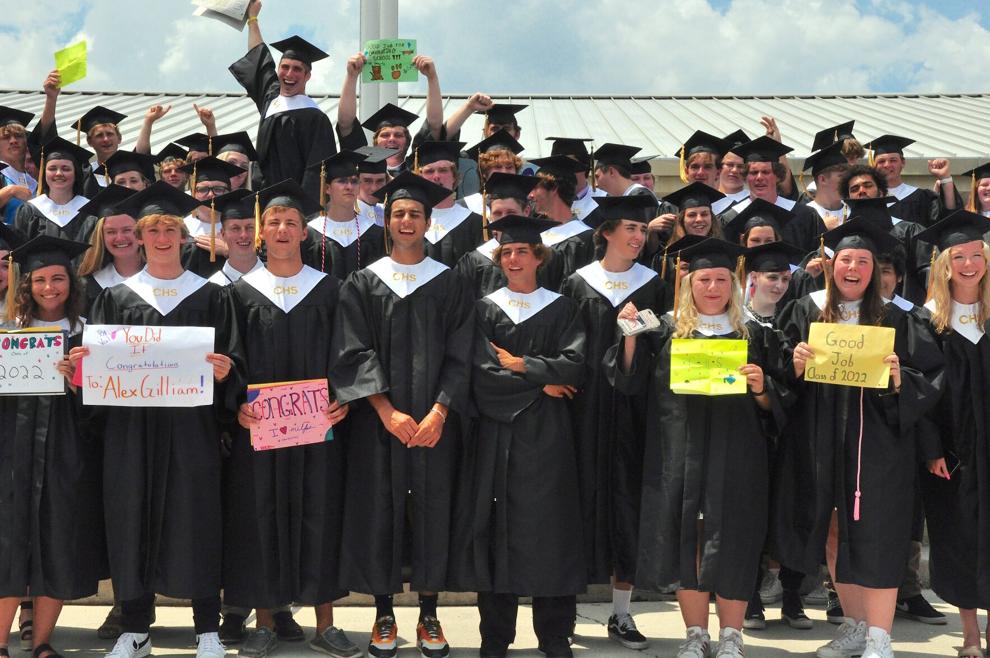 Broad Creek Middle sixth grade English language arts instructor Devon Mastria agreed.
"I taught many of these kids when I started here my first year out of college at 22," she said. "It makes us feel that what we do does pay off."
Seniors will get their real pay day at 6:30 p.m. Friday when they go through commencement exercises at the three traditional county high schools.
Seniors at the Marine Science and Technologies Early College High School will receive their diplomas at 6 p.m. Thursday in the Crystal Coast Civic Center in Morehead City.
Contact Cheryl Burke at 252-726-7081, ext. 255; email Cheryl@thenewstimes.com; or follow on Twitter @cherylccnt.