BEAUFORT — From funding to hire more minority teachers to budgeting for the Marine Science and Technologies Early College High School, Carteret County parents and other residents shared Tuesday what they want included in the county school system's 2021-22 budget.
In addition, another group of parents, represented by Morehead City Manager Ryan Eggleston, appealed to the County Board of Education to provide more funding for academically and intellectually gifted programs.
The school board is in the process of developing its 2021-22 county budget request and invited the public to share concerns during a hearing at the beginning of the board's meeting in the school system's central office on Safrit Drive.
Missy Oden, a member of Citizens for Diversity in Education, said, "CDE is here to prompt each one here to move from our seat of complacency on issues and matters that we know is going on and affecting our minority students, teachers support staff — which also includes the lack thereof. It's time we take action."
Ms. Oden was flanked by several members of the grassroots group, which presented copies of a three-phase plan to increase the recruitment, hire and retention of minority educators to each board member and school administrator. The estimated cost to implement the plan is $487,500.
The plan's three phases are identification and removal of barriers and stigmas and a minority retention plan; improvement of the hiring process; and accountability.
Several MaST parents also shared comments on the budget via emails, which Assistant Superintendent Blair Propst read to board members.
In her email, MaST parent Erin Gordon said, "…Programs like MaST are imperative, they serve a large group of diverse students that don't always excel in a typical high school environment…"
MaST parent Robin Meyer, in her email, stated, "…Our county needs to continue to provide and encourage an affordable pathway for these students to access higher education while in high school…."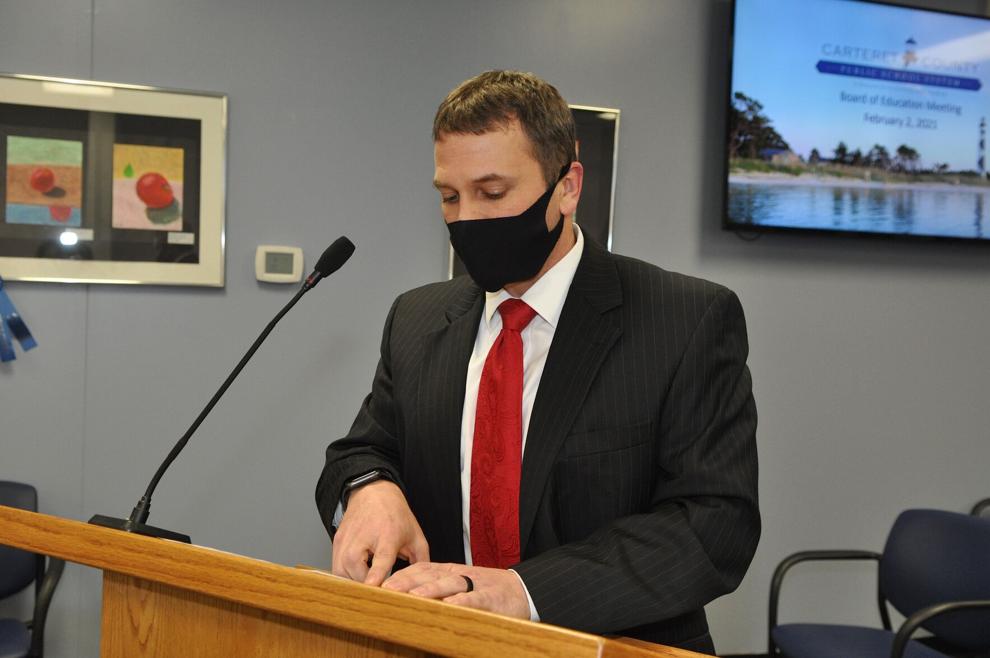 MaST is an early college high school that meets on the campus of Carteret Community College in Morehead City and allows students to earn high school and college credits simultaneously. The school has been embroiled in a legal battle with the school board since a group of MaST parents and students filed an amended complaint and a motion for a preliminary injunction in September seeking a court order to force enrollment of a freshman class. This came after the school board voted in June to not enroll one, citing budget concerns. Only already-enrolled sophomores and juniors comprise the school this year.
The latest ruling on the case took place Dec. 4, when Superior Court Judge Josh Willey Jr. denied a motion for a preliminary injunction to require the school system to enroll a freshman class. The MaST group is still pursuing a breach-of-contract claim.
Wednesday, BOE attorney Neil Whitford said Superintendent Dr. Rob Jackson is continuing to use a resolution the school board adopted in July 2019 to operate the school and is reviewing those plans.
"As soon as practical, he will report to the board on the main study points in the resolution, those being (1) recruitment of students into the school who will likely choose vocational training and enter the Carteret County workforce in skilled maritime trades, and (2) reduction of negative impacts on East Carteret and our other high schools," Mr. Whitford said.
As for the academically and intellectually gifted program, Mr. Eggleston said more funds are needed to provide additional staff and program offerings to the estimated 1,000 county AIG students. He pointed out that AIG staff has been cut from nine teaching positions to 5.5 districtwide.
"These 5.5 positions are required by state law to provide services as outlined under Article 9B of the N.C. General Statute for almost 1,000 third- through 12th- grade students districtwide. These students are scattered between 17 school buildings," he said. "This is not sustainable for the teachers, providing very little value to 1,000 students identified as AIG in our district."
He also said that while the county receives an estimated $450,000 from the state for AIG programming and staff, the amount has remained flat for more than 10 years.
"Without a revenue stream from the board of education to fund AIG at the local level, we believe the long-term viability of the program is in serious jeopardy," he said.
Mr. Eggleston asked the school board's finance committee, which began discussions last year on providing adequate funds for AIG programs, to "begin discussions anew this month with the focused goal of securing sufficient local funding to be included in the upcoming 2021-22 approved school budget for the AIG program."
The school board held a budget workshop Jan. 28 to take its first look at a proposed $3.1 million list of facilities needs and is scheduled to hold additional workshops this month.
The board must have a finalized budget request to county commissioners by the end of March. Commissioners will then have to decide how much to give schools for the 2021-22 fiscal year, which begins Thursday, July 1.
Contact Cheryl Burke at 252-726-7081, ext. 255; email Cheryl@thenewstimes.com; or follow on Twitter @cherylccnt.